Ladies and gents – It's our ultimate aim to throw a ball onto the green and spin it back into the hole, leaving a lovely Pitchmark that feels more than mildly satisfying. Then….. we get our Pitchmark repairer out and repair our Pitchmark….. or do we?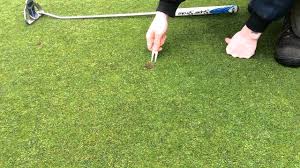 Let's just rewind a little there, and pose a question to every golfer reading this.
Q- Can you honestly say on every green you play, you look for your Pitchmark and at least one other ?
If not, your greenkeeper and fellow golfers are pleading with you to make it your new habit of 2019. We get lots of complaints about how your ball bounced when you putted … that is most possibly a Pitchmark it's bounced over, not anything your greenkeeper has done.
Please follow the instructions and help us all out, post pictures of yourselves repairing a Pitchmark under the hashtag #2019repairyourpitchmarkyear. Make it that one habit, you won't regret it…