Golf days celebrating tragic teenager's life raise £40,000 for charity
A golf day that commemorates the life of a Staffordshire teenager who was killed in car accident 11 years ago has now raised more than £40,000 for charity.
Anoush Mahmoudzadeh, who lived in the village of Edingale, was just 18 when he died on New Year's day in 2007 and the event was started as a special day for his friends and family to remember him.
Thirty-two played in the inaugural one in 2007 and since then the number competing in what has become the Anoush Cup has trebled.
Ninety-eight took part in what was the 11th staging of the competition at Branston Golf and Country Club and, fittingly, both the winner and members of the victorious team were all friends of Anoush.
Steve Small, operations manager of The Trooper at Wall and The Winehouse Lichfield, amassed 46 Stableford points to win the Anoush Cup.
Meanwhile, the quartet comprising Sam Harris, James Carter, Adam Tomlinson and Jamie Foster won the team competition with 91 points.
All five were presented with their prizes during a dinner that, attended by more than 180 guests, took the money raised from the day to £9,124.
The proceeds will be distributed between the Teenage Cancer Trust and UK Youth while other good causes to benefit from an annual event that has now raised more than £40,000 have included Breast Cancer Care and Cystic Fibrosis.
Commenting on this year's golf day and dinner and the reasons for its continuing success, Anoush's father, Kamran Mahmoudzadeh, said: "The Anoush Cup is a wonderful event that has gone from strength to strength over the past 11 years.
"I am truly touched by the support of our families and friends and particularly with the generous support of our corporate sponsors Carrot Insurance, Trak Global, RTR Services, Corporate Connections, RS Connect and Cope Electronics.
"I am grateful the Anoush Cup has helped to make a small difference to others by raising money for worthy charities like Teenage Cancer Trust and UK Youth.
"We have plans to formalise the Anoush Memorial Foundation into a registered charity, so that we can have more fundraising events throughout the year.
"I am very proud of my son and I hope that we can do him proud."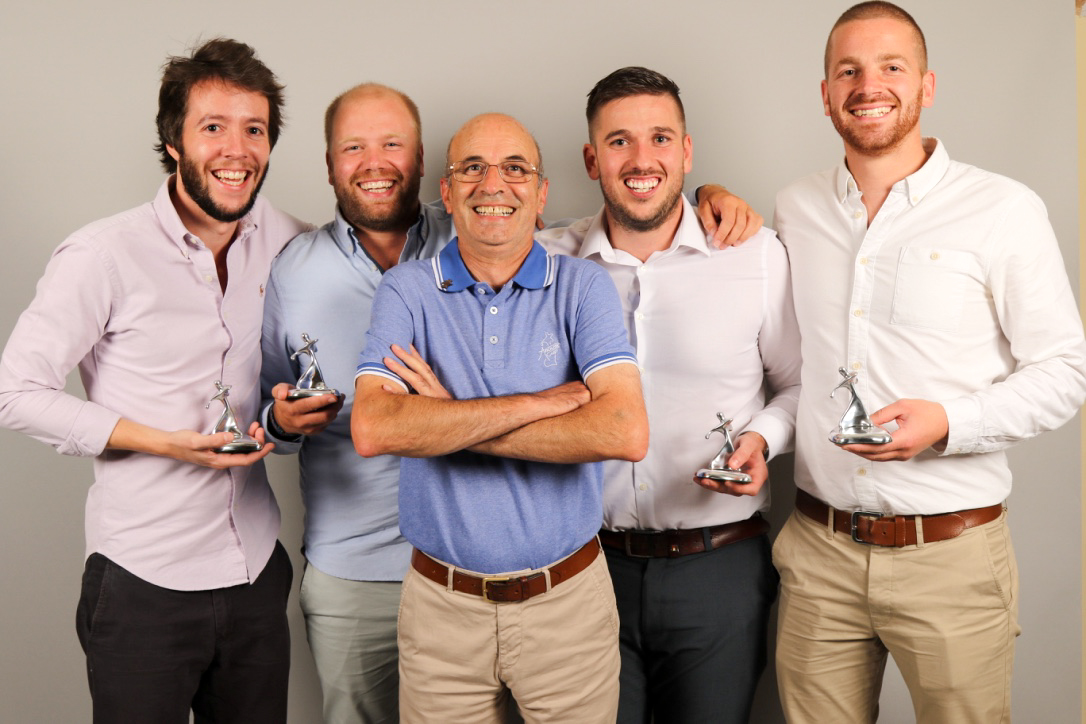 Main image – Individual winner: Steve Small (right) with Kamran Mahmoudzadeh
Above – Winning team (from left) Sam Harris, Adam Tomlinson (Kamran Mahmoudzadeh), James Carter, Jamie Foster.
Issued on behalf of Kamran Mahmoudzadeh and the Anoush Memorial Foundation by Adrian Milledge. Please email adrian.milledge@backpagemedia.com or call 07976 165965 for further information.
Images. Courtesy of Dave Hill Photography