Archie Qualtrough is a talented 10 year old golfer from the High Peak area of Derbyshire. They breed 'em tough up here, and have hearts of golfing gold too, Archie's dad Stuart takes up the story.
Archie, a pupil at Hayfield Primary School originally had the idea of raising money for good causes by competing in 3 tournaments in a day back in April – he was inspired by the Graeme Storm Junior Open, where all the entry fees went to a local kids' charity. Archie was so impressed he donated more than the required entry fee from his pocket money.
However, he suffered a nasty calf injury playing tennis which meant he was on crutches for over a month and was unable to play in the 3 tournaments in a day.
He says he was thinking of ideas that would be a real challenge and be extraordinary enough to attract sponsorships and donations. He came up with the idea of the 100 Holes after hearing a news story of a runner competing in different marathons on the car radio on a school run.
I helped him with the timings and sat down and did the sums and I really didn't think it was possible. I tried to convince him it was virtually impossible to sprint 25 miles and play his shots and then we factored in a buggy to help him dash between the drives and the 100-yard + shots and the timings worked – but only just and the three clubs involved, Cavendish (below), New Mills and Mellor & Townscliffe were absolutely amazing in helping him. We decided on three different courses because we thought six rounds on one individual course would be too disruptive.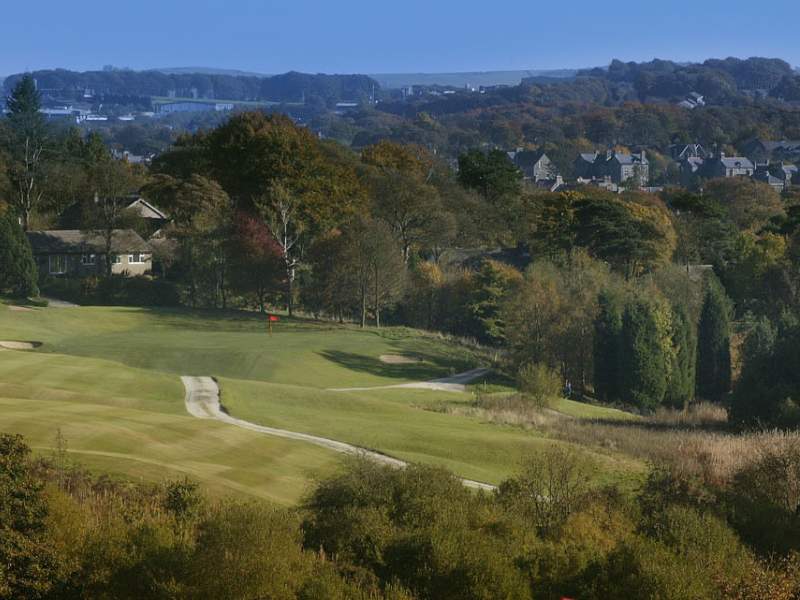 Mum and I helped him set up his JustGiving page and he was very clear on the causes he wanted to support. He wanted to support the Cardiac Risk in the Young (CRY) organisation and the Charlie Craig Memorial Fund. Charlie was a very popular former member of Archie's primary school and his death was a massive shock to our local village. Archie knew of Charlie's sporting pedigree as a champion cyclist and thought it was only right to do something in his memory.
The other charity was Young Minds following the death of one of Archie's older brother's good teammates Ben Stollery. Ben's father Rob came to see Archie while he was playing at New Mills to shake his hand and give him a big hug.
Archie also wanted to repay the support that the Golf Foundation had given him, it was through the Golf Roots scheme and Dave Cullen that first identified Archie's talent and provided him with all the opportunities he has now (I should say here that Archie was offered a schooling scholarship through the National Academy at Woodhall Spa and we're moving across this summer for him to start this September).
The final charity is the Finlay Cooper Fund that Archie was really eager to support because of their links to Graeme Storm and his Junior Open. Archie read about all their work and was inspired to similarly raise fund for good causes.
I should also explain that Archie was awarded the title of High Peak Junior Sportsperson of the Year and felt a responsibility to do something to benefit the local community.
The day itself was extraordinary – the weather saved the challenge but threatened to finish it.
The night before his mum spotted the weather forecast in Buxton was showing fog at 8am. The Cavendish course had been closed until 9am on the two previous days. We had already collected the buggy key the day before so moved forward his start time to 5am to guarantee at least one full round before the predicted fog descended and we had an alternative of New Mills as a plan B.
The first round was uneventful and he carded a score of 81. I spotted he was running up to the ball and taking the shot still out of breath. I took him to the clubhouse, fed him a bacon roll and explained he needed to cool his jets and play his natural game as time was now on his side and the better he played, the fewer shots he would take and the less time he would take.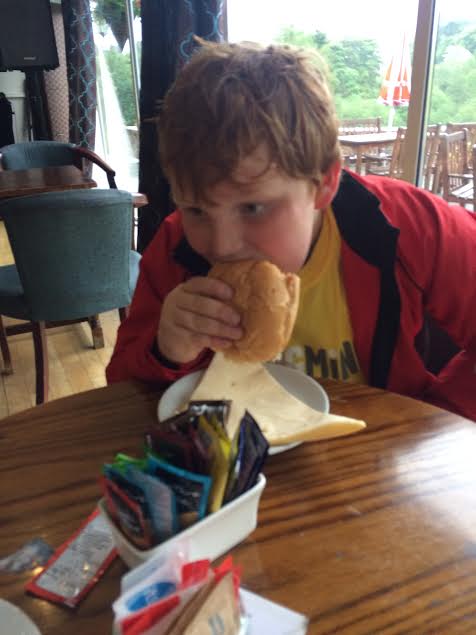 The second round was astonishing, he was calm and relaxed and managed to break 80 for the first time with a score of 75 – including an agonisingly close hole in one on the 4th, which he settled for a two. The fog never arrived but he was battered by an almighty downpour. That wasn't the first rain storm of the day but he plodded on.
Then a dash to New Mills and a change into dry clothes, his first round there was a 78 but then he was hit by a Monsoon-like rain storm, he was soaked again, had missed lunch was behind schedule and scored an 88. He was now half an hour behind schedule.
He teed off at Marple, tired, wet, hungry but still determined, at 5pm – an hour behind schedule. His frantic dashes returned and he scored an 86. Hindered by me throwing up in the bushes after scoffing a dodgy salmon roll – packed in his bag by his gran (good job I ate and not him). Another rain storm dampened his spirits and soaked through his fifth change of clothing. But he carried on swinging, chipping and putting.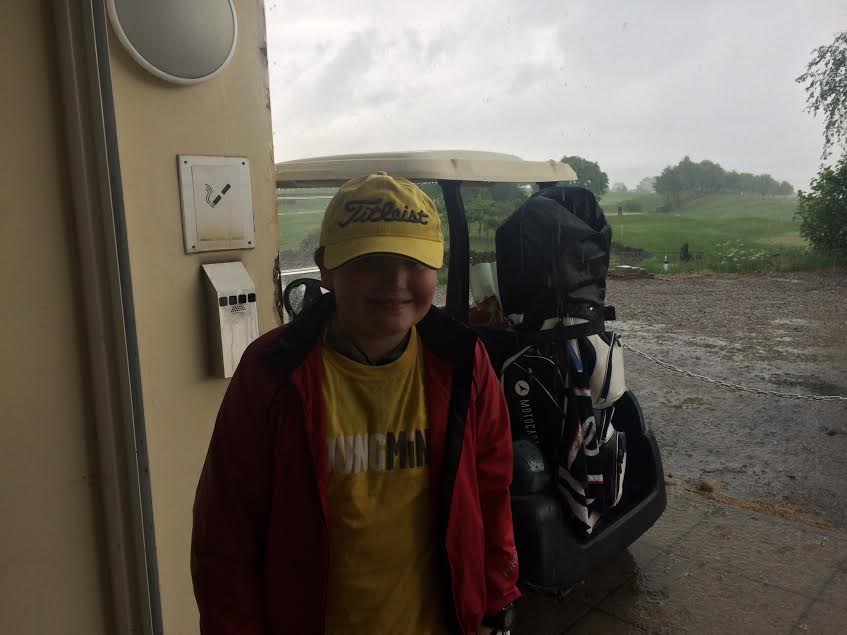 We knew that the first hole at Mellor would be closed after 6.30pm for a ladies lesson, so he played the hole twice on his fifth round and headed straight for the second tee on his final round.
Supported by his family, including his ever-present little sister he just marched on like a junior Robocop. At 8.57pm, he smashed his final Fairway driver across the wall on the 18th at Mellor to behind the green, chipped back to within four inches of the flag and finished his big day with a simple tap in.
If he hadn't set off at 5am instead of the original 7am,because of the errant fog forecast, he would have run out of light. The mid-afternoon rain storm at New Mills (ignoring the dodgy salmon roll later) had pushed him back an hour.
Off his handicap of 23, Archie carded (net) one double bogey, six bogeys, 51 pars, 39 birdies and 11 eagles.
He has currently raised around £2,500 with £100 bring kindly donated below to Archie by Paul Bull, organiser of the Shires Junior Golf Tour. Archie has also organised a day at Woodhall Spa including a round on the Hotchkin Course which he is hoping to sell to boost his total. His fund raising page is still open, to make a donation visit https://goo.gl/FMVMvj