Become part of the MG
Network…
For 2018 and into 2019 join up with us on this special scheme that will give you some great value golf to play on a large range of Midlands courses, a free magazine to your door every month plus other related benefits.
We will confirm everything by the beginning of August but here are a few basic details now for what the membership will involve. Become an MG member with us and receive the following benefits for 12 months – September 2018 – August 2019
A subscription to MG – 11 copies to your door + any related MG publications.

Discount off all golf clothing and accessories at the Midlands Golf retail stores at Nuneaton

, Four

Ashes and Stonebridge GC.

Entry for all members into a monthly prize draw to win a special local game or the latest bit of equipment/clothing

Each member goes into a prize draw on January 1st 2019 to win a golfing holiday next year

£5 off entry fees for 2019 MG playing events

3 x 4 balls for FREE at Midlands based

clubs who are MG affiliated clubs and part of the scheme.

Guaranteed entry to the first 100 signed up members to a FREE MG Membership Open golf day and competition – summer 2019 (exclusive to MG members)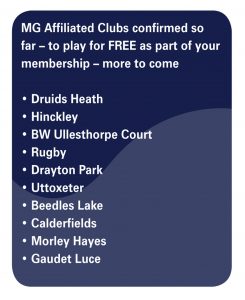 1/8 – Clubs now added to this list – Once T's & C's are confirmed – The Herefordshire GC – Bransford GC – The Abbey Hotel – Maxstoke Park – Rushcliffe – Burton-on-Trent + more to come
.j
There will be a membership page in every magazine issue to come but the main membership hub will be here online with further details, terms and conditions plus a course review page for every affiliated club in the scheme.
Club MG members will also get the chance to post their own news and reviews and
achievements during their membership based trips.

Cost for one year's membership
ONLY £100 – inclusive of VAT.
Further details and confirmation of the above benefits to follow soon. This is a preview page to give you an idea and for you to register your interest in the scheme. Club MG begins on September 1st 2018 – Full terms & conditions to be listed online on that date
To express an interest in club MG, please fill out the form below and we'll be in touch with more information:

Upon subscribing you are agreeing to our Privacy terms and conditions