MG are following the fortunes and progress of a number of outstanding Midlands based young professionals this year, as they set off on tour aiming the climb the ladder to the very top of the tree. Closest of them all to that point is Sutton Coldfield based star Elizabeth Mallett, who has recently earned playing rights for the Ladies European Tour (LET). Mandy joined up with her for a chat at her local club.
My journey …
I started out as a junior at Sutton Coldfield golf club, progressed to Warwickshire County Girls level and then entered competitions all over the country.
For me, a defining point came in 2012 when I won the Individual title at the European Girls Team Championships. I shot the lowest round ever seen in the event's history a record breaking 64 and followed this up with a solid 69 – that week I really proved to myself that I could compete and win at a European level against the best players.
I feel that I had a well rounded, successful amateur career setting five course records, winning three English national titles, representing England at both girls and ladies international level which set me in good stead for collegiate golf in America.
The US college golfing experience and environment isn't available here, so I'm glad that I was fortunate enough to have this opportunity. After spending four years out there I've learned many things, some good and some bad, the highs and lows, but now feel well equipped to tackle the next chapter with the right work ethic as I set out into the professional ranks.
I studied a Communications degree at the University of North Carolina and worked during my final semester at a top Marketing Group for a 6 month internship. My internship focused mainly on the creation of digital marketing plans for different US based clients.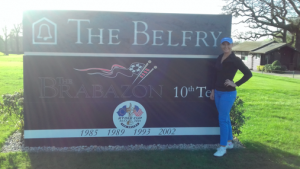 I feel that with my back-up plan in place it is now the right time to pursue my professional career. In gaining category 9 status after successfully negotiating the recent LET tour school, I turned professional in January 2017. I know the steps of improvement I still have to make but I'm up for the rookie challenges ahead and ready to have some fun along the way.
As I start my rookie year on tour I am seeking individuals or businesses who recognise the growth value of forging a mutually beneficial partnership with a young, emerging woman professional LET level golfer. I would love to meet or play a round of golf with anyone who is interested in supporting me!
Plans for 2017 and beyond…
I've been working hard on my game over the past few months getting ready for the season to start. After earning playing rights on the Ladies European Tour this year my first main tour event will be at The Turkish Ladies Open in June. I will also be competing on the LET Access Tour and Santander Tour throughout the year.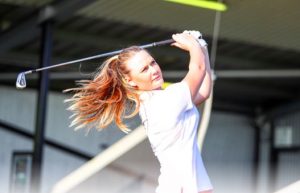 A typical day for me would start at around 7:30 a.m. in the gym – I like to get up early and start the day in a positive way! After a workout I would refuel and head to practice. I like to make my practice as game-like as possible and make sure that I split my time evenly between long game, short game and putting. I will practice for approx. 3 hours until lunchtime, then practice some more. Usually between 3 and 4 p.m. I will go and play some holes; I like to play at different courses to mix it up and keep it interesting!
My aims for this year are to establish myself as a professional, gain experience playing with the world's best players and ultimately earn full playing rights on the LET.
My long term goals are to play on the LPGA Tour, play on a winning Solheim Cup Team and become a role model for women and girl golfers.
On becoming an American Golf ambassador….
American Golf has been with me from the beginning of my golfing journey. I bought my very first golf club from my local American Golf store when I was just 9 years old and I currently work part time in the Sutton Coldfield store to fund my golf; becoming a brand ambassador was naturally the next step!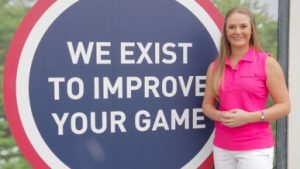 I am passionate about getting more people into golf and sharing my love for the game. By working with American Golf I hope to help more people to realise their potential and I'm optimistic that we can work together to grow the game.
Recently I was on stage at The Golf Show in London and even had the opportunity to give Denise Van Outen a lesson which was a lot of fun!!! We have also filmed some game improvement videos covering tips for lady golfers, junior golfers, chipping drills and much more. They will be released soon so keep a look out if you want to take a few shots off your scores!
We'll be following Elizabeth's progress with great interest this year and will update her latest news and results on this page. She will also be a regular contributor to Mandy's MG Birdies section in the magazine and in addition, has also recently become an ambassador for OOB clothing.
.