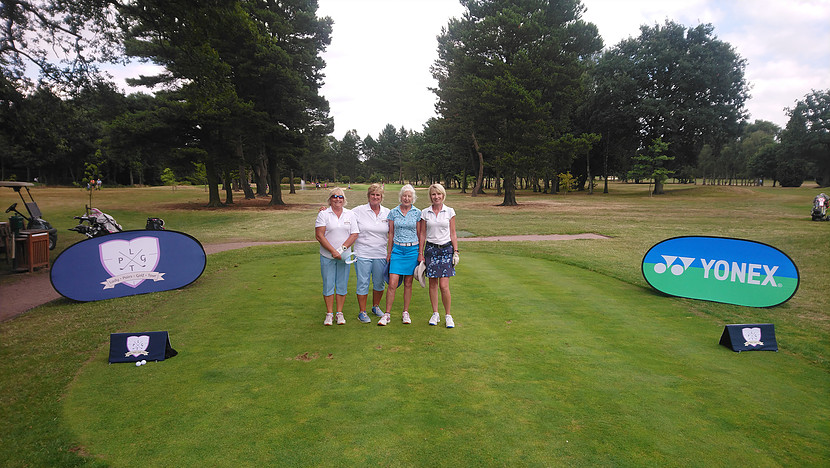 Lambourne ladies taste glory with victory at the Midlands Festival 2018!
Our Midlands Festival event took place this week as we made our return to Walmley Golf Club on Wednesday morning for the second successive year. A strong field of 64 ladies gathered from all areas of the country to enjoy a great two days in the Midlands and compete for three places at our Yonex Tour Championship at The Buckinghamshire Golf Club in September
Jackie Edwards & Anne-Marie Gilbert (Lambourne) went wire-to-wire and led the event from start to finish with 39 points on the first afternoon at Walmley and then a superb 41 points at Robin Hood to take the title with a brilliant overall score of 80 points. Helen Lowe & Melanie Edge (Scraptoft) took second place with scores of 38 and 40 points to finish with 78, narrowly beating Ann and Jill Pittard (Hearsall) who returned two scores of 35 and 41 points to finish on 76 points in third. All three pairings were delighted to finish in the top three and qualify for the Yonex Tour Championship in September. Well played ladies!
Both Walmley and Robin Hood Golf Club were in brilliant condition and their hospitality throughout the event was superb! The greens at both courses, especially at Walmley were some of the fastest and truest greens that we have experienced all summer. Goody bags for the event consisted of a lovely golf shirt from Swing Out Sister, a visor from Yonex, the latest edition of Women&Golf magazine, a holiday voucher from Golf Escapes, an LPGT golf towel and more!
14 out of the 64 competing ladies took full advantage of stand-in professional Alex's lack of practice by beating the pro on the 16th hole at Robin Hood to win themselves a sleeve of LPGT golf balls or Surprizeshop golf socks! Alex also hosted a series of fantastic putting clinics that were enjoyed by all who attended before play on day two!
Midlands Festival 2018 Results
Winners: Jackie Edwards & Anne-Marie Gilbert (Lambourne) 39+41 = 80 points
Runners-Up: Helen Lowe & Melanie Edge (Scraptoft) 38+40 = 78 points
3rd Place: Ann Pittard & Jill Pittard (Hearsall) 35+41 = 76 points
4th Place: Sandra Moses & Sue Allison (Knebworth) 36+39 = 75 points
5th Place: Jan Gilkes & Tracy Klek (Beau Desert & West Hill) 39+36 = 75 points
—
Best on Day One: Ruth Hughes & Tracy Jones (Thornbury) 39 points
Best on Day Two: Alison McDougall & Annie Pryor (The Bristol) 38 points
—
NTP 5th @ Walmley: Rosemary Knight (Scraptoft)
NTP 11th @ Walmley: Sandra Moses (Knebworth)
NTP 5th @ Robin Hood: Gail Howells (Thornbury)
NTP 11th @ Robin Hood: Janet Lavin (Sheringham)
https://midlandsgolfer.co.uk/wp-content/uploads/2018/08/yonex-ladies-robin-hood.jpg
468
830
Midlands Golfer
https://midlandsgolfer.co.uk/wp-content/uploads/2014/09/midgolfer-new.jpg
Midlands Golfer
2018-08-10 19:08:35
2018-09-30 13:00:25
Festival glory for Lambourne ladies