Gary Neil lives well away from the area we know as the Midlands yet I felt it would be lovely to feature The Paragolfer wheelchairs and how they have changed at least one golfer's life for the better. Unfortunately, Paragolfers aren't yet widely available in the UK, they seem to be more well known in the USA, let's hope that one day soon more clubs across the British Isles can invest in these chairs so more golfers with disabilities can enjoy the game of golf.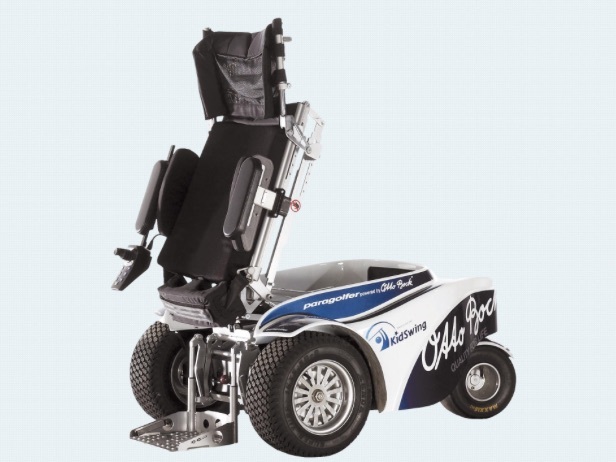 "The Paragolfer has made me play golf again which I never thought I would ever play golf again after being in a wheelchair.  It's great to get out, I've only played at Craigielaw in the Paragolfer as we have 2 there and we are trying to get a trailer so we can go to other courses. I've played the course about 6 times and my scores have been 111 110 107 100 100 & a no score.  The staff are great, it has changed my life, it's great to get out & have a good banter. We are trying to set up a tournament between Craigielaw vs Mearns castle with 4 Paragolfers.
Gary Neil 43, became paralysed from the belly button down during September 2012 following a spinal trauma, he presumed that his golf playing days were over.  Gary discovered the Paragolfer, a £20,000 chair which assists disabled people to continue to play sports despite their disabilities.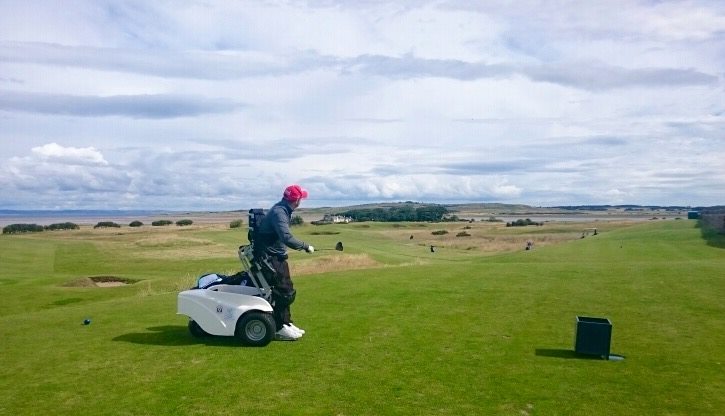 When Craigelaw Golf club in East Lothian, not too far to travel from Gary's home in Midlothian, followed Mearns Castle in Glasgow in purchasing a Paragolfer, this gave Gary a chance to start practising his favourite sport of golf at the clubs driving range and then continuing with elation at the ability to then play on the fairways.  "It was like I had my independence back" – Gary Neill
"The first time I got out onto the six-hole course, I was actually crying," remarked Gary, he has been a member of Swanston Golf Club for six-eight years, playing mostly at weekends before his trauma. "My wife was there with the dog and she asked if I was ok. Hitting the shots, it just felt as though I'd never been away from the golf course and it was very emotional. It was like I had my independence back and it felt like everything was getting back to normality.
"When I first found out about my paralysis, I thought I'd never be able to play golf again. I used to play golf every weekend with my mates and to have not played for three years, without having known about the Paragolfer, it was a huge, huge relief."
It isn't easy getting back into a hobby you loved when your life changes and Gary spent the last 6 months of 2015 getting to the stage he is at now, working alongside Craigelaw professional, David Laing to find the ideal clubs that would suit him.  Gary has been indebted to golfclubs4cash in East Lothian who also assisted him with fitting him with suitable clubs – Titleist AP1 irons and TaylorMade woods, all with ladies/senior shafts.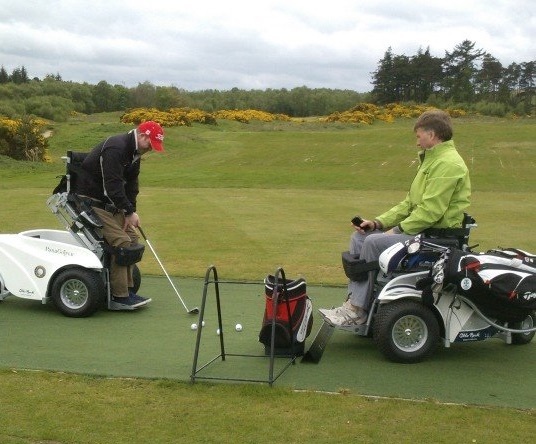 Gary being left handed, or 'cack-handed', can only now swing right-handed since the trauma, with his left hand by his side.  "I don't have as much movement in my left arm as I do in my right so one day I decided to try one-handed with my right arm," he said. "I started hitting it 100 yards, then 120, even up to 150, so I knew from then that it was certainly the best way forward."
"I was reading an article about the Paragolfers and at one of Trump's courses in America, they have six, whereas we in Scotland have three in total," he added. "In this day and age, I think that's quite poor. And I'm sure there are many people across the UK with disabilities who have no idea that the Paragolfer exists.
"When I was in rehab, I wasn't told about wheelchair tennis, the Paragolfer, anything like that. The Paragolfer can be used for shooting, fishing, not just golf. People don't seem to know anything about it and it's quite annoying. I'd love people to be able to have a go on it, even people who can walk. Just to see what it's like.
"Somewhere down the line, when Craigielaw gets their second Paragolfer, we're hoping we can have an Edinburgh v Glasgow tournament because Mearns Castle Golf Academy have two over there. That would be something fantastic to promote and other courses can hopefully look at that and say, 'well if they've got Paragolfers, why haven't we?'"
"My hope is that once I've completed 18 holes by myself a couple of times, I can then get the boys who I used to play with at Swanston down to Craigielaw and I can't wait to go out with them and have that same banter that we used to.
"That's one of the things I've missed the most about not being able to play, and I hope that they've missed playing with me, too. That's what I'm looking forward to that more than anything."
The two other groups of people that Gary would like to thank whom also made the Paragolfer possible are The Loretto school – the oldest boarding school in Edinburgh – and also the guys known as 'golfersinshorts'.