A page to mark the return to golfing life in the region as from today (13/5) – plus also to relate a few tales of non-golfing in lockdown. What have we been up to in the last 7 weeks, how have we coped with the inactivity. Everyone is welcome to contribute to this page with their experiences, whether you're a golfer, a golf club manager, a local greenkeeper, anyone in any Midlands golf club, let's hear from you.
The content received will form the basis for the news section in the next magazine which we hope to bring out in mid June.
Firstly below here are a few images from this morning from local clubs, as golf returned to life – the first tee offs of spring 2020.
"After 50 years of golf together, this will be the most peaceful round we've ever had!" Getting ready for their comeback round safely at Little Aston GC.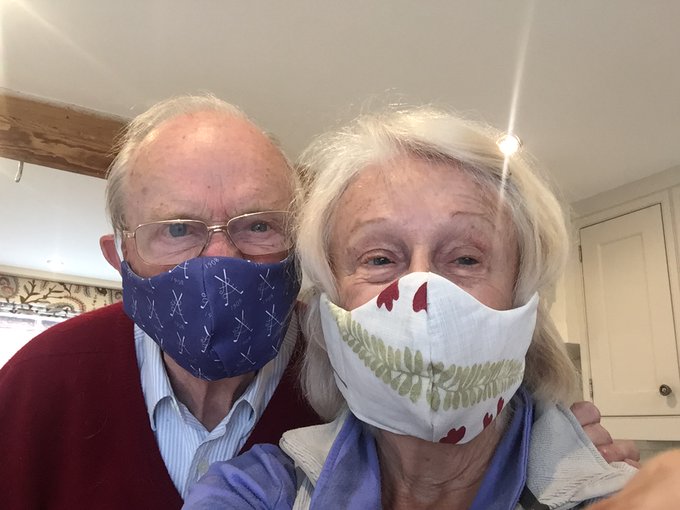 Return to Os

Oswestry Golf Club are delighted to be able to welcome golfers back to their club today, following the Coronavirus shutdown.  The course has been maintained over the past few weeks by a skeleton staff who have done a tremendous job, lead by head Greenkeeper Gary Barnfield.  A small management team have been working away behind the scenes to ensure they were ready to open up in good time and they have been communicating updates with the members throughout the process.  John Evans, Secretary said "it is great to finally see golfers back out on the course and we'd just like to thank our members for their patience and support through the shutdown."
Pictured right are Eric Gluth & John Gallagher, teeing off on the 1st tee at Oswestry Golf Club at 1030am on May 13th.
So when golf finally got under way on Weds 13th we asked our Twitter followers to post us their on course snaps of how it's all looking out there during their rounds. Looking pretty good as you can see, click on the thumbnails for the full images. Thanks to the golfers named below – room for plenty more.
Ed returns in Styal!
Ocean Tee Golf founder Ed Sandison was like literally thousands of golfers getting ready to golf again after seven weeks on the morning of May 13th. Naturally nervous about where his first tee shot would go on the 176 yard opening hole, a provisional ball in his pocket if he had one would have been understandable as well.
But Ed had other ideas, playing with his father-in-law at Styal GC, near Wilmslow in Cheshire he left the first green two under par after firing his first ever hole-in-one with his first shot since lockdown!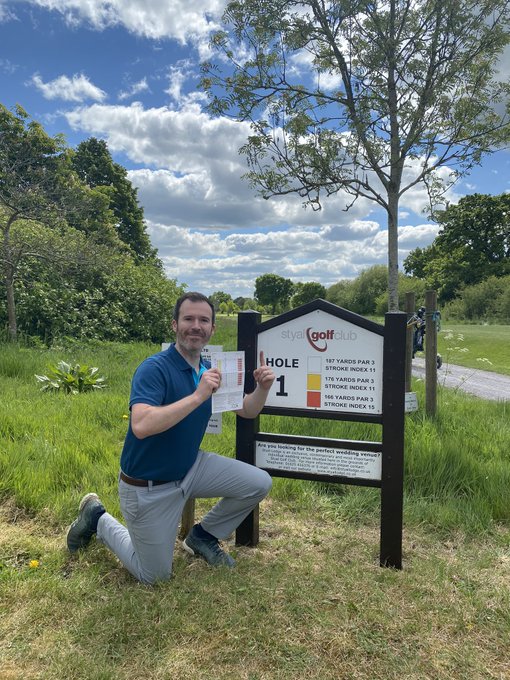 Lockdown tales – Bev's back garden drive in

Bev Cook, a Nottingham resident is Lady Captain this year at The Nottinghamshire Golf & Country Club.
Bev and club captain Brian Knowles should have held their captain's drive in on Saturday 4 April but it was cancelled so Bev, undaunted did her own in her back garden!
Bev "When we did the drive in we had a diarama model of the first hole and the members guessed where the ball would land and they all made a donation to charity.
My charity is BigC LittleC – a Notts charity that fund raises for local cancer research and NSPCC projects. Brian's charity is prostate cancer."
COMING SOON
Lockdown with the lady editor. A very personal account of seven weeks without the golf for our golf mad Mandy and her equally addicted husband and son, all self-isolating in their quiet little corner of Staffordshire.