On Friday, September 11th MG returned to event hosting action with our Society Championships and Charity Open, held at Druids Heath GC near Walsall.
Due to the effects of lockdown the two events, normally held as separate entities had to combine forces but that all led to a good amount of 23 four balls who went out to compete for the two titles on offer, all playing the same 4BBB format.
The Druids Heath staff, led by GM Gareth (pictured below with Mandy) were on hand to serve the morning bacon rolls and teas/coffees plus all competitors stayed in their own four balls on tables of four during the after round 2-course meal.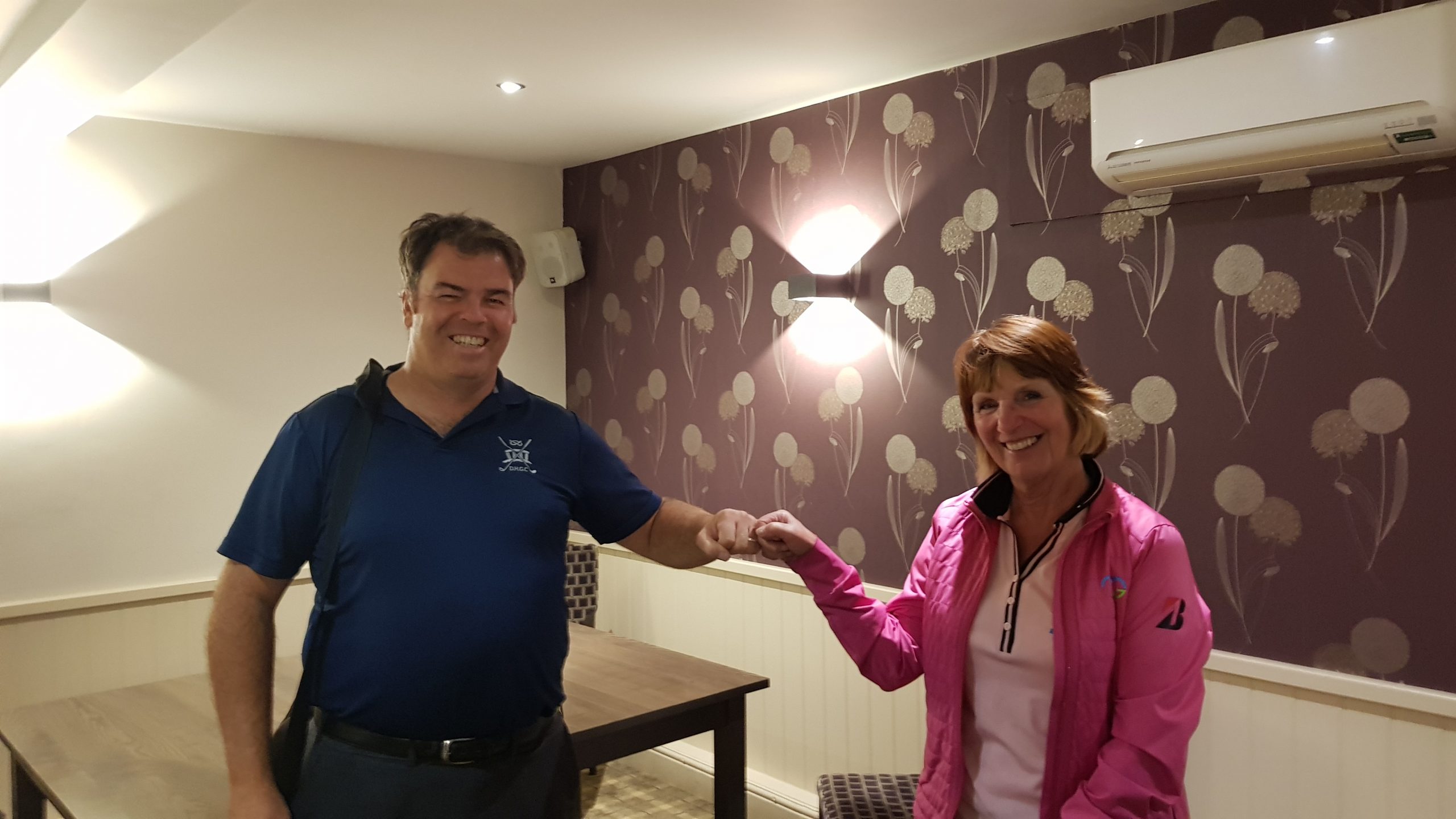 We held a two tee start to enable a safe rolling service to take place and the kind weather on the day made it easier for the early starters to vacate their tables after food and head outside on to the patio.
Club captain Tony and DHGC president Ivan volunteered to act as starters and both were still there much later for the presentation too. This is a golf club that values its visiting players and makes a personal point of looking after them, we knew we were making a good choice of venue coming here.
The golf course wasn't half bad either! Long renowned for its beauty and reliability plus the very challenging greens here, nothing was anything less than what we expected, some of the teams coming here for the first time got a little bit of a rude awakening!
The Charity Open saw our defending champions from last year, Keith Smith and his fourball from Stonebridge GC return to defend their title. Although it wasn't meant to be for them this year, the trophy stays in the same cabinet as Midlands Golf retail, led by Ian Nicholson ended up as the victors, Stonebridge is one of their retail outlets. Ian, with the trophy and one of his team mates is pictured above. The runners up had home advantage, a Druids Heath team led by member Mike Teague with the Abbey Hotel Goosers coming in third.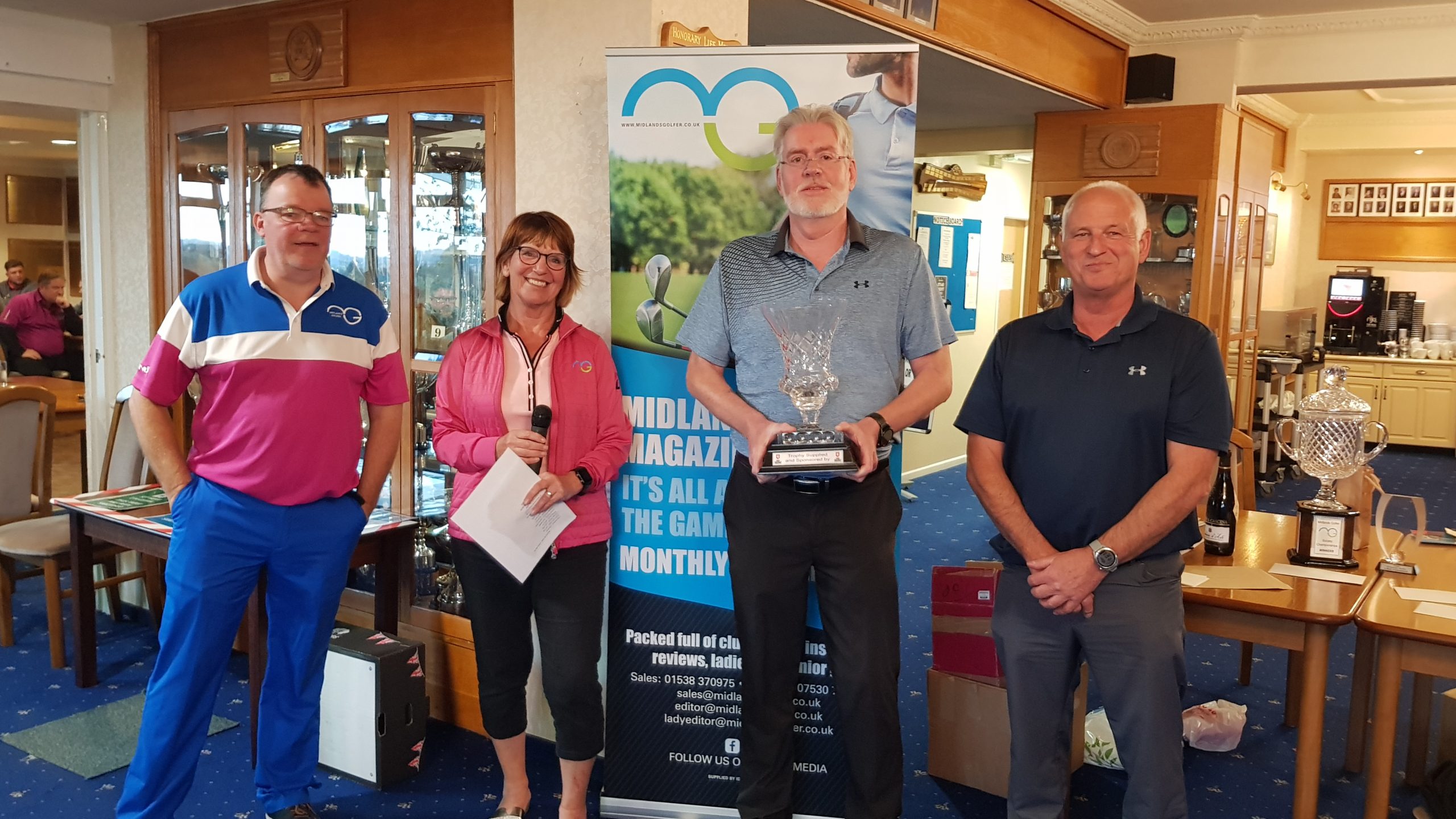 As for the Society Championships, we had planned to run it earlier in the summer but we all know what happened there. This was our first one-off society champs for 4 years and the field limit on the day meant we had 12 of the best local groups competing.
But our brand new championship trophy ultimately went to the defending champions from 4 years ago at Forest of Arden as the Bagot Arms GS in their shiny new red society shirts took the title after scoring 94 points in total. Second place went to their long time friends and rivals, the Erdington STAGS with Randall & Tonks GS, also from Birmingham finishing third.
Society Championship Winners – The Bagot Arms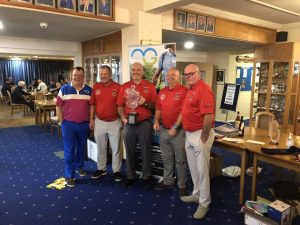 A good mixture with some old regulars of ours such as the Napton GS, Robin Hood GS and SGA Tour taking part, plus we welcomed a few new ones with the Golden Goose GS, the Shrewsbury Swingers and LVA society all lining up too.
We raised funds for Midlands Air Ambulance during the day with mulligan balloons which bemused many on arrival but ended up being a quirky success, a raffle which also went down well and general bucket rattling. In all we raised £715 for the cause which worked out at just over £30 per team, we thank everybody for their kind donations.
A final word of thanks to everybody at Druids Heath GC who couldn't have done more to help us during the day and they couldn't have served nicer food and drink either, fantastic support.
Pandemic permitting we expect to be able to split the events again for 2021, dates and venues will be announced by December for both the Charity Open and the Society Championships for next year.