.
MG's first ever car test and a little 'in at the deep end' too. Mandy and I got the chance to try out the brand new Jaguar XF Sportbrake – part of the Sytner Affinity range.
.
.
On pick up I admit to a slight feeling of trepidation as I waited patiently for the traffic to part, allowing me to finally join the A45 back towards Birmingham. I knew I'd need to look after this motor, however I needn't have worried, it ended up pretty much looking after me.
The big day was Friday, on a pre-arranged trip to North Wales to catch up with some clients, it was the ideal opportunity to give the XF a good going over. We took it over the hills bordering Snowdonia on the Bala to Porthmadog road, over to Criccieth and across the Britannia Bridge into Anglesey. Then finally over to Conwy for a meeting, as you may know by now MG get about a bit, getting about a bit in a brand new Jaguar XF made it a memorable day.
.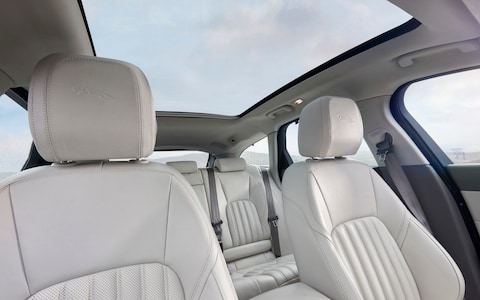 .
.
Comfort – We're not huge on car knowledge normally and certainly no technical experts, but we know a comfortable ride when we experience it, and this was definitely that. Leather seats for starters, and heated ones at that, you can customise your Jaguar with a choice of interior colours to make it personal. By the side of the seat a little cluster of knobs and buttons, allowing you to configure your optimum driving position prior to setting off.
Driveability – We drove an automatic with push button ignition, once that button gets clicked it all comes alive. The air vents rotate open and the large touch screen display opens up a world of entertainment and directional possibilities. More about that later, the big thing for now is that this is a lovely smooth drive, the two litre diesel engine is much quieter than you would expect and the electric power steering takes much of the effort away from you. It handled beautifully around the tight corners of Snowdonia. My earlier nervousness was eased further by the host of safety features that come as standard on the vehicle; collision warning system, parking sensors, emergency brake assist, plus JaguarDrive Control – a variety of driving modes to suit all weather conditions and economy needs.
Space – For golfers that's a very important facet, and boot space in the XF is very roomy indeed. It easily coped with two sets of clubs and a trolley, which you can more or less double up on if you remove the shelf. Huge extra storage space is available if you fold the rear seats down too.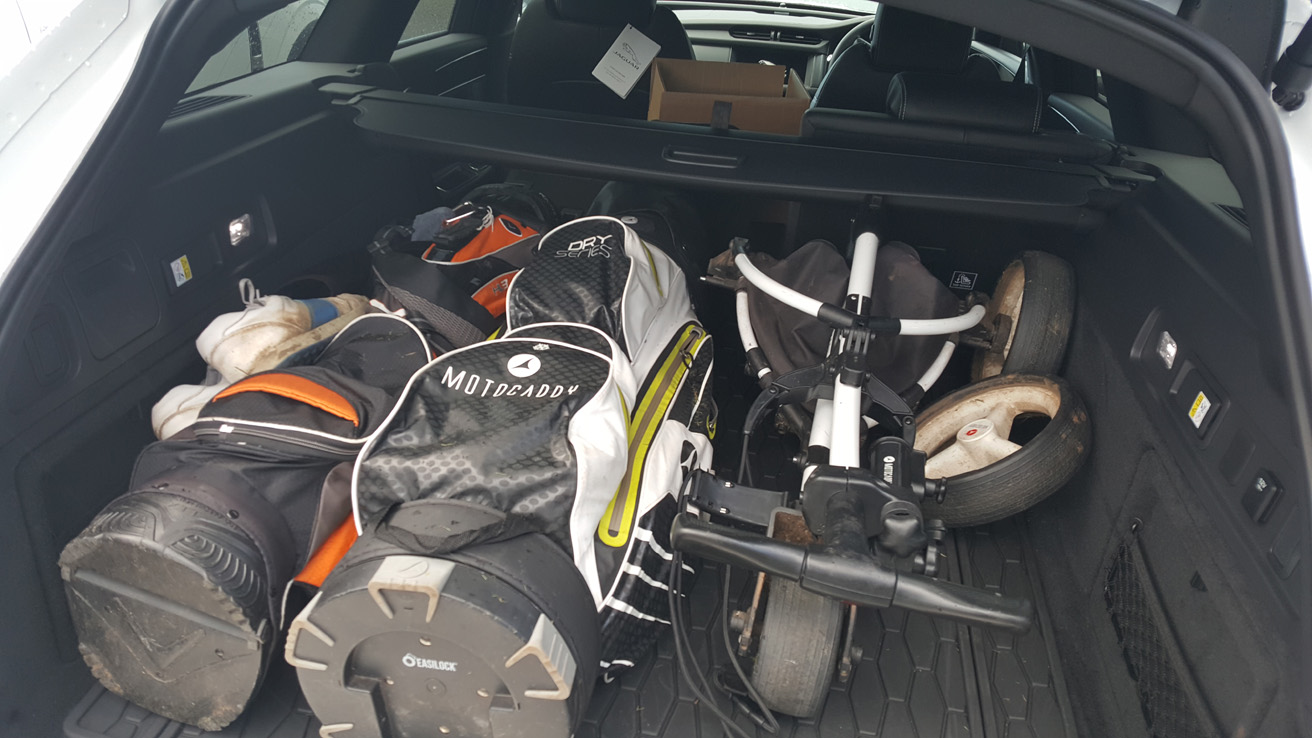 .
Extras – Much too much to mention really, and to be honest we didn't find time to explore it all! But,  a world of delights – here are the highlights
10.2" touch screen technology with smart phone link capability
DAB radio and CD player
2 or 3D maps with predictive navigation function
In-car WIFI
Head-Up Display, projecting key information onto the windscreen
There are many options to customise your Jaguar to your needs, the Jaguar range offers flexibility and choice to suit all budgets and tastes.
.
.
Mandy – "Driving along the winding Welsh mountain pass via Llyn Celyn Lake with the golf clubs in the back, the car held the road perfectly and for a lady behind the wheel, I found it easy to drive and very comfortable. It's spacious and drew a lot of attention, (or maybe that was me behind the wheel!!!) and is very sporty looking.
In between rainstorms, the trip back via Conwy on the A55 gave us ample demonstrations of the power underneath the bonnet. That was until a tractor towing some sugar beet in front of an oil tanker put a stop to that, so for the last few miles as we returned to Stoke on Trent we were simply content to luxuriate in the comfort of the leather chairs and admire the views."
To find out more about the Jaguar range from Sytner visit https://corporate.sytner.co.uk/midlandsgolfer/franchises/jaguar/
Call the dedicated Midlands Golfer number- 0845 606 7036
.