Midsummer madness in epic golf challenge
On Wednesday 26th June Curtis Langley and Doreen Nicol took on an epic golf challenge. They set out to complete 4 rounds of golf, all at different golf courses in the Oswestry area all in aid of their respective charities.
Curtis, Fundraising and Marketing Officer at The Movement Centre, is raising money for the same charity, which supports children with disabilities affecting their movement control. The Movement Centre aims to give children the best chance of reaching their full potential by providing a specialist therapy called Targeted Training.
Doreen was raising money for The Veterans Appeal at the RJAH Orthopaedic Hospital, which is the 'captains' charity at Henlle Park Golf club, where Doreen is a member. This is an Appeal to help fund a new £1.5 million Veterans' Orthopaedic Centre at the specialist orthopaedic hospital, The Robert Jones and Agnes Hunt Orthopaedic Hospital, Oswestry, to treat veteran patients in a bespoke care environment.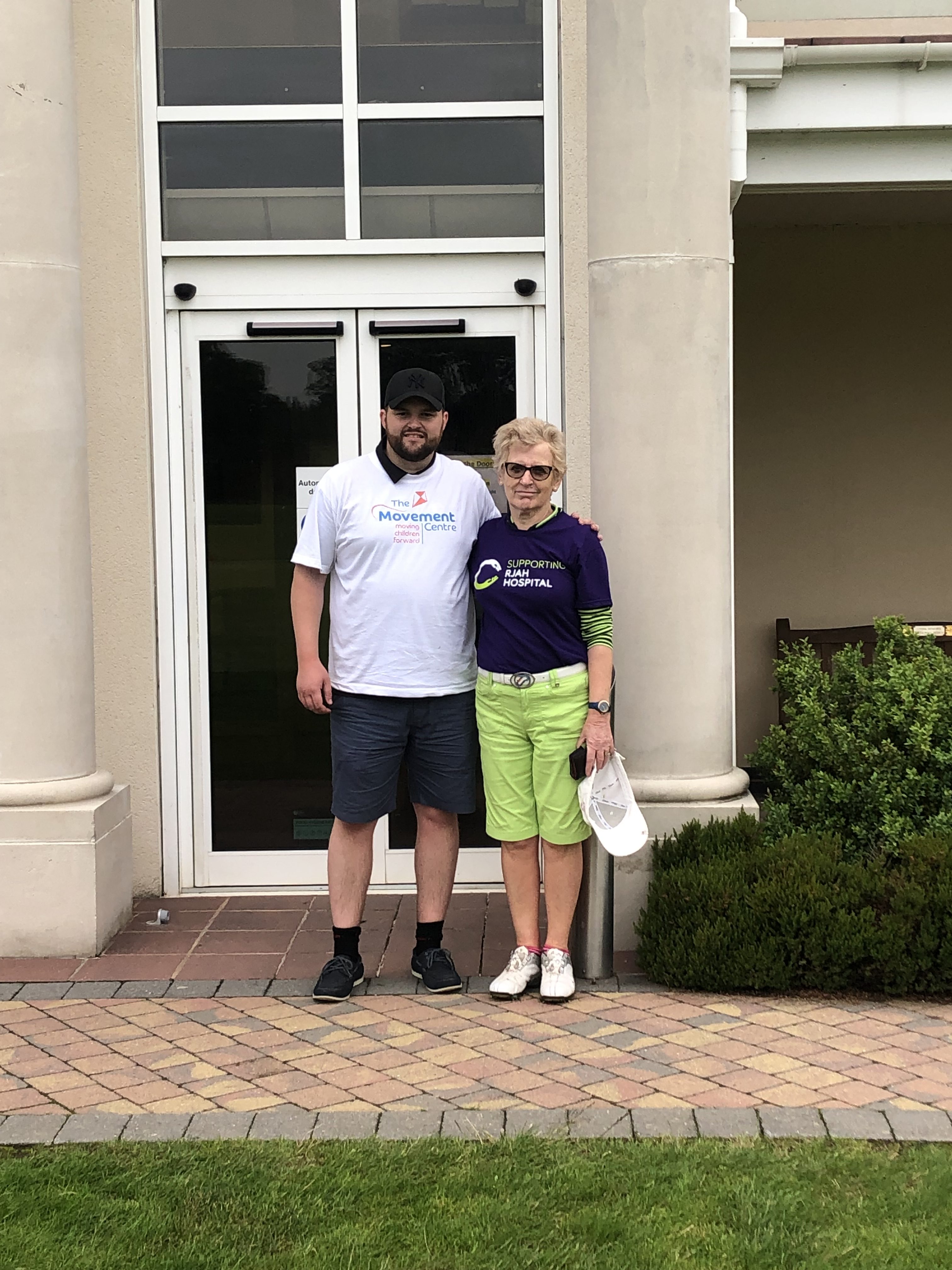 Curtis and Doreen at the end at Henlle Park Golf Club
Doreen said, "The idea of this golf challenge was to play golf from dawn to dusk on or near the longest day of the year". We set out at 6 am playing the first round at Llanymynech Golf Club, where the conditions weren't great. The round was played in thick fog and rain, closer to a day in November than a summer June day. However, the course was in good condition and was completed before 9 am."
The pair then moved on to Mile End Golf Club, where visibility was much better and the rain had eased slightly. Although the ground was rather wet, the pair battled on through the conditions as they knew time wasn't on their side. After completing the second round of golf, it was on to Oswestry Golf Club. A quick bite to eat on the go, it was then time to play the third round of the day.
Curtis and Doreen in the fog, at Llanymynech Golf Club
Curtis said "We were both feeling great after the second round. I really thought I would feel more tired than I did. The golf gave us a nice break from walking, and the walking gave us a nice break from golf, so it worked really well".
Finally, it was on to Henlle Park Golf Club, home in terms of golf for Doreen, and with Curtis being a previous member of the club it was a nice sight for both golfers. Curtis continued "All of the courses kindly gave us courtesy of the courses and were really supportive both before and on the day. We really appreciate all the support and can't thank them enough".
Including travel time, the challenge was completed by the intrepid pair in thirteen hours. The sum raised was in the region of £700. They would both like to thank everyone who has donated generously to their chosen charities so far, and that there is still time to donate.