Shropshire and Herefordshire celebrated fifteen years of the Peewee Tour in 2017.  Over these first years just in excess of 1000 youngsters have commenced their first steps into the friendly yet slightly competitive golf provided by this tour.
We had little idea when the S & H Development Committee commenced this idea in 2003 and held the first events that it would have been so successful and lasted so long…The majority of the County teams are filled with players who commenced their early golfing life playing on the Peewee Tour, and several ex Peewees have gone on to represent their Country at the various age levels.
However the real success is that we provide many youngsters and their families with enjoyable days out in the pleasant S & H countryside along with a little gentle exercise in the Summer holidays.. Parents inform that these days out are becoming more valuable when so many youngsters appear constantly attached to their IPhones and spend increasingly more time indoors connected to their friends via social media.
Importantly for the tour, girls and boys of all golf strengths are welcome, handicaps are not required, just the ability "to get the ball round 9 holes"
The Tour comprises 5 events each over 9 holes with child friendly rules allowing preferred lies in both the fairways and the rough and the ability to drop away from hazards for a penalty of one stroke .. as the events are divided into 7 age groups no child plays against one of a very different age,  with the eldest being 12yrs  and having no youngest age level, we have had 4 year olds competing! . The under 10 s  play from temporary forward tees, its all meant to be fun!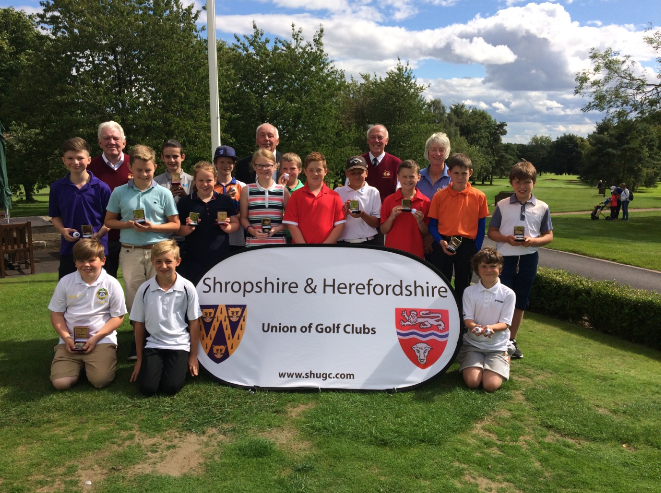 Reflecting on 2017, 70 players registered for the tour which comprised 5 events in the Summer holidays at various courses in the County. The season commenced at Oswestry with nearly 50 youngsters out with their parents, who are allowed to go round the course with them and caddy and keep score (should their youngster wish! ) Telford Hotel Golf and Spa welcomed the tour next,  followed by a trip to The Grove in Herefordshire, then Shrewsbury  G C and the final at the pleasant parkland venue of Shifnal.

All Players receive a  Peewee badge for playing on the Tour and it is lovely to see many of them with several badges on their caps to celebrate the years in which they have played..
All well placed golfers and winners in each of the 7 age groups at each event,  receive medals /prizes and also collect points to carry forward to the final where these count towards becoming the Tour Champion of their age group.
Peewee Tour Champions 2017
Red Tees:
Boys U13
1st        Matthew Barker                     38        (Bridgnorth)
2nd      Joseph Morris                        26        (Bridgnorth)
Boys U11
1st        Dillon Steventon                    30        (Telford)
2nd      Charlie Slater                          26        (Telford)
Girls U13
1st        Xyra van der Merwe              38        (Telford)
2nd      Abby Birchall                          34        (The Shropshire)
Forward Tees:
Boys U10
1st        Jack Tomlinson                      36        (Shifnal)
2nd      Finn Bowdler                          34        (Oswestry)
Boys U9
1st        Zack Banks                              36        (Shifnal)
2nd      Jack Dirkin                              28        (Unattached)
Harry Bryce                             28        (Telford)
Boys U8
1st        Ben Steventon                         40     (Telford)
2nd      Brodie Miller                           28      (Telford)
Girls U10
1st        Seren Ramsey                         40       (Oswestry)
2nd      Grace Jones                            24        (Arscott)
A Great Day
The biggest success for our year was in the match against Notts Nippers..At the end of the 5 events the strongest 12 players, boys and girls, play a "Ryder Cup" style match against The Nippers, (an equivalent tour from Nottingham U G C) .. In the 13 years this match has been played, Peewees have only won twice.. However this year, playing "at home" at the Shropshire Golf Club it was good to see a little early light when S & H were leading 4 / 2 after the morning fourballs.. However the strong Notts unit fought back and led in the first 4 afternoon singles, completely rewriting the morning's script! nevertheless youngsters in the later order of play only lost one more match to get the Peewees over the line for a magnificent well earned victory.  The final Score being 11.5/6.5  Brilliant!   A day for them all to remember for their future golfing career.
2018 Dates for your diary
Oswestry GC  15 July
The Shropshire GC  25 July
The Grove GC 31 July
Shrewsbury GC  6 August
The final at Shifnal GC  14th August
The annual match V Notts Nippers away at Chilwell Manor  GC Nottinghamshire  23 August