The ladies section at Sapey Golf and Country Club in Herefordshire has reached their fundraising target of £2000 for the MS Society during what has been a very challenging year for the members.
The club was under threat of closure in June before the last minute purchase by Wyldecrest Parks secured the future for the members and staff but not before the ladies section had shrunk from 43 to less than 25. 2017 Lady Captain Annie Kendrick handed over a cheque for £2,000 to Andy Jarrett, Area Fundraiser for MS Society saying, "I'm absolutely amazed that we reached our target. We only actually did two open competitions but the ladies have been so generous in their support, collecting all their 5 pence pieces in pots, and hosting a skittle evening and BBQ which raised lots of money".
On accepting the cheque, Andy Jarrett said, "Many thanks to Annie and the ladies at Sapey Golf Club. To have raised a massive £2,000 is marvellous and will make such a difference to the roughly 1,500 living with the condition in Herefordshire and Worcestershire. This could fund 4 desperately needed short breaks for someone with MS, 200 calls to our helpline so that we can be there for people when they need it the most or run an MRI scanner for 8 hours to provide detailed images of the brain that helps the researchers we fund to better understand MS".
Image: From left to right, Owner Alfie Best, 2017 Lady Captain, Annie Kendrick, 2018 Lady Captain, Di Urquhart, MS Society Area Fundraiser Andy Jarrett and Ladies Section Treasurer, Tory Brettell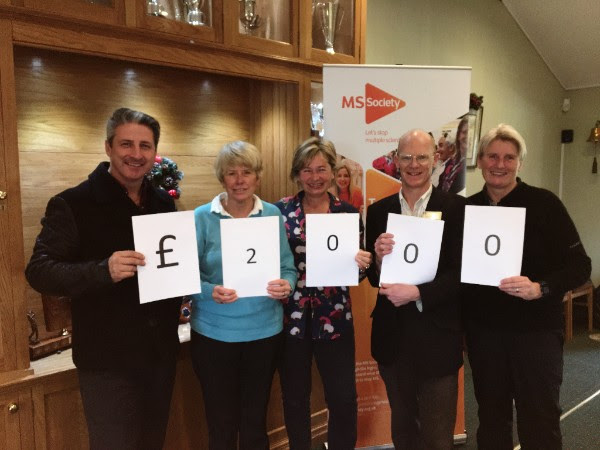 2018 Captain, Dianne Urquhart announced that her chosen charity for the coming year would be the West Midlands Air Ambulance, "It's something that is really close to my heart as a few years ago I was kicked by one of my horses and I had to be taken to hospital in the Air Ambulance. Since then I have discovered that in this local area three or four of our local farmers have also been taken off to hospital in the air ambulance. It is something that in a rural area is really important and I would just like to raise a bit more money for them as they do a marvellous job".  The Ladies have set themselves a target of £2,500 for 2018.
Midlands Air Ambulance maintains 3 helicopters and needs to raise over £9m a year to keep the service going. Michelle McCracken from Midlands Air Ambulance Charity said, "Midlands Air Ambulance Charity undertakes on average six lifesaving missions every day, so funds raised from generous people like Dianne make a vital difference."