BIG MAX LAUNCHES NEXT GENERATION BAG RANGE
Ultra-Lightweight, spacious and even with a unique new category, BIG MAX 2018 waterproof golf bags make life on the fairways just that little bit better.
The award-winning Golf bag range from BIG MAX is expanding for 2018 with new additions that build on the success of the company's AQUA technology as well as a unique innovation that creates a new category of golf bag.
The technology underpinning the AQUA range is the brand's new Drop-Stop system that guarantees the bags are 100% waterproof. Using waterproof fabric with an unprecedented waterproof rating of over 10.000mm*, along with sealed seams and specially designed Japanese waterproof zips, the AQUA range delivers an unrivalled level of protection from the elements.  Add in the removable see-through hood with zipper access from either side and the new AQUA bags take water protection to complete new levels.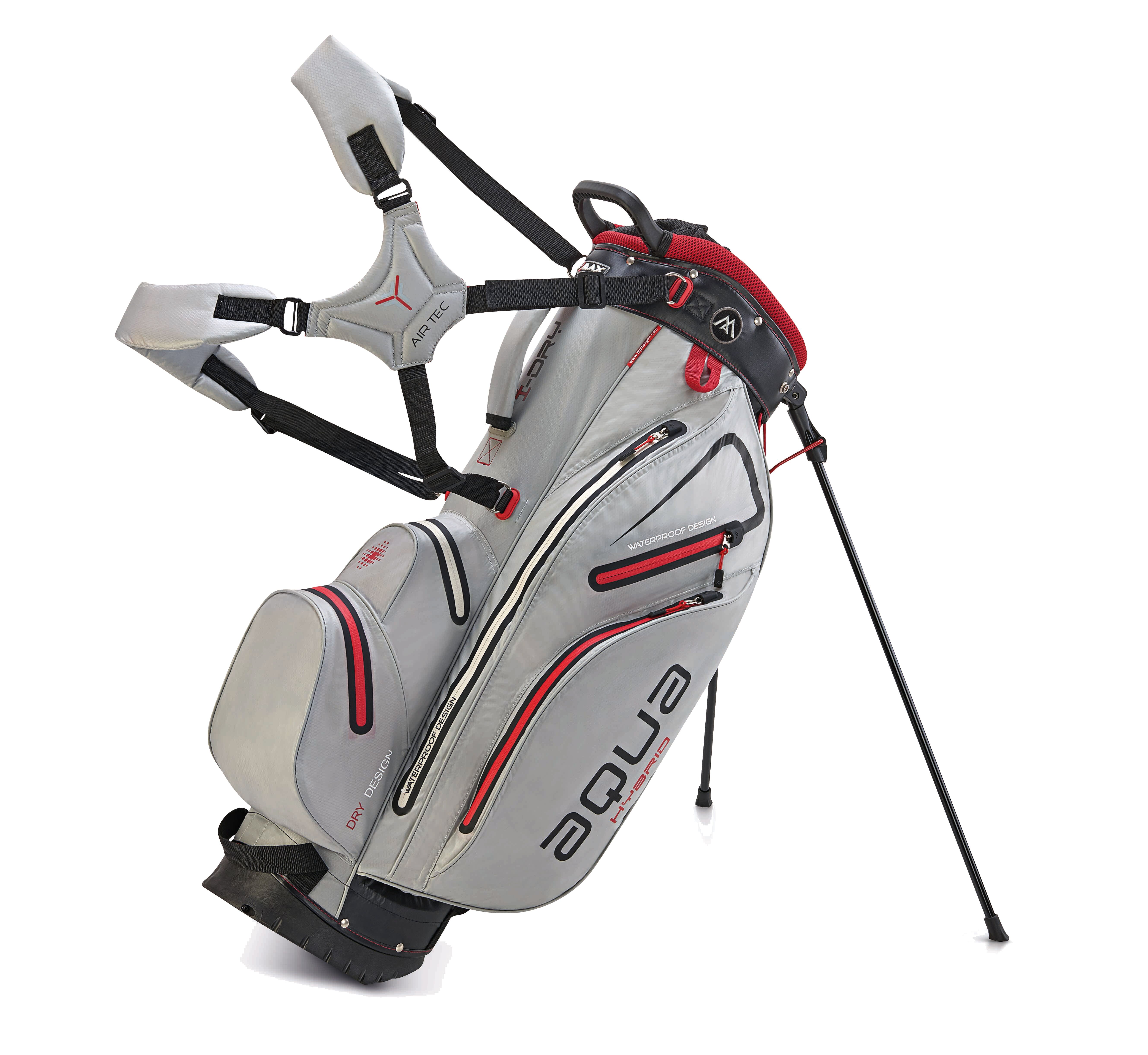 The AQUA Hybrid is a category-defining golf bag that delivers the best of both Cart and Stand bag technology. While most stand bags adequately sit on a trolley, they are prone to twisting and shifting as the base mechanism isn't designed to sit flat. Cart bags fare even worse out of their comfort zone making for a clumsy and cumbersome carry. The Hybrid gives the best of both worlds.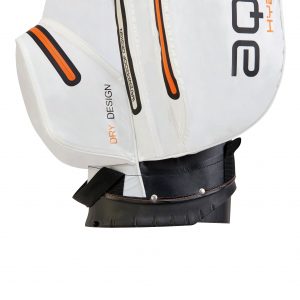 The unique flat base and leg lock system are perfect for securing to a trolley or buggy, sitting as perfectly square as the most robust cart bag. With 7 spacious waterproof pockets, 14-way divider and a host of neat features, the Hybrid has all the function of the best cart bags. But take the hybrid out on its own and it transforms to a stylish lightweight stand bag. The footless stand mechanism works exactly like any other stand bag while the air channel straps allow for breathability and comfort. At just 2.3kg the Hybrid is a breeze to carry, delivering the best of both worlds, however you choose to get it round the course.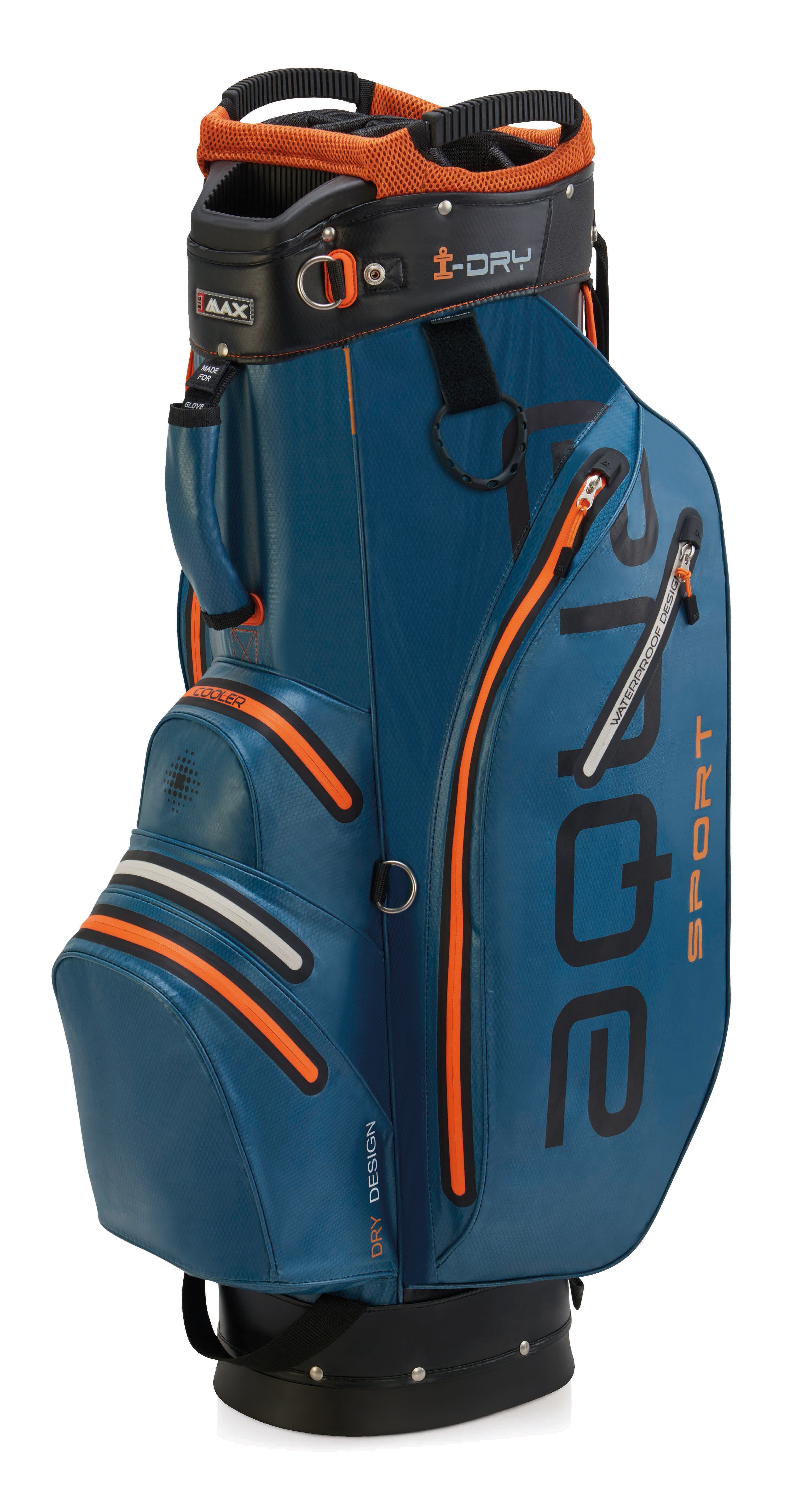 The AQUA Sport 2 is the second generation of the brand's most successful cart bag. With a 14 way, 9.5-inch organiser top and full-length dividers, the Sport 2 will accommodate and organise a full set with ease. 7 spacious pockets, oversize putter well for large putter grips and an unloaded weight of just 2.4 kg cement the Sport 2's credentials as a leader in the field of practicality. As with the hybrid, the Sport 2 has a clear rain hood with dual zips for easy access from either side that complete the waterproofing of the bag. A host of neat features such as oversize cooler pocket and easy carry handles combine with neat accessory storage options finish off the practical features on this stylish new addition to the BIG MAX AQUA line.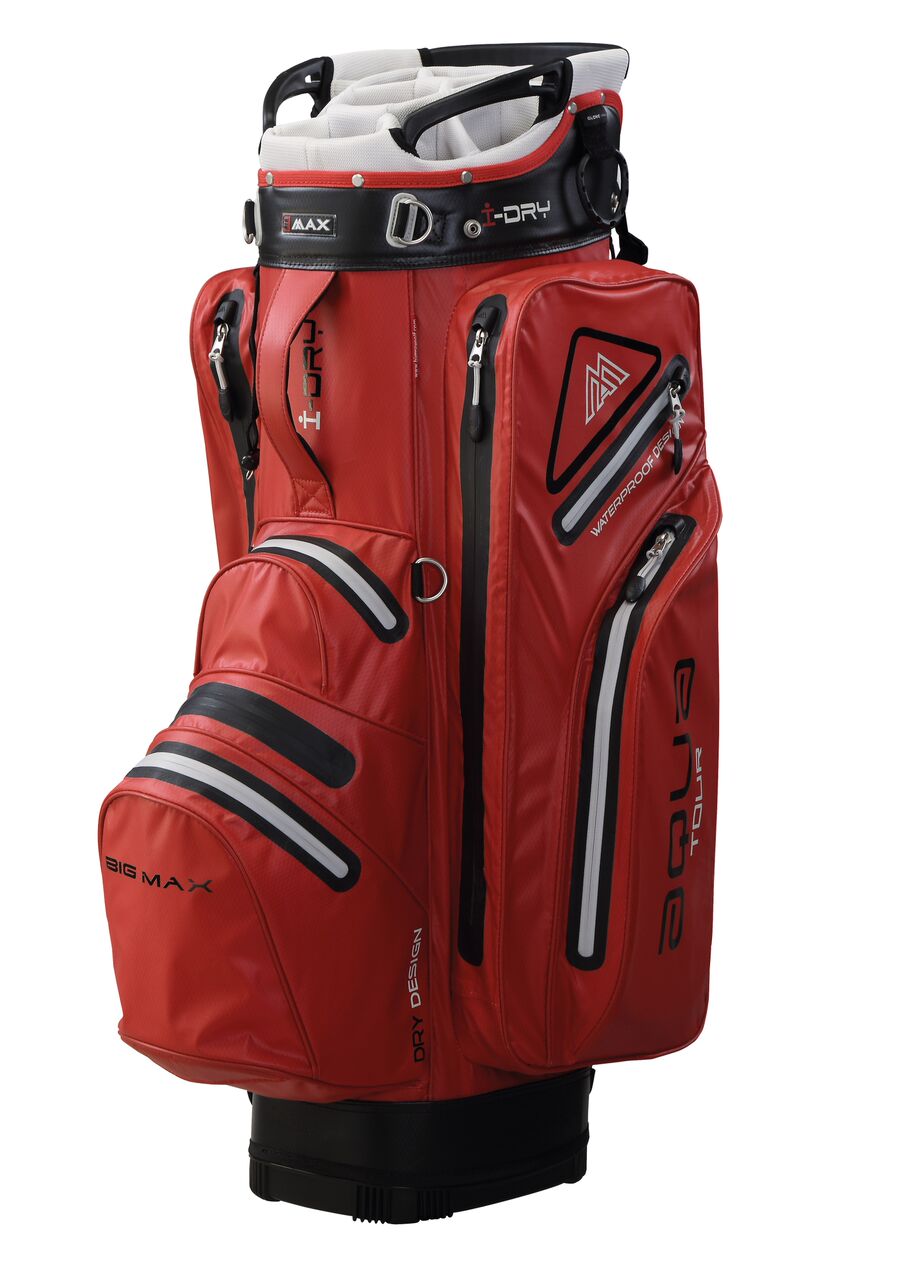 The AQUA Tour 2 is the ultimate bag for the golfer that has all the gear and wants to keep it 100% dry. The Tour 2 has an enormous capacity for storage combined with a quite unbelievable weight of just 2.7kg. 9 spacious pockets, glove and towel holder, umbrella holder and oversize putter well for large putter grips provide ample storage options. For ease of club movement, the Tour 2 has a 10 inch, 14 way top leading down to individual dividers. If you're looking for a lightweight option to carry all the gear you could ever need on the course, the Tour 2 delivers on every level and keeps everything dry while it does!
With more designs to come later in the season BIG MAX is set to have the most complete range of golf bags on the market. Recently established as the #1 waterproof golf bag brand in Europe and #1 for any type of golf bag in Germany, the latest combinations of style, substance and practicality from BIG MAX are set to cement the brand's position at the top of the tree.
*Hydrostatic testing of waterproof fabric gives a mm per 24 hours rating. This refers to the amount of rainfall a fabric can withstand in a single day. Thus, a 10,000mm waterproof rating means the garment can withstand 10,000mm of rainfall in a single day without letting moisture in.
Aqua Hybrid – £229.99 available in Black/Red, Silver/Black/Red, Lime/Black/Silver, Red/Black/Silver, Petrol/Black/Orange, White/Black/Orange
Aqua Sport 2 – £239.99 available in Black/Silver, Charcoal/Black/Red, Silver/Black/Cobalt, Yellow/Black/Silver, Red/Black/Silver, Navy/Black/Silver, Petrol/Orange/Black, White/Black/Orange, Charcoal/Fuchsia
Aqua Tour 2 – £269.99 available in Black/Silver, Charcoal/Orange/Black, Red/Silver/Black, Petrol/Orange/Black, Lime/Silver/Black, Silver/Lime/Black
For more information on the BIG MAX Aqua range visit www.bigmaxgolf.com or follow socially:
facebook.com/bigmaxgolf
Twitter: @BIGMAXGOLF
Insta@ @BIGMAX.GOLF
Media Enquiries: david@medi8ltd.co.uk +44 (0)7740 684568
About BIG MAX
BIG MAX has been Europe's #1 push cart brand for over 15 years following the unprecedented success of the world's first 3 wheel push cart the Ti1000. Available in virtually every country that plays golf, BIG MAX is a name that has become associated with quality and innovation. It's most recent advancement, Fold Flat technology, has seen BIG MAX pioneer push carts that fold down completely flat, in some cases to less than 5" deep. BIG MAX has furthered its reputation for innovation with its AQUA and DRI LITE technology that in the last quarter of 2017 matched BIG MAX push carts by becoming #1 golf bag and travel cover brand in Germany, a traditional marker for # 1 in continental Europe. 
https://midlandsgolfer.co.uk/wp-content/uploads/2018/02/New-2018-Aqua-Bags.jpg
600
1000
Midlands Golfer
https://midlandsgolfer.co.uk/wp-content/uploads/2014/09/midgolfer-new.jpg
Midlands Golfer
2018-02-08 13:01:01
2018-02-08 13:01:01
BIG MAX Launch Next Generation