MG work hard but we also relish our trips, as any magazine journalist will tell you it's a nice perk to have. Every couple of years we indulge in one to The Vale Resort in Hensol, Glamorgan – situated just five miles from Cardiff City Centre. This year's trip in early August was to be my fourth in total but the first for our husband and wife team, lady editor Mandy Ambert and hubby Jean-Louis (JL) our ambassador and northern distributor.
Sadly with a couple of days to go, Mandy had to cancel due to family reasons leaving it to be a boy's only trip.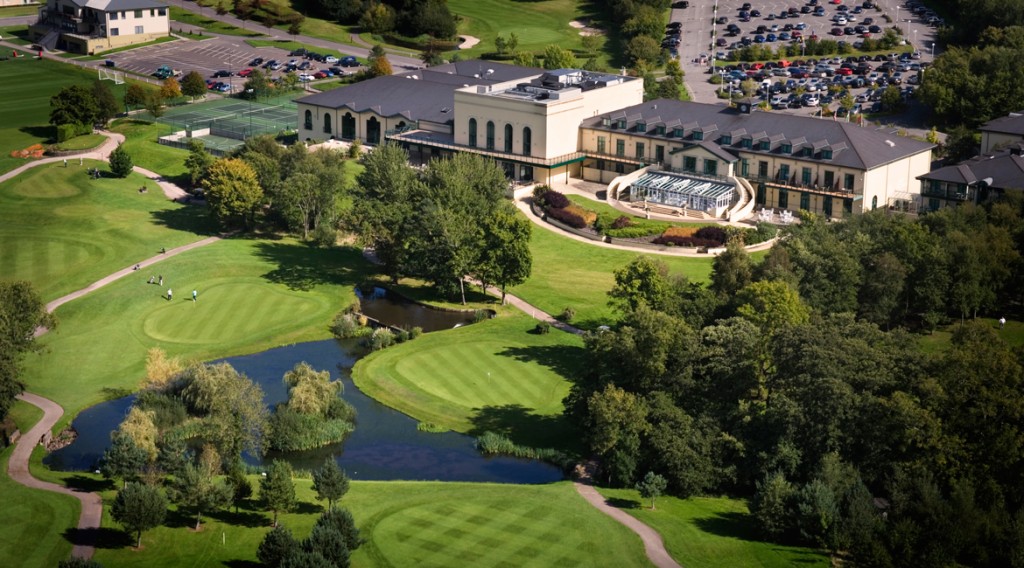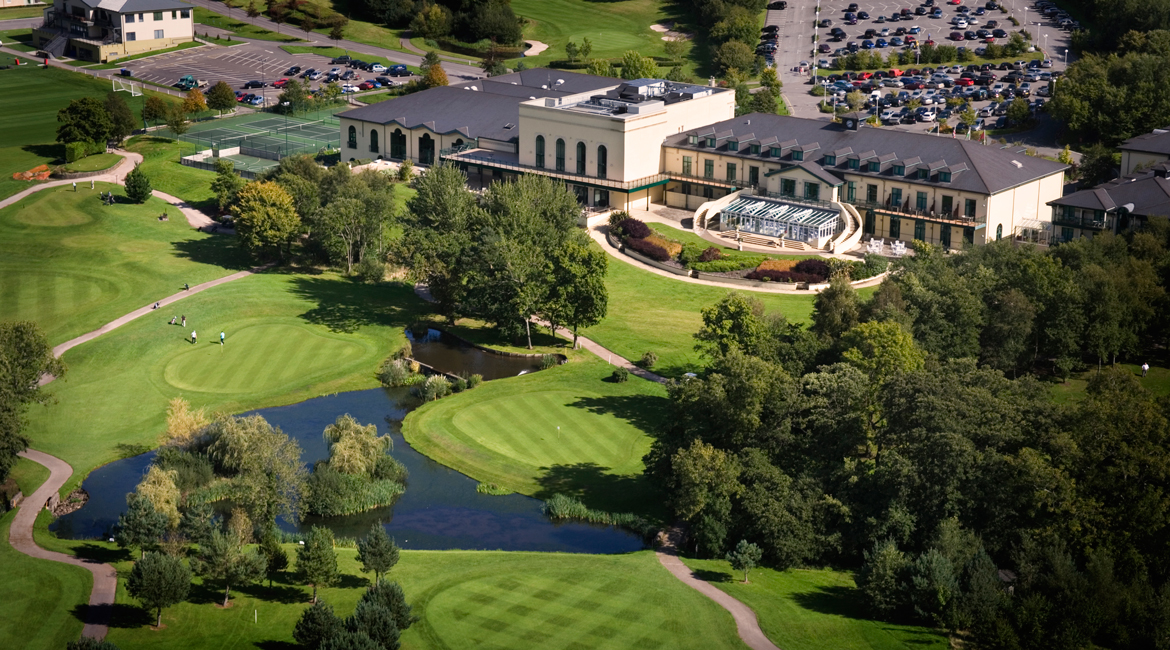 Set within 650 acres of beautiful Welsh countryside, the family owned Vale Resort is the perfect destination for breaks of all descrptions. 143 modern and luxurious bedrooms onsite and they offer first class Welsh spa and golf breaks along with magnificent resort facilities for families. Other features include an impressive health club, Wales' largest spa plus most importantly two high quality golf courses.
We stopped off at the Pencraig Diner on the way down for a breakfast bap and a coffee for JL – the french get through a lot of coffee. I call Pencraig Diner the Tebay of the south, everytime I visit S Wales the diner gets a visit, ever since 2009 – just as Tebay is the one and only one for the brekky when we go to Scotland. We're well organised at MG.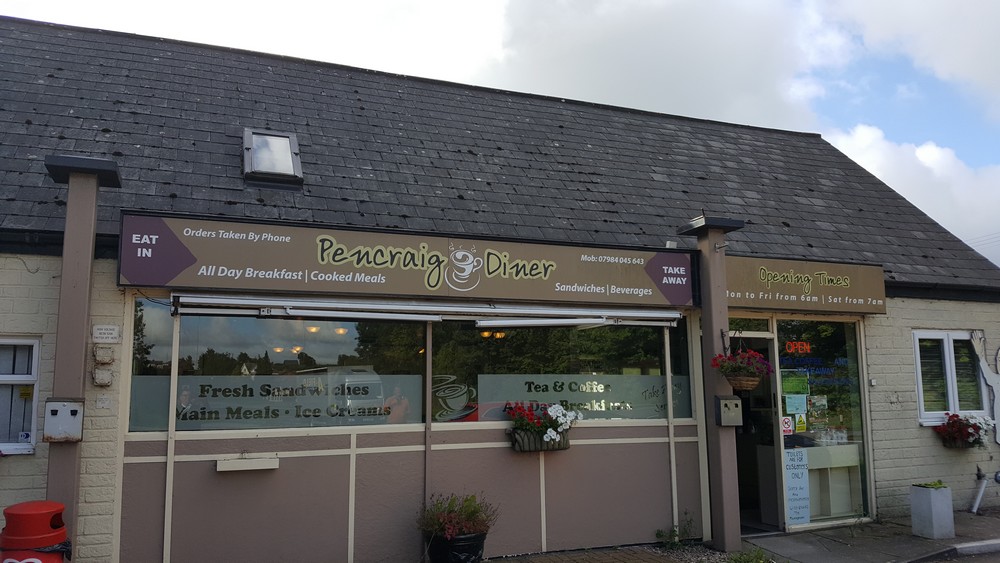 If you do visit The Vale though – go this route instead of risking the M5 to Bristol and a toll charge on the Severn Bridge. Google maps might well point you in that direction but ignore 'em, M5 – M50 and A40 through Ross-on-Wye and Monmouth with Pencraig sitting in between is much easier on the eye, and way less stressful. The A40 brings you out at Newport joining the M4 underneath the shadow of Celtic Manor. From there it's around 35 minutes to the Vale entrance – which is just 2 miles from the motorway exit.
We had time late morning to grab a couple of meetings in the Swansea area and then doubled back, arriving at The Vale in time for a warm up ahead of round one. The weather was lovely as we teed off at 2 on the Lake course, and stayed that way throughout the round.
Many resort courses have 36 holes, and many second courses are really just there for show, just to add a bit of value to a trip without really making any pretences to reach anywhere near the same standard as the Championship standard neighbour. The Lake has very much got a Championship standard neighbour, but refuses to sit in its shadow.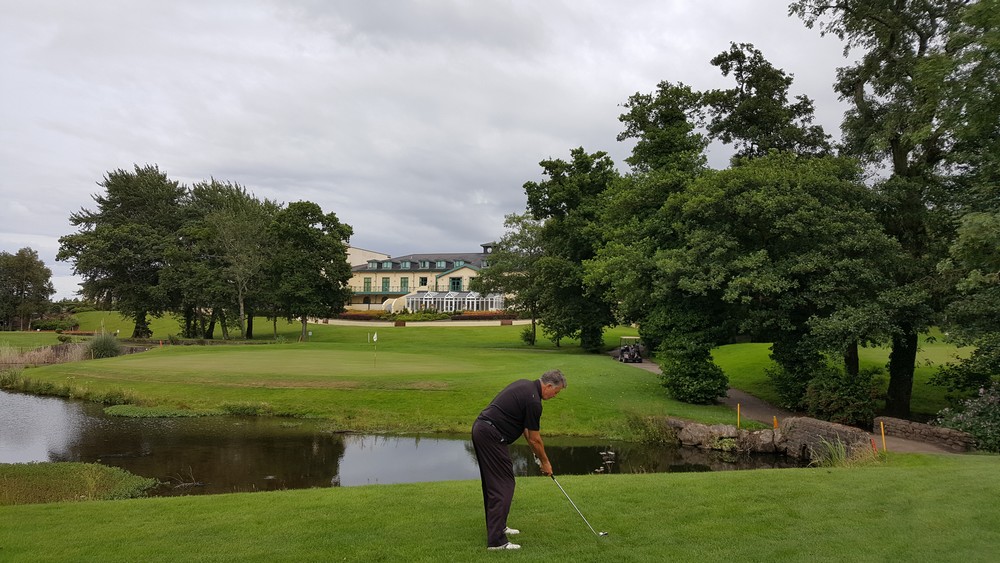 Everytime I've visited here I've found a little time to wander around the Lake course, or grab a quick buggy ride, try a couple of holes out, without playing the full 18, now it was time to put all of the pieces together.
We raised a little wager before tee off – 36 hole loser on matchplay would buy the late lunch on the way home on day two. I generously played it off scratch with JL – hoping that my day two course knowledge on Wales National would help bridge the 4 point handicap surrender, more on that later.
The start didn't augur well, on a very nice straight downhill par three. Armed with the confidence of some really good swings on the range I strode with a swagger to the tee, only to top it into the bushes under the hotel room, ironically the same one we were to occupy later on.
A chop out, a chip and three putts followed, an ugly six and one down already, this might be a long trip!
JLT played steadily at first without pulling up too many trees, and one fine putt (my best attribute) soon pulled us level.  The opening holes on Lake ease you in a little, a good scoring stretch I would say, just the fourth provides a bit of alarm, a little sighter for later on – the slender pond in front of the green proved to be a difficult hazard to avoid.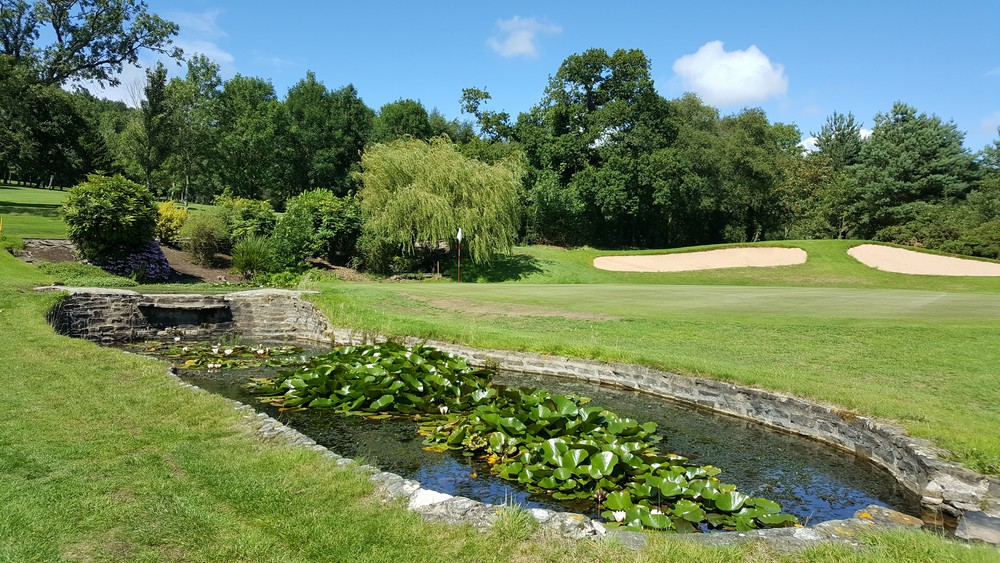 Thanks to that I got back to one down by the time we reached the long par three eighth, and JL ramped the pressure up a big notch with a superb hybrid to 10 feet away. This is one spectacular short hole, lots of greenside bunkers to avoid and the raised tee gives you a view of Wales's biggest heronry at the back of the green. But with JL threatening a birdie of his own this was no time for sightseeing. Somehow I summoned the skill to almost match him, onto to the safety of the green and we halved with a par apiece. Pretty happy with that.
It sparked off a transformation in my game and the next six holes I managed in just three over, JL crumbled under the pressure and one down became two up for me following the 14th.
He might have been a bit distracted, around the turn you are right in the hotel's grounds and over the far side are huge training pitches for football (Cardiff City) and Rugby (Cardiff Blues and Wales).  JL loves his rugby and spent a while looking over the facilities, sadly with no-one training on our day.
Both the nines conclude by the hotel lawn, around a sprawling waterside complex, where the course gets its name, tricky holes and this time it was the Frenchman who succumbed.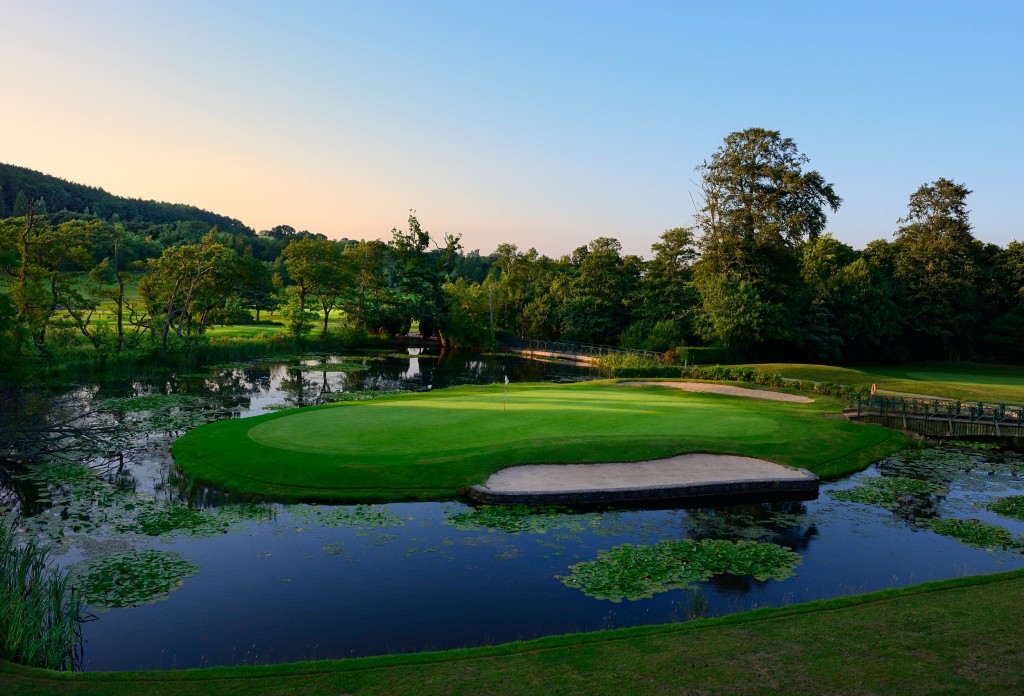 However the signature hole is the 12th – a truly magnificent par four and one of the most eye-catching tests you will find anywhere. One of the residents from the heronry swooped in to watch our progress. A dog leg of 90 degrees to the left, just 300 yards but with a Sawgrass styled island green to float an approach shot in to. With some fairway trees and bunkers, it's not an easy tee shot  either to put it in the ideal spot to attack the green – I failed with that task but stayed dry and two putted for a five, JL stayed dry too but lost an argument with the greenside bushes. A great golf hole, but our feathered friend wasn't particularly impressed.
The rest of the round ebbed and flowed through an increasingly impressive series of mid range par fours, the challenge on offer here should never be under estimated. My mid round surge was a distant memory by the time we stood on the 18th tee all square again. But I uncharacteristically produced a sensible bit of course management to stay out of the lake and card a six, and went to tea one up as JL found the water one last time.
But we both agreed that The Lake is a very enjoyable golf course and it plays an important role in a break to The Vale.  We grabbed a welcome pint in the Terrace clubhouse before grabbing the bags to check in.
Prior to us leaving Mandy was a little concerned when she pulled out that she was leaving me at the mercy of JL's snoring, so with that in mind it was a pleasant moment when we entered the room to find it very much on the spacious side, a snore free zone in between the two beds! Not that the man himself noticed too much, The Vale had pushed the boat out for us with an executive room featuring a complimentary bottle of wine and a box of chocs too, JL was soon tucking in.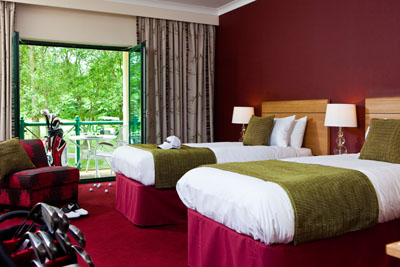 The Vale Resort has two large bars, one of which (Vale Bar) doubles up as a more relaxed eaterie too. We grabbed a drink there before dining in the Vale Grill, very roomy restaurant with a terrace eating area and an open planned kitchen. So all the lovely smells waft across the room as you pick from the menu – Jean-Louis picked the Welsh Lamb in three different cuts (below), I plumped for sea bream and prawn tagliatelle, and both were stunning.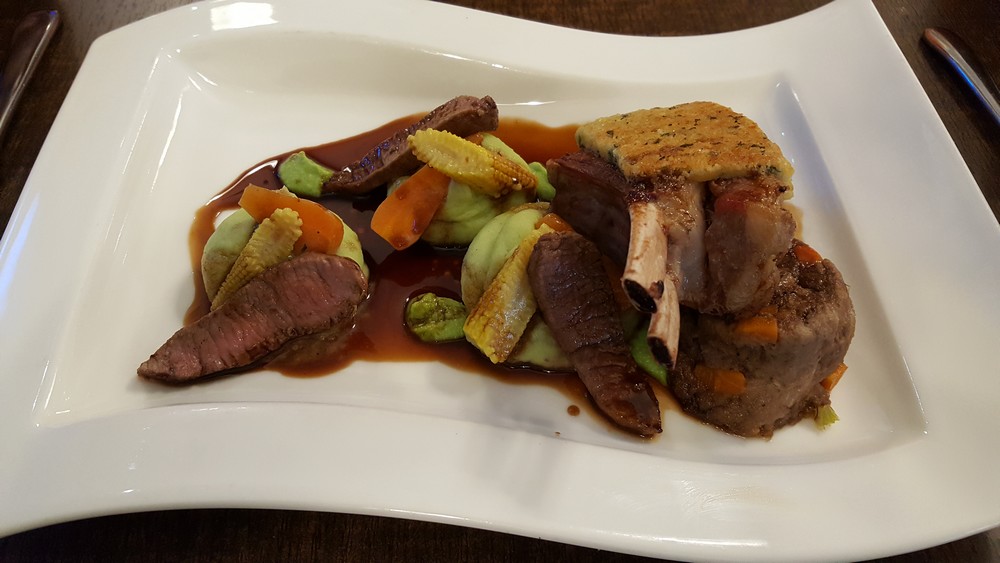 After Cheese and Biscuits just a quick night cap and off to bed for these two old chaps, I'm afraid if you want a blog with tales of raucous hotel nights, you'll have to wait until the younger brigade take over, our Keith Moon days are a distant memory.
Plus we had another round of golf to relish and the next morning after the full Welsh breakfast we got a little lucky. Due to tee off on the Wales National at ten, it appeared that the unfavourable weather forecast had put many golfers off, so teeing off at 9.45 as we did there was barely a soul in sight, it stayed that way all around. Even better than that, the threatened rain never materialised, so JL got to see this special course at its best.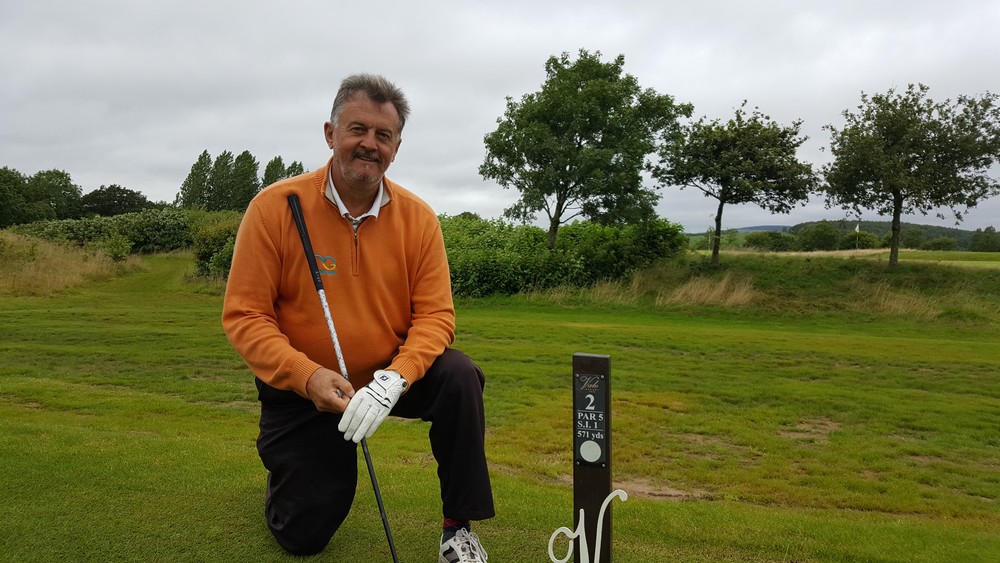 Wales National is a long old golf course and the second hole, at 607 yards from the back tees is one of Wales's longest. We played it from there too as we'd had a little bit of banter over who could par it. In three previous tries I'd never managed less than a seven. It travels downhill but narrows the further you go, and the huge pines on the left always get me in the end. I did get a six though which was pleasing to break the run but the second was all about my pp and his skill, effortlessly finding the green and only ten feet away after three perfect shots. Although the birdie putt didn't drop, his par was celebrated and we were all square again.
But not for long, as I parred the short third expertly with an up and down of some repute from the pine needles. The form continued with another up and down for par at the fifth and an outrageous slice of fortune at the short eighth, taking two to get out of the bunker and then scrambling a half with an off the green putt that whacked the flagstick and dropped in. I was beginning to think this might be my day – two up at this point.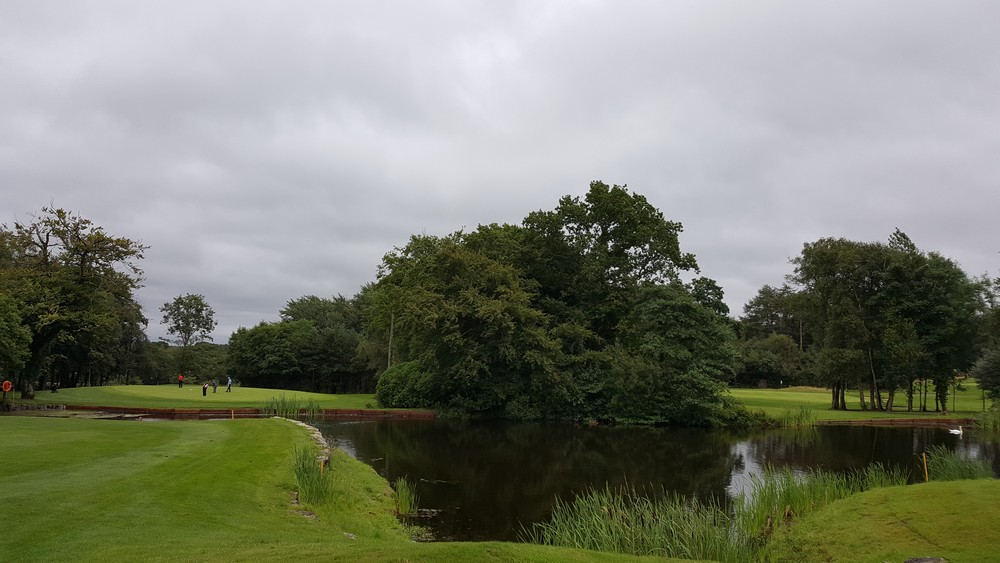 The National has some great holes, the second is outstanding enough but it has company. The sixth (green top left) is potentially driveable – across the lake and first bounce is on the green, in 2010 I did manage that feat even if the brakes didn't come on in time to avoid the trouble at the back. In 2017 it was a lay up and a sand wedge.
The 10th is another fabulous par five, lakeside practically all the way down the left and the water curls around the front of the green too. As yesterday we were joined by a heron and despite some scary moments stayed dry, just, and halved it in six.
But the course really comes into its own from 13 to 16 – a spell of holes where it's difficult to truly do it justice via written word. A fabulous challenge of a stretch as seen below, and you'll just have to come over and sample it yourself to see what I mean.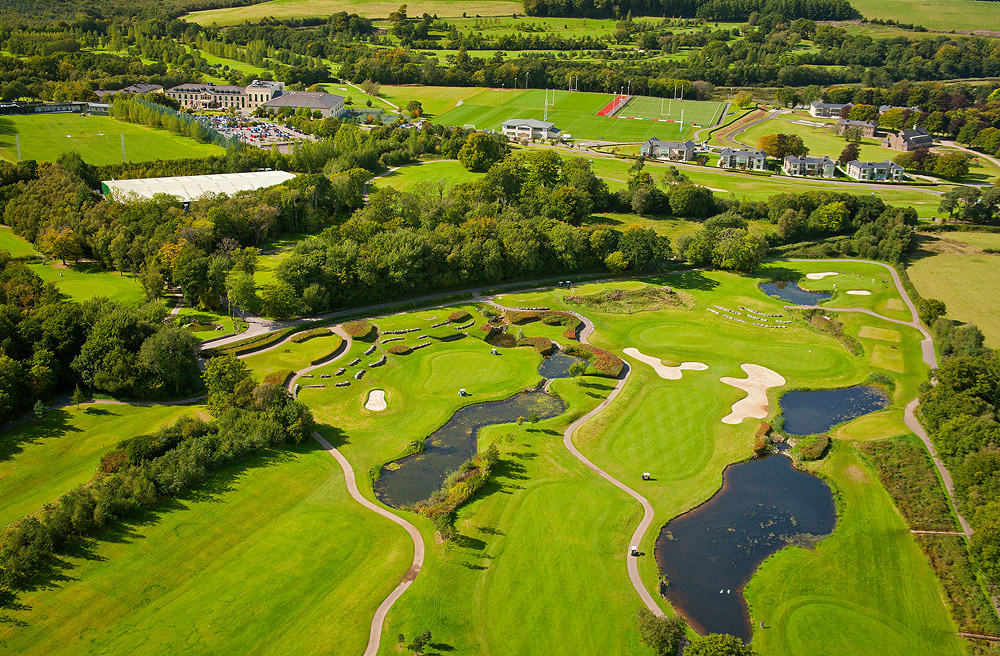 It has one quirk too, the 13th green is the biggest man made one I've ever seen – stretching something like 75-80 yards in width and kind of by mistake too. Original idea was to go links style and share the 13th and 16th greens, but it didn't prove to be viable. So the 16th was shifted a little left leaving the original double green just in use for the 13th. Only two pin positions are in play and both sit on either end of this huge and undulating surface. And when the course is quiet, they actually encourage you to have a little fun too; we indulged ourselves as the clip below shows!
But the fun was running out for me as JL, apart from a blow up on 15 played steady golf on the way in and the pressure started to show on my game (this usually happens). I shanked on the 16th, scuffed the tee shot on 17 and found the greenside pond on 18 trying to match JL's approach.
So two up became a one hole victory for the Frenchman as he took one last look over the way to the Welsh Rugby fields, they still weren't there though.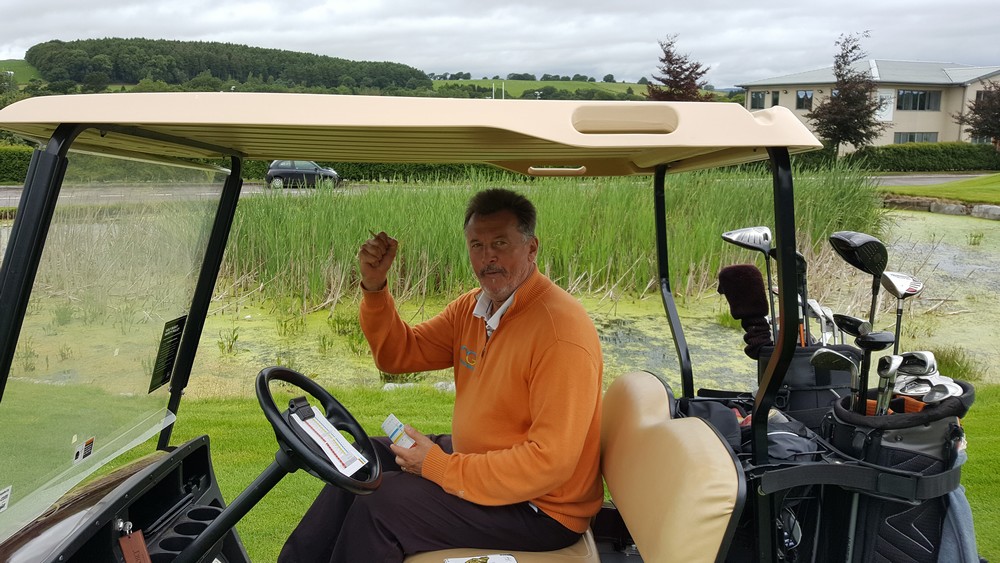 The collapse may have been predictable but over the full 36 holes I didn't play too bad and as for JL, he was full of praise for the resort and thoroughly enjoyed every minute of his trip as we drove away. He had enjoyed the late lunch too back in the Clubhouse Bar – the spoils of success.
MG have been regular visitors to The Vale since 2010 when we did drive the sixth and indulged in a little bit of hotel raucousness in the evening. Older and wiser now but the enjoyment of a trip here never diminishes. We're traditionalists in our golfing tastes, usually preferring the older venues and weather beaten golf courses as nature intended. But every now and then a brash newcomer catches the eye too, and that's certainly true of The Vale Resort – it's a trip we always look forward to.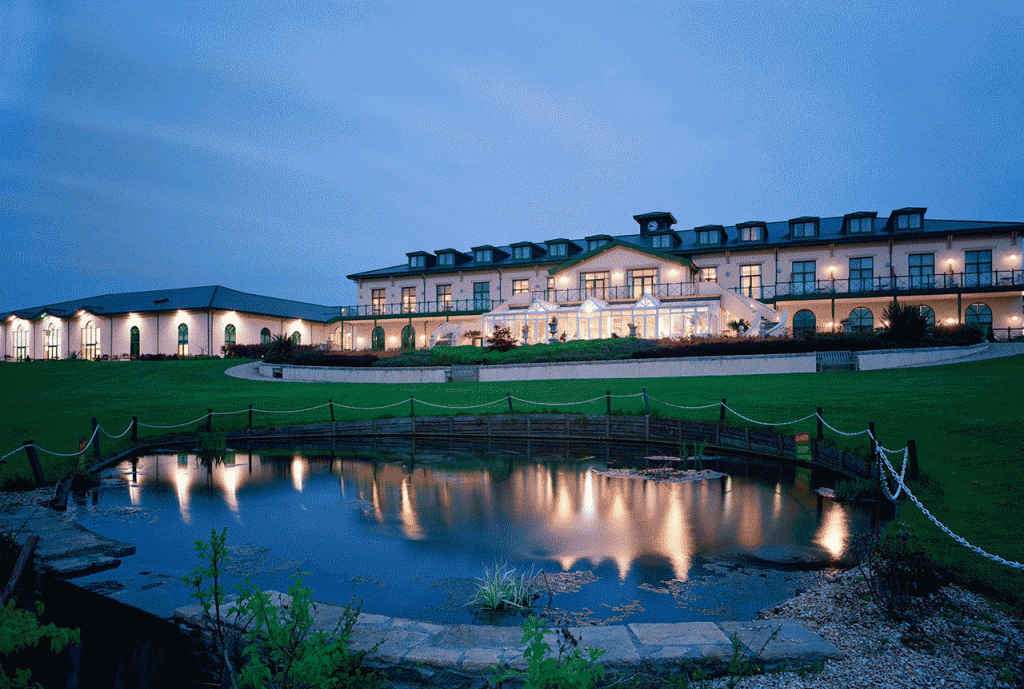 Plus now that JL's been I'm not so sure that his wife will get away with another excuse the next time we get an invite – Mandy Ambert – it's your turn next!
#MGonTour – Phil Nicholas (editor MG)