Affordable, family, friendly
Brierley Forest is enjoying a breathless new lease of life and a very welcome one too. The Notts/Derbyshire border club is a relatively new one to the area, only formed in 1993 and it's fair to say they have been regarded for a long time as a modest relation in comparison with their near neighbours over at the heathland belt of Mansfield and Sutton-in-Ashfield.
That's exactly how Brierley Forest are finding their niche, they will never be Coxmoor or Hollinwell, they don't need to be. This area of Notts needs some affordable golf, and they are providing just that, plus they have a few surprises in store too.
Paul Bough, Natalie and Grant Matchett are the new owners of the club, taking over full time just after lockdown started this spring. Living very locally and supported by other family members they are relishing their quite extensive task in transforming the golf club.
Grant and Natalie, the faces of the operation are looking after the clubhouse refit, (more on that later) extending Brierley Forest's reach into the local community and getting them involved, and also concentrating on getting the club better known among the golfers of the Midland and further afield too.
Grant, who represents Brierley Forest in the Notts Alliance has also enthusiastically been trying to learn about the green-keeping role and learning on the spot all the time from the greens team at the club, as well as other maintenance activities in the clubhouse.
As a family, they have been trying to work hard on course improvements and to the clubhouse in order to bring the membership back together after a few lean years at the club. Both husband and wife have been very successful with recruitment since lockdown, and with a community spirit going on, not just with golf members they are managing to increase their social membership numbers at Brierley Forest too.
The club is now nearing 400 members, their largest amount for many years, and while we were there, there were more than a few of them of the younger variety. We actually teamed up with one of them, young father Stanley, enjoying golfing again at the club after lockdown is pictured here with Mandy.
It's a job well done so far, but what about the golf course? We were as guilty as many are when we re-established contact with the club in July, i.e we didn't know a whole lot about what lies behind the car park, time for a voyage of discovery.
They do like to call it a 'Hidden Gem', it's a bit of an overused term in golf and this regular tag isn't always warranted by others. To us, a true hidden gem is not one down a quiet country lane that you've never discovered before or anything like that.
Brierley Forest doesn't fit that description at all, they are situated just a couple of miles up a straight road leading from the A38 dual carriageway, only a further couple of miles from junction 28, M1.
A hidden gem should be what you find when you pop your golf shoes on and head to the first tee. An unexpected and welcome surprise, how your pre-conceptions aren't met at all in the most pleasant of ways, how the view on arrival is completely contradicted by the sights and sounds on the golf course. This is what they have here.
The parkland course gives you a fairly gentle beginning, a chance to score some welcome early points but it's fair to say that once it opens out a bit it does get more testing as the elevation changes start to take effect, yet what changes too is your surroundings, and how.
During the first five largely tree-lined holes you just don't imagine what you'll find next. Grant did pre-warn us a little beforehand yet in modest and understated terms. He told us the sixth is a big test but it has some lovely views, so it was still something of an open-mouthed moment for Mandy and I when we reached it.
What a wonderful spot. The course has other contenders yet there's only one true signature hole as the elevated sixth tee treats you to a quite lovely open aspect to its right-hand side, beautiful countryside views with the Elizabethan Hardwick Hall as the centerpiece on top of the hill.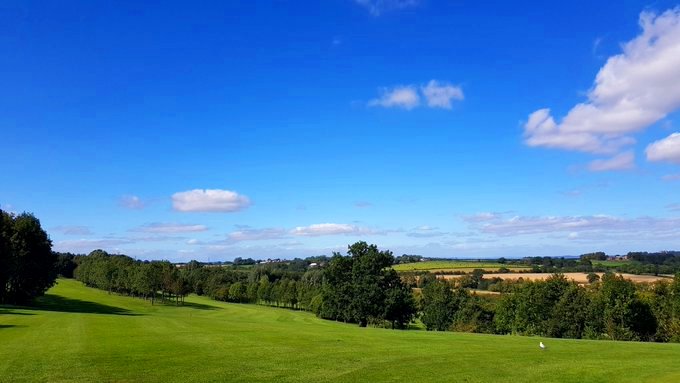 A gorgeous hole yet one that also presents a serious challenge too as the gently sloping fairway leans to the right and can put you in a tricky spot. The undulations mean that very, very few golfers would attempt to go at this par five in two, especially as there's also a pretty but dangerous pond lying underneath the raised green as well. Stroke index one for a reason.
The openness continues for a little while until you reach the turn where your mental game is tested to the fullest by the tantalisingly short par fours at nine and 10, possibly driveable but supremely well defended too. Risk and reward, Brierley Forest style.
Reward on the 12th is definitely a par, this uphill facing par four with tree surrounded water hazard in the middle of the fairway, and a largely blind approach in-store to a banked up green is a potential card wrecker for sure.
Following the long straight par five 13th which offers a final reminder of the splendor of the surroundings, you head for a more sheltered and tree-lined closing stretch, reminiscent of the beginning.
Welcome birdie opportunities exist from 15 to 17 but the uphill home hole can be arduous and takes a couple of good hits to reach the green, from the white tees it can only be described as something of a beast.
It also has one large putting surface too, with twists and turns galore, and it's not alone on this course, the greens here only enhance the experience further, they are a joy to putt on.
A course packed with charm and interesting golf holes with a wonderful extra bonus that the surroundings offer in the open stretches. Yet one that genuinely does make you work on every shot to earn a good score.
19th hole 
There's work to do in the clubhouse, the adjoining room and the first floor too which will hopefully be converted into something of a function room eventually. Yet the image of the lounge bar as it right now illustrates the style everything will be done in, quirky, colourful and extremely welcoming. Two large screen TV's show the latest in live sport.
For Societies
Groups can book up at Brierley Forest seven days a week, packages include Bacon Cob and coffee/tea on arrival – the post-round food options will increase as we head into 2021. Buggies available to hire – 1 in 12 go free.
Green fee only rates – £15 weekday – £20 weekend.