Since issue 1 back in 2012, MG have always listed all the holes-in-ones we get to hear about from the Midlands golfers in our Pinboard section. 

If you get a hole-in-one, take a photo, and send it to us. Dropping us a line on social media on our Midlands Golfer Twitter or Facebook pages is the best way but you can also email Phil on editor@midlandsgolfer.co.uk if you wish.
SPRING 2023 HIGHLIGHTS
ALAN'S HEAVENLY ACE
Alan Wheelhouse, a golfer from Darnford Moors in Lichfield sent us this poignant little tale last month.
"My mum who was almost 93 sadly passed away on Saturday Feb 25th after a couple of weeks in hospital. 
On Tuesday the 28th, after a couple of weeks of 150 mile return trips we were shattered but in need of some fresh air and a good walk.  So the "lady captain" and I set off to our club at Darnford Moors for a quiet round.  Walking onto the tee of our fourth hole – 140 yds par 3 across a pond – I took out my eight iron, looked to the skies and said to mum – "come on, send me a hole in one." – She did!!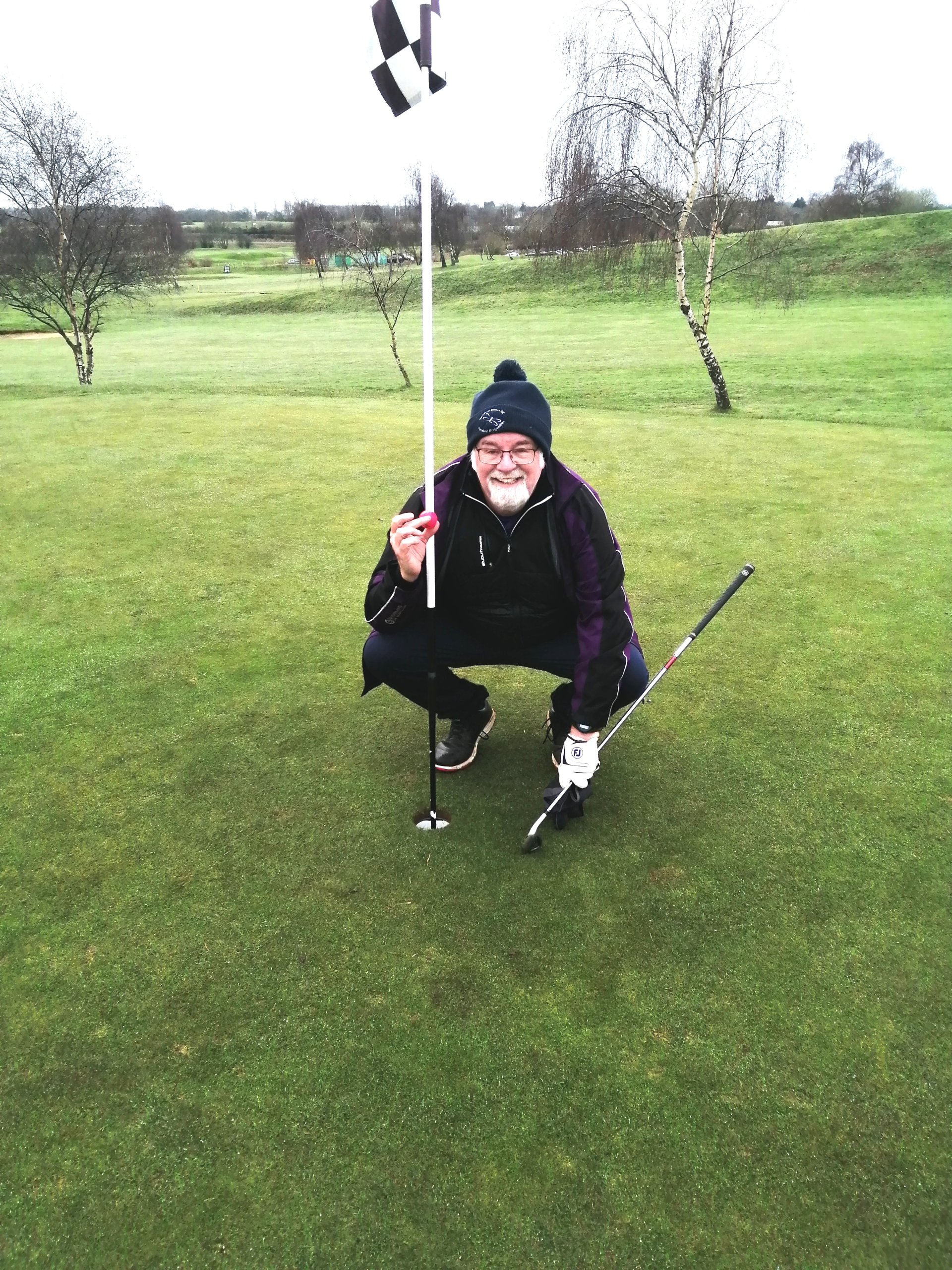 Silvia, who is the captain of Darnford Damselflies says she's not sure whether "divine intervention" should disqualify me from getting recognition. I leave that ultimate decision to you, but as it's my first ace at the age of 66 I'm claiming it!"
---
DUDLEY SKIPPER'S SPECIAL SEND-OFF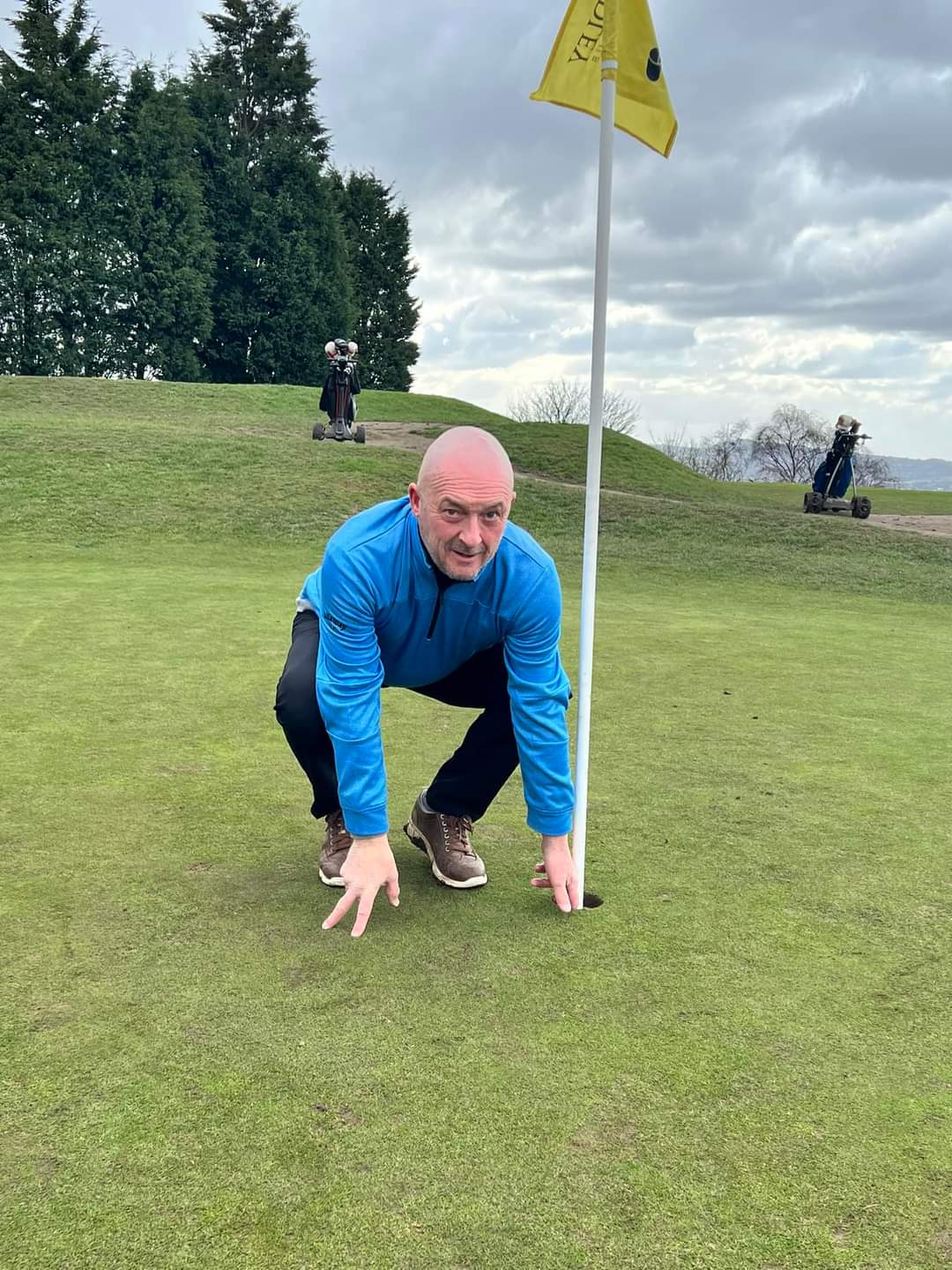 Dudley Golf Club's captain's farewell competition provided a fitting conclusion to 2022 skipper Paul Donnelly's year in office. He's pictured here by the flagstick of the 143-yard fourth hole after firing in a memorable hole-in-one which was celebrated fittingly in the club bar afterwards.
---
A WELCOME SURPRISE FOR LYNDA
On Sunday March 19th Forest of Arden member Lynda Ward was playing the Aylesford Course with the 'We Love Golf' ladies group.
She took her drive on the 122-yard 10th hole, and unfortunately no-one was looking where the ball was going. So when Lynda got to the green she couldn't find it anywhere. The last resort for them all was to look in the hole, you know what happened next! Congratulations Lynda.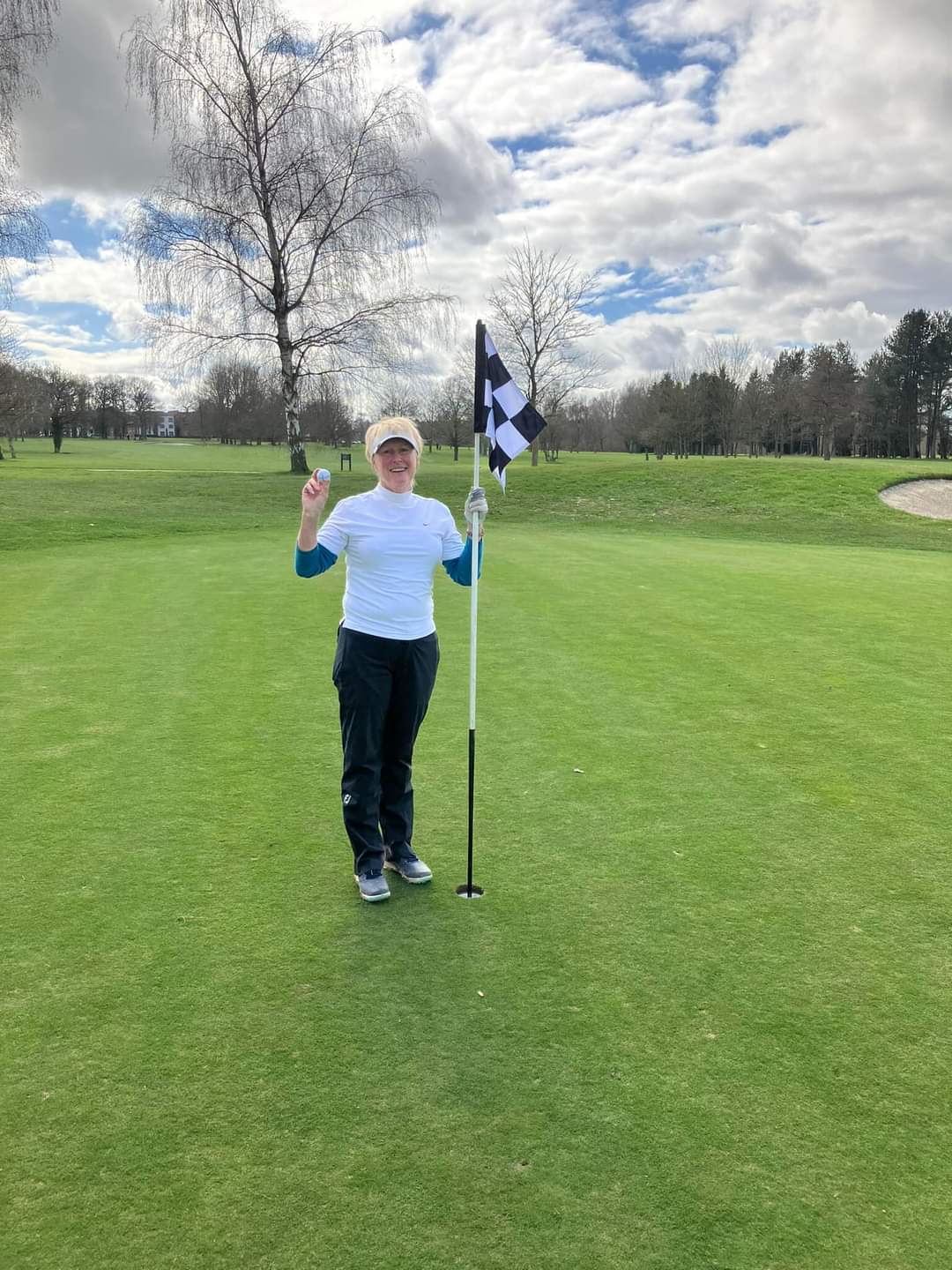 ---
LILY GRICE – JUNIOR STAR HITS A WINTER LEAGUE ACE
Lily has been playing golf since the age of four, she started playing at Warley Woods with the Greg Lynch golf academy and competing as part of Golf Sixes At the age of nine she moved to Halesowen Golf Club, and joined the Junior Academy under the stewardship of PGA Pro Paul Johnson and his no2 Dan Jackson where she has worked to gain her handicap.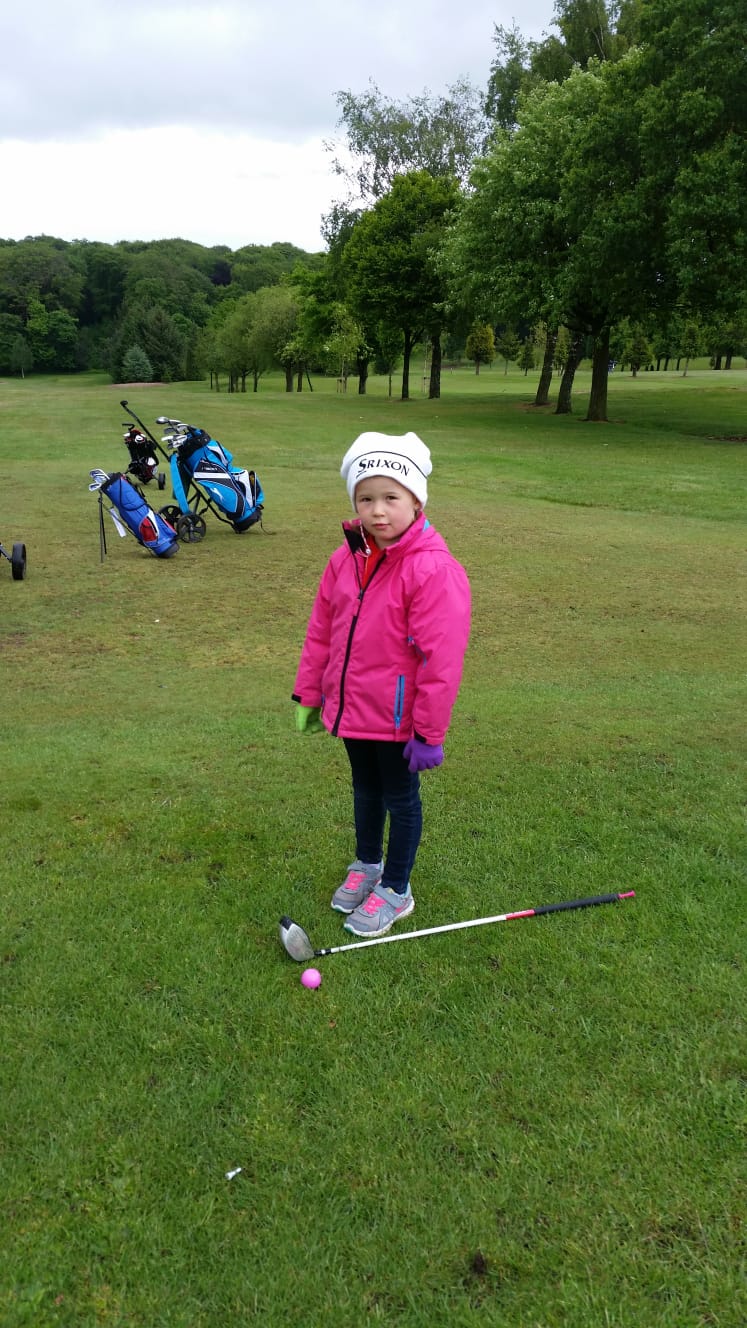 Now 12, Lily is a regular player for the HGC junior team, looked after now by Joe Price and is training with the Worcestershire and Herefordshire county girls.  She is flourishing and has certainly got the golf bug.
She recently won the junior winter league and in the final league round in late March she got a hole-in-one on the tricky 147- yard par 3 4th hole. Lily would like to thank everyone involved in her golf training.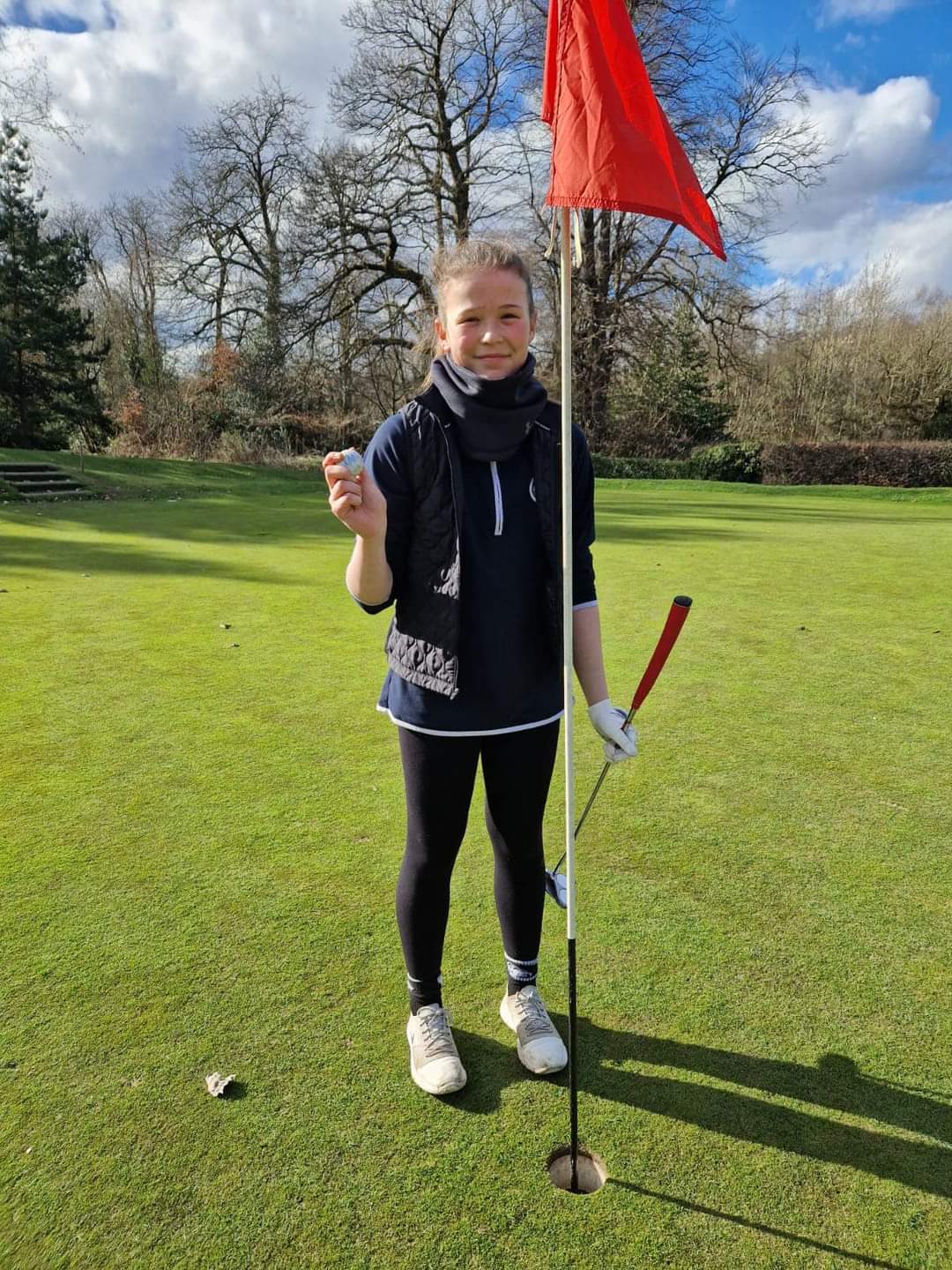 ---
Another junior celebrating a hole-in-one lately is Harry Slater. Harry is a Wrekin GC player and recorded his ace on whilst playing in the Junior Spring Cup over at Bridgnorth GC.