Since issue 1 back in 2012, MG have always listed all the holes-in-ones we get to hear about from the Midlands golfers in our Pinboard section. 

If you get a hole-in-one, take a photo, and send it to us. Dropping us a line on social media on our Midlands Golfer Twitter or Facebook pages is the best way but you can also email Phil on editor@midlandsgolfer.co.uk if you wish.
A selection of aces from Autumn 2021
Mel finally gets his special moment
MG reader and GolfShake ambassador Mel Davies is a bit of a golf nut and is never far away from a course. But in 30 years of trying, he's never found the bottom of the hole with his tee shot.
That is until he played at Churchill & Blakedown in Worcs in mid-October. Mel's long wait finally ended at the 94-yard fourth hole, with his trusty 3/4 wedge in hand, a first ever hole-in-one – well done Mel from all of us.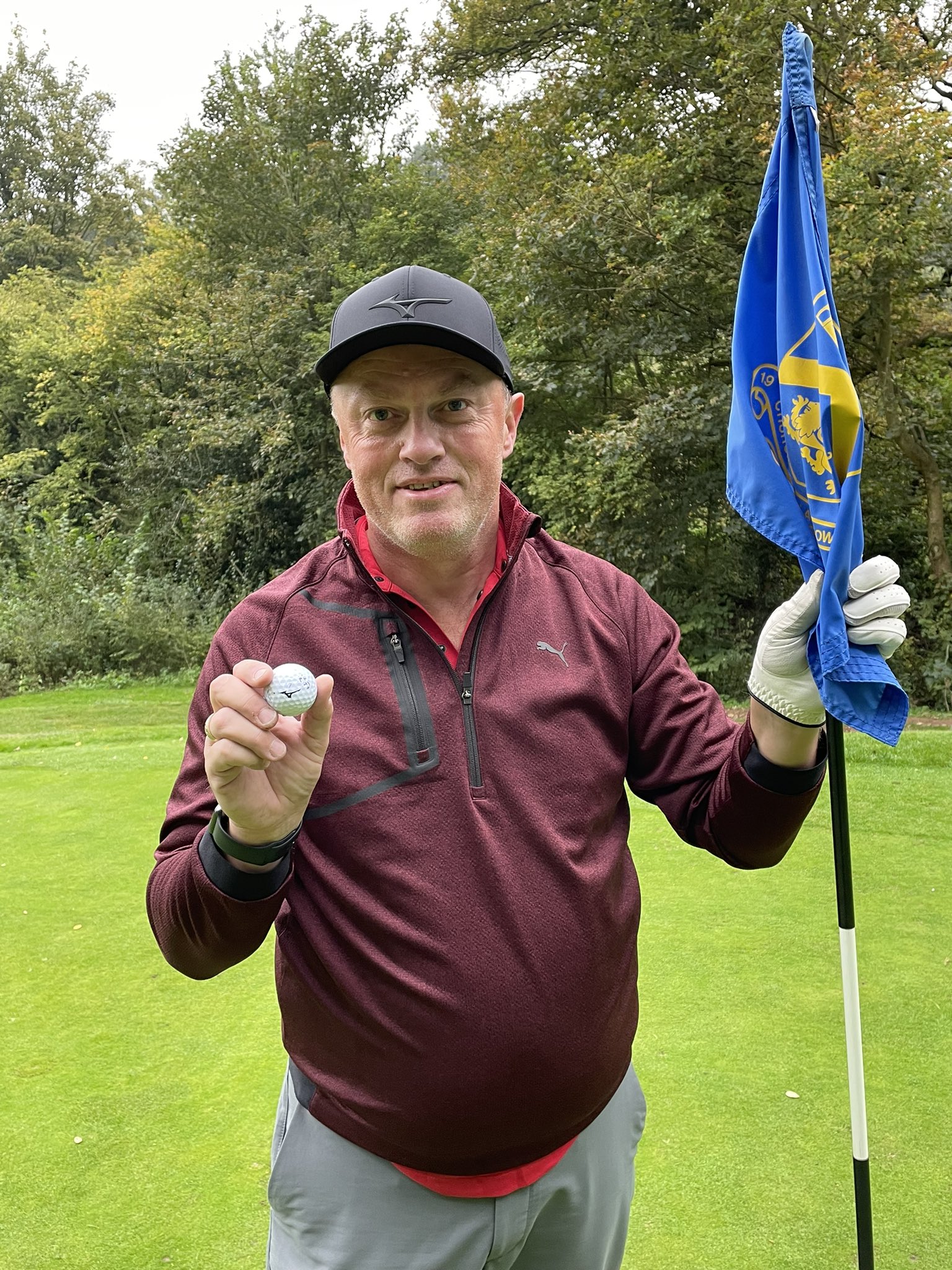 ---
Ray's first eleven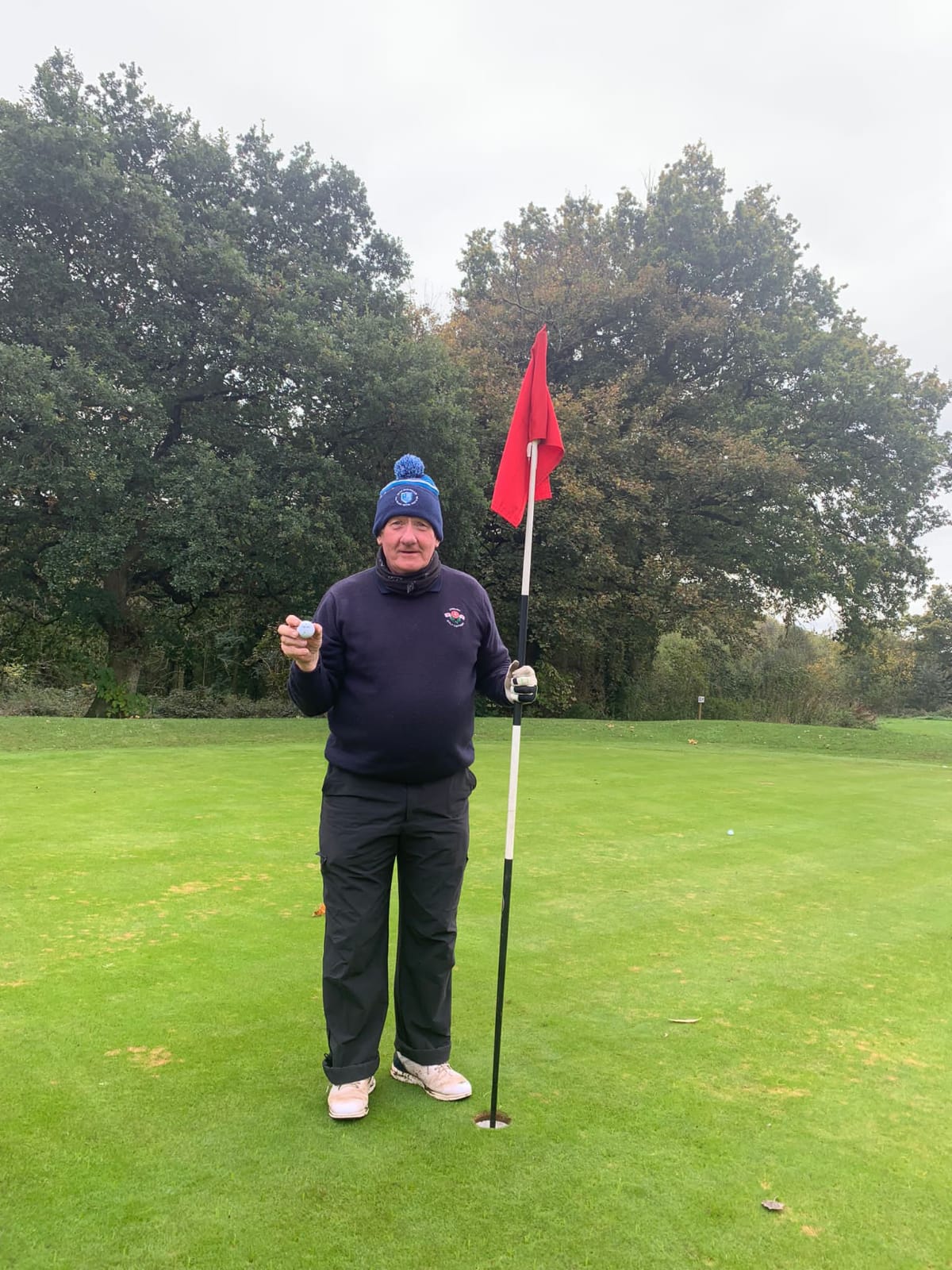 Ray Saunders is a bit of an ace at hole-in-ones and during the past 18 months has taken a bit of shine to popping them in from the tee at his home track at Sedgley Golf Club near Dudley.
Ray, a 6.8 handicapper has found the hole three times in this period, twice on the short fifth hole (second one pictured above) and a further one which came via a five wood on the longer 164 yard third. In total in his golfing career he's fired 11 aces and when asked about his success by various playing partners, Ray simply answers – "I just hit them straight!"
---
Martin drives-in the hole!
New Penn GC 2022 captain Martin Weston got his year in office off to a spectacular start on the day of his drive-in on a chilly Saturday November 20th. Martin (51) was following a family line of captaincy at the club, his father Tony was captain in 1992, his mum Diane took on the lady captain role two years earlier. Martin invited 19 other members and board members to share the day with him, playing a fourball betterball comp.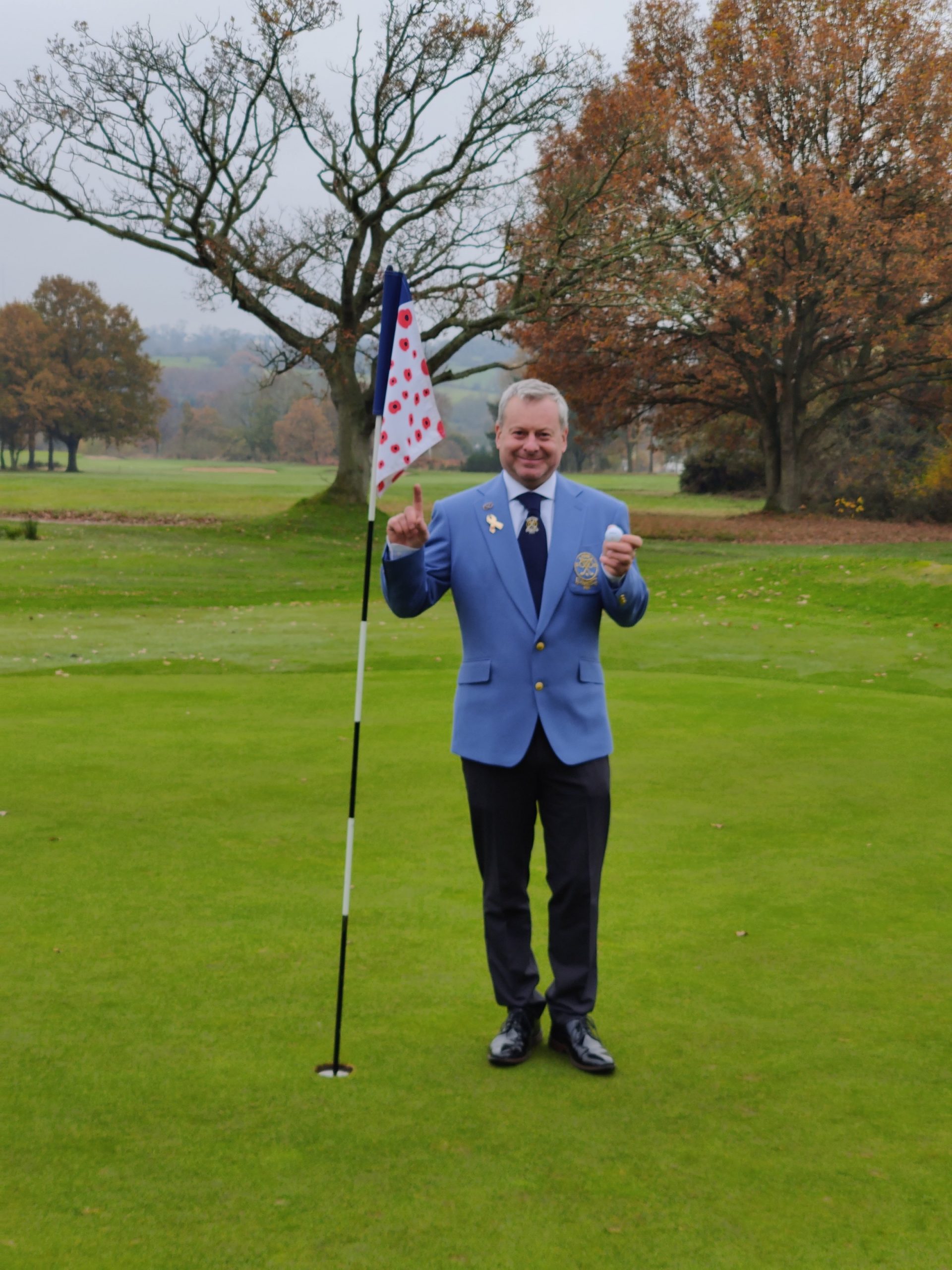 Martin went on to make his day even more memorable by firing in a hole-in-one on the 16th hole, playing 159 yards into the wind, he struck a seven-iron onto to the green and watched it roll into the hole. Martin has been a member at Penn for 42 years and served as junior captain way back in 1987.
As a final special footnote, the 1.7 handicapper had fired an ace on each one of Penn's par three's apart from the 16th, until his captain's drive-in day came along!
---
MGALS stalwart Debs Pointon delighted us all in November by finally getting her name on the MG hole-in-one hall of fame. Shirley GC and Forest of Arden member Debs was playing at Kenilworth GC and in her own words…. "We were playing a friendly comp, best two scores to count, when on the seventh hole (113 yards) I played an eight iron over the bunker. When we went to look, we couldn't find it anywhere and the final option was to look for it in the hole. Wow, there it was!"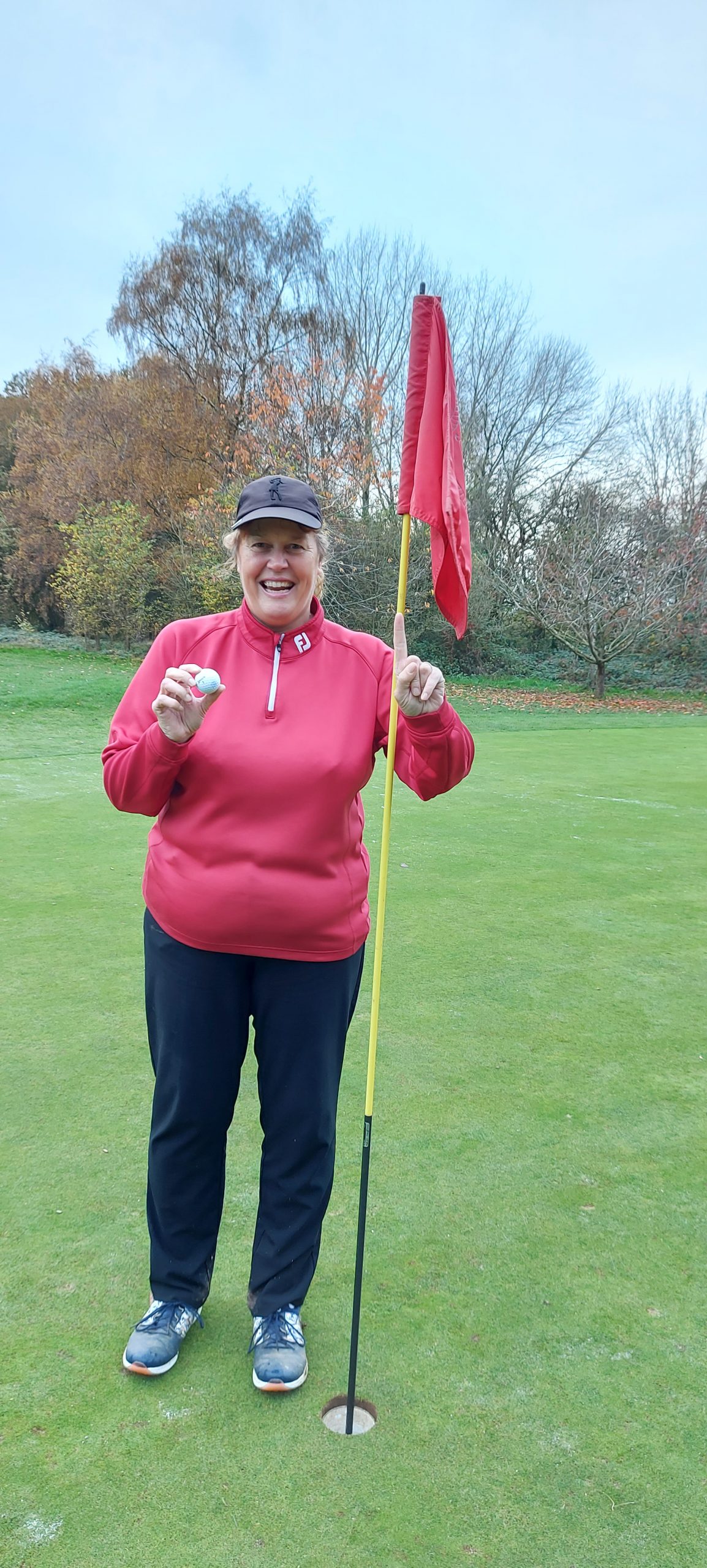 ---
The South Staffordshire GC Captain for 2021, Guy Singh Cheema has waited 10 years for his first ever hole-in-one and has finally fired one in during the year of his tenancy.
Guy was playing away at the time at the South Herefordshire GC on Thursday 21st October. On the 167-yard seventh hole and into a breeze he expertly pitched one a yard behind the hole and it spun back in – drinks all around in the 19th.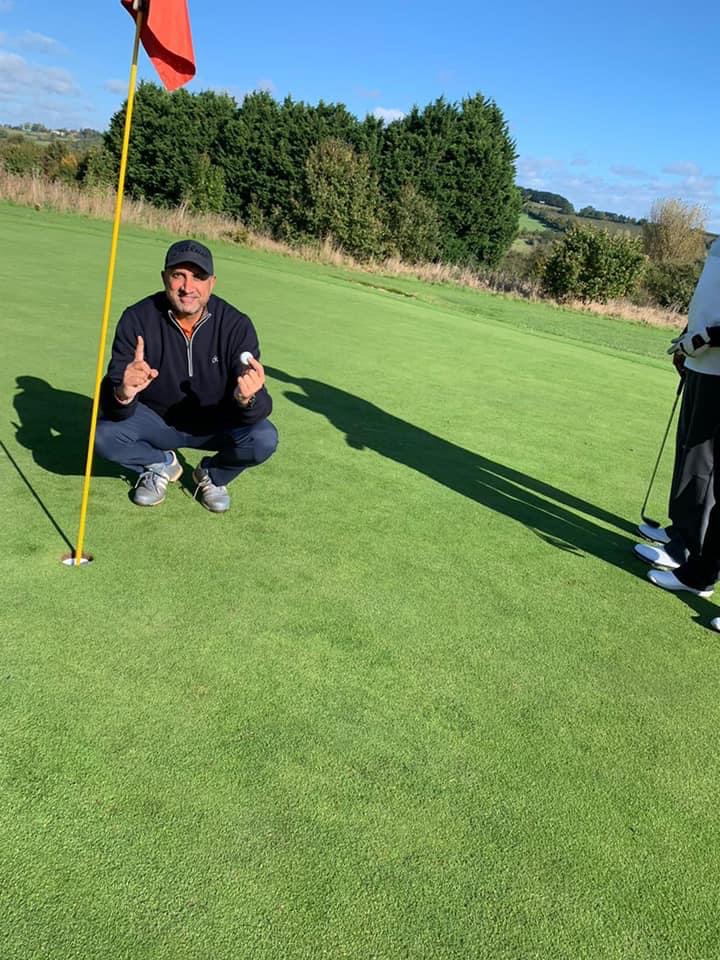 ---
And finally….
A seasonal flavour to finish.
New Kenwick Park GC (Lincs) Senior Captain Ian Jacklin got his year off to a seasonally spectacular start at his opening event late last month when two of his supportive member pals shot aces on the same day! In the clubhouse afterwards they celebrated in their Xmas jumpers as you can see. Ian is in the middle of the picture with Ron Irwin (L) who holed out on the 12th, and Chad Tolley (R) who holed-in-one on the 8th hole.