Throughout the winter months we'll be running this special section online all about the growth of indoor golf facilities in The Midlands, both for fun and for dry off season practice too. We'll also look at featuring the driving ranges in our region too and what they have to offer, plus coming soon a sub-feature on the rise of Toptracer technology to our local ranges and how they are helping to modernise golf as well as change the way we are improving our games. 
Below are a few examples of some of our local centres, beginning with the fun side of things.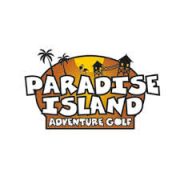 'Forget CRAZY golf . . . this is ADVENTURE GOLF'
Paradise Island has eight indoor golfing centres across Britain including one at Rushden Lakes in Northants and at Cheshire Oaks near Chester.
The one closest to our epicentre is situated inside the Intu Shopping Centre in Derby, an ideal respite and/or antidote from the stressful perils of either pre or post Christmas shopping trips.
Two 18 hole adventure golf courses, on the Shark Bay course, explorers will be treated to an adventurous game when they tee-off on an abandoned shipwreck and navigate through sea caves, filled with seaweed and giant octopus to the sound of waves crashing and wind blowing
On the Mermaid Rock course adventurers will start at the docks and travel through the monkey temple, full of vines and lush tropical plants. Monkey calls and sounds of jungle creatures will add an extra challenge for putting experts not used to hitting a ball in the middle of a rainforest.
The 19th hole gives all adventure golfers the chance to win a free game at the end of the round.
All centres offer an exciting and affordable day or night out for families, friends, couples and groups. It's also a great place to host birthday parties for all ages and original corporate events.
ADVENTURE ISLAND – FOR THE KIDS (AND THE BIG KIDS)
Based in Star City Birmingham, Adventure Island Mini Golf was England's first ever indoor adventure mini golf complex. Designed to suit all ages but with a strong emphasis on fun family times this also very much appeals to the big kids out there as Phil, Mandy and Jean-Louis proved all too effortlessly during a visit in 2018.
Two 18 hole courses at the centre, the Hidden Cove Challenge and the Lost Hut Trail snake their way around a Tropical rainforest and jungle themed environment set on three levels. There are occasional surprises in store, some potentially distracting special effects and since our ultra competitive but super fun 36, further developments include the introduction of HMS Adventure to travel to the island and 'dusk' lighting for when it's dark outside.
Adventure Island also offers space for children's parties and corporate events and Christmas parties, the Tiki bar is on hand to provide drinks and snacks.
3 HAMMERS GOLF COMPLEX – ONE STOP SHOP
The original and still arguably the finest independently run golf improvement and starter golfer centre in The Midlands. Based just outside Wolverhampton, 3 Hammers Golf Complex boasts a wealth of top quality facilities boosted further in 2018 by the addition of Toptracer to their floodlit driving range bays. The 18 hole short course is one of the best in the area, as for indoor golf the six resident PGA professionals operate a large golf performance studio featuring Trackman 4 and video camera analysis. The adjoining indoor putting green is available to use for free to all golfers and there's also a large American Golf store and Bar and Bistro onsite.
Over the years 3 Hammers have successfully developed 1000s of new to the game golfers, with a special emphasis on junior and lady players through their innovative academy schemes.
NEW GOLFZON SIMULATOR AT MIDLANDS GOLF SUPERSTORE
Midlands Golf have just installed a new Golfzon indoor golf simulator in their Four Ashes store in Dorridge near Solihull. It's certainly an impressive sight!
The Golfzon system is the most accurate and realistic golf simulator in the world, and has amazingly realistic 3D graphics. Over 55 million rounds of golf are played round the world on Golfzon simulators each year. When you see the graphics, and take your shot, you can begin to see why.
There are over 180 of the world's best courses to choose from. Courses include UK favourites such as St Andrews and Turnberry, US courses such as Pebble Beach and Spyglass, and other world favourites such as Mission Hills. Their difficulty is shown as you search through them and some, as you would expect, certainly provide a challenge, as the 'real' courses do.
The Golfzon also has a number of driving ranges that you can use to warm up on, or just to use to practice your game on. These provide a mass of information for each shot such as ball speed, spin rate etc., and you even get a video replay of your last swing, Be warned, whilst it's fascinating and useful to be able to see the video of your swing, you might not enjoy seeing some of them!!
Midlands Golf already have a Foresight GC2 based simulator in their Nuneaton store, but as Ian Nicholson, Midlands Golf's Managing Director says "For this new installation we didn't just want to replicate the same experience that golfers can get in a number of locations in The Midlands. We wanted to step the simulator experience up a level, and deliver the best possible, and most realistic, indoor golf experience possible to our customers and that is what the Golfzon delivers."
The Midlands Golf Gofzon is situated in the Four Ashes Golf Centre in Dorridge, Solihull. The centre also has a very pleasant bar/café, which users of the Golfzon can use for food and drinks while they enjoy their indoor golf experience. The store is open 7 days a week, with late nights on Tuesday to Thursday. It's certainly worth a look for any golfer in this weather!!
INDOOR GOLF FOR FUN – THAT FUNKY GOLF PLACE
Most of the new breed of indoor adventure golf centres cropping up in the region of late are clearly defined between family friendly venues and strictly adults only ones. The exception to the rule comes at the splendidly named That Funky Golf Place, situated at Becketts Farm near Solihull which caters for everybody.
The 18 holes of crazy golf are spread out on two floors with no real theme this time, just a collection of tricky challenges, examples of which see you negotiating your way around an old fashioned living room one minute, then taking on a game of beer pong the next. Nothing is really set in place, giving the management the chance to create new golf holes as they please, so your second visit might be entirely different to your first.
The bar area is large with a big selection of gins plus an exciting cocktail menu to discover. Food is  available too and Funky caters for parties and celebration nights for all purposes, plus offering a quirky option for a corporate occasion or workplace bonding exercise.
Tel: 01564 829174      www.thatfunkygolfplace.co.uk
INDOOR GOLF FOR FUN – TEEZERS RETRO GOLF AND COCKTAILS
A Coventry  City Centre location that is strictly for over 18s only as it doubles up downstairs as a cocktail bar with street food and a nightclub atmosphere.
More than just golf then but the 18 holes are just the best fun ever, on a retro TV and movie theme, plus a few iconic extras. Name your favourite film or series of the 80s and 90s and it's likely to be here, all accompanied by a soundtrack of disco and house classics of the same era. Bullseye, Home Alone, Cool Runnings, Only Fools and Horses, Jaws, Friends…….the list goes on. They've even got a Woolworths on site complete with its own sweet shop, just for show.
The atmosphere inside Teezers is intoxicating; it's become a hugely popular night out for the local student population plus many a workplace get together.  Just don't expect the golf to be too straightforward, there's a reason they set six here for your maximum strokes, and just when you think the challenge is over avoiding the unmentionables at Fat Willys Surf Shack, nip downstairs for your 'Mousetrap' 18th hole – the toughest of them all.
Tel: 02476 550884   www.teezersgolf.co.uk