A notable Change to the team line up for this year's Irish trip organised by Club Choice Ireland, as MG designer Chris (below) joined editor Phil in May for his first experience of a full-on golfing trip.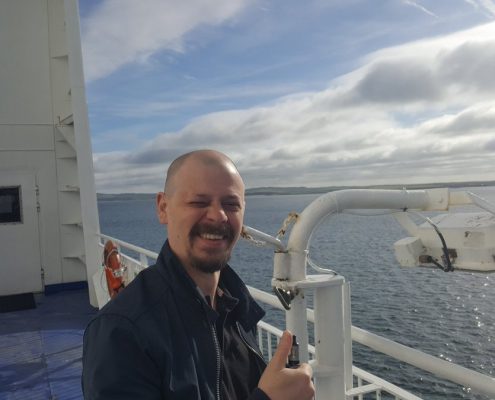 Club Choice Ireland are the experts at tailor-made golf packages to the East & South East of Ireland.
This is a golf tour company with a difference… when they say 'experienced' and 'personalised' they mean it. The background to Club Choice Ireland is a father and son duo (Larry & Tiernan Byrne) with over 40 years combined experience in bringing golfers into Ireland. You only need to spend a few minutes in their company to know that they are genuinely passionate about their region as a golfing destination.
Part I here focusses on Club Choice Ireland's Carlow & Kilkenny offering.
In at the deep end
Having Chris along was the result of many months and years of practice range sessions and 9 hole games down at our local club, Westwood in Leek. He'd never swung a club when I met him to begin the magazine in 2012 but his curiosity grew enough to give it a go. In the last nine months Chris had his swing looked at and tidied up by Dan Parkes at Charnwood range, ready for Ireland. So having taken pride in succeeding in getting someone into golf it was time to see how he'd fare on the emerald isle fairways – 63 holes in three days, definitely in at the deep end!
Stena style
Unusual for Chris to have an early start too as he was picked up at 5.45am on day one to get to Holyhead in time for the Dublin ferry. Stena Line are Club Choice's official ferry partners and we boarded in plenty of time, but not quite early enough to get to the head of the full breakfast queue. The coach loads of old folk off for an Irish break had beaten us to it, but the wait was worth it, they do a mean full English. Chris, who doesn't fly much loves a ferry trip and during the 3 hours 10 mins crossing was taught the traditional ferry card game crash as we relaxed in the comfy lounge. Stena Line's boats are huge and always a very enjoyable and relaxing sail, even if it's a little choppy outside, you can barely feel it.
Carlow
As we disembarked, time to introduce Chris to another tradition on an MG review trip, the mad dash to the venue. It wasn't supposed to be like that, I took a wrong turn on the way out, missing the toll tunnel. Didn't appear to be a problem with the time on our hands as we headed into Dublin centre by the river, but it was a little congested to be fair, and the Guinness lorry we got stuck behind wasn't for shifting. So paying the three euro is the wiser move, unless you have time to kill and fancy looking at a bit of Dublin life. Once we hit the motorway though things improved and it was south we headed.
Tiernan, a little concerned by now actually rang as we were heading into the car park of Carlow GC. The club is situated inland, around 70 km from Dublin, a traditional and mature parkland course is the offering here. Carlow was founded back in 1899, and the layout bears testament to that, pristine in condition with super putting surfaces. It takes a while to get going but as you head further away from the clubhouse, the undulations take hold, the challenges grow and the views become ever more spectacular.
They've got a 16th hole here described by Christy O'Connor Jnr as his favourite 16th in the whole of Ireland. High praise indeed, and it is very eye catching and very challenging too, a narrow par four through the banked up fairway with a valley to cross to reach the raised green. The one after, a little par three over another dip isn't half bad either. Carlow, which was only a quick buggy ride for Chris, Tiernan and myself left us in the mood for some playing.
As we were leaving Carlow for our next destination, Tiernan introduced us to a group of fellas from North Wales that he had come over to meet as well as us. They were on a CCI trip too, more on that later as it wasn't to be the last time we'd see them.
Tee off time
Chris was understandably nervous as we stood on the first tee at Mount Wolseley a little later on. Tiernan was sympathetic though, it was just the three of us doing the photo call and official first tee shot video clip for the social media (we do it every year.) Chris topped his first but most impressively fired his mulligan ball right down the centre of the fairway across the path and we were off.
We had grabbed a drink in the hotel lounge beforehand to have a catch up and go through the itinerary with Tiernan, we were staying there that night so the travelling was done for day one.
Golf at Mount Wolseley
Designed by the late Christy O'Connor Jnr and opened in 1995 the golf course here has matured and developed into one of Ireland's finest Championship parkland tracks. Beautifully positioned too, exactly halfway between Dublin and the south east coast, if you're in the area you are never more than an hour away from Mount Wolseley.
Typically for a modern resort course, water hazards feature pretty extensively with 11 holes in total offering a mixture of lakes, pools and running streams. It doesn't take long for them to come along, dominating your thoughts on approach shots into the third, then raising the bar even higher on a short but highly challenging fourth (above), with a slopy green that leans towards the lake. The resident heron on patrol must have found our struggles mildly amusing.
We think the same one turned up later at the 11th too here, slightly better fortunes here as we managed somehow to both stay dry on this 190 yard par three, water all the way to the green.
It was the highlight of our games, which weren't clicking into gear just yet, we put it down to ferry lag! You need to be playing well to contend with Mount Wolseley's length, narrow green entrances and very well placed hazards. The putting surfaces too are what you would expect to find, large and speedy with many contours.
The scorecards had been forgotten by the time we reached the 18th hole, the one that runs alongside the entrance lane to the hotel. So we knew what to expect from a sweeping par four that travels upwards to a green site with the lake and tumbling cascades to avoid on the right.
A fitting conclusion to a really fine course, and we promise to play it better if we are lucky enough to return.
image… Looking up the 18th hole with hotel in the background
Boys on the Black Stuff
After a quick change it was down to the bar for the obligatory first Guinness of the trip in the very smart and cosy Aaron Lounge, once you sink into one of these armchairs, you don't want to get up again! Chris, who is more of a lager drinker discovered a taste for the 'black stuff' on this trip and this one wasn't his last! We dined in Fredericks Restaurant, by the time we'd got out of those armchairs we almost had the place to ourselves, the Sea Trout for me was gorgeous and Chris enjoyed his Irish Beef dish.
The day had been long and the morning ferry boast of good night 'on it' hadn't materialised and our huge hotel bedroom beckoned all rather too easily.
The next morning we were up bright and early for the 45 minute drive over to Co Kilkenny for the next round, before that a proper golfer's breakfast buffet style at Mount Wolseley as we bade them goodbye. We didn't get time to explore the strikingly impressive looking hotel further, but also included are the leisure club and full spa and treatment services. In addition to the 143 bedrooms, there are also 16 fully furnished self-catering lodges on site, sleeping up to seven golfers in each. The Mount Wolseley Hotel & Golf Resort really does have everything a golfing group could want!
Bravo Juliet
Mount Juliet Estate occupies a secluded spot among the rolling hills and farming fields of Co Kilkenny, but there's nothing secretive or hidden away about its reputation. A member of Ireland's golfing royalty, the golf course a Jack Nicklaus design, the adjoining sprawling resort originating from Georgian times is a world of leisure wonder.
Mount Juliet's golf course was opened in 1991 with a friendly match between designer Nicklaus and the late Christy O'Connor Snr. It established itself so quickly as a premier venue that Tiger Woods and the world's greatest golfers came over in 2002 and again in 2004 to compete in the WGC American Express Championships.
So you're treading on famous footsteps when you play here, which is one thing I absolutely love about golf. Not that Chris was overly impressed, he's not a golfing buff in the watching sense, he just wanted to play better than he did yesterday, no matter what challenge was laid out in front of him!
And the good news is that he did, apart from a touch of the Tom Hanks on the ninth hole, Chris's ball striking was much improved and he coped with a stern test pretty well indeed, and also some pretty hot weather too.
We got to see Mount Juliet at its best, a resort style parkland course set on a huge patch of land with rolling fairways, large bunkers and epic sized greens too. Water hazards are frequent too, kind of what you'd expect really, they provide the abiding memories.
The third hole (below) is just gorgeous, hidden away down the bottom end of the estate – a par three with a huge carry over the lake, and as I found, no solace in overhitting it and finding the 'sanctuary' of the back bunker. Not if you're going to blade it out and find the water on your second shot instead! A grumpy blob and out with the camera!
Chris smirked inwardly and grabbed himself a three point bogey, he was already developing a happy habit of doing the tough holes way under his handicap.
There are two other holes on the back nine that test in a similar fashion, among the wooded surrounds that attractively close you in a little more than earlier. Before that, enjoy the conundrum of the 10th, this is definitely one to check the course planner pre tee shot. A split fairway so is the best route left or right of the cluster of trees? We're not at liberty to say.
Image: par 3, 11th Hole
You leave the woodland behind for 17 and 18 which share the same expansive lake (right) more or less full length on either side of their fairways. It's a spectacular finish to a really great course that we'll remember for a long time.
Hunter's Yard
Ready for a cool drink though and a tour of the facilities which are practically endless, work ongoing to further elevate Mount Juliet's already lofty reputation.
The best part for golfers is the Paul McGinley golf academy, a specific teaching and fitting centre in conjunction with the ex Ryder Cup captain. A centre point of this is comfortably the largest open driving range I've ever seen.
The Manor House hotel has 32 opulent bedrooms but in recent times they've spent a lot here to transform their old stables and lodgings of the past working farm into a brand new 70 bedroom accommodation and leisure area named Hunter's Yard, designed sympathetically with a doff of the cap to the rich history on this special estate.
We left reluctantly and headed south towards Waterford City, the base for the second part of our Ireland adventure.
Coming in part 2 : At our golfing best at Tramore GC, golf via ferryboat and a night out in Waterford