A major East Midlands player, Morley Hayes truly has it all, you can play, learn, socialise and get your head down. All ages and abilities of golfer are welcomed and share the off course charms with many non-golfing visitors, diners, hotel guests and businesses. A hive of activity.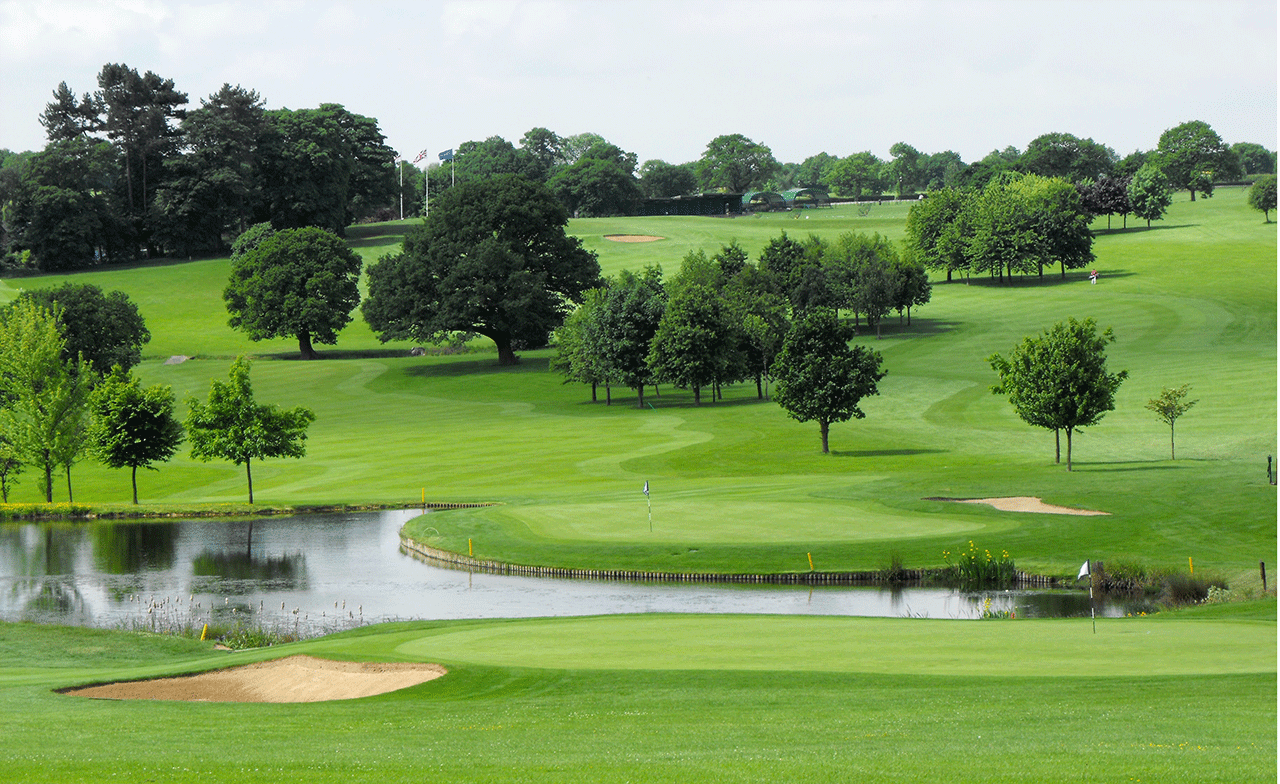 THE MANOR COURSE
The main 18 hole course and available to all members and non members, seven days a week including societies who can happily book weekend morning rounds 12 months of the year with playability guaranteed in all but the most wintery conditions.
Designed in 1988 to appeal to all ages and abilities with wide fairways and a lack of over penal rough, The Manor also packs a punch and is very appealing to the long hitters. Some good long par fours exist, accentuated by the hilly nature of the course, demanding that little bit of extra effort for the more accomplished golfers looking to live up to their handicaps. Championship length it reaches from the back tees but there are four tee options to choose from in all.
For all players though it's the water features that grab the attention, two lakes and a number of smaller hazards, mainly of the greenside variety to test your accuracy and club selection too. An early test as the opening hole has one, probably not much more than a nine iron in, but a watery grave could await an ill-judged early approach.
Then it's all about the driver and those gentle undulations as a lengthy stretch follows before the water comes into sight again at the downhill seventh and especially threatens on our signature hole.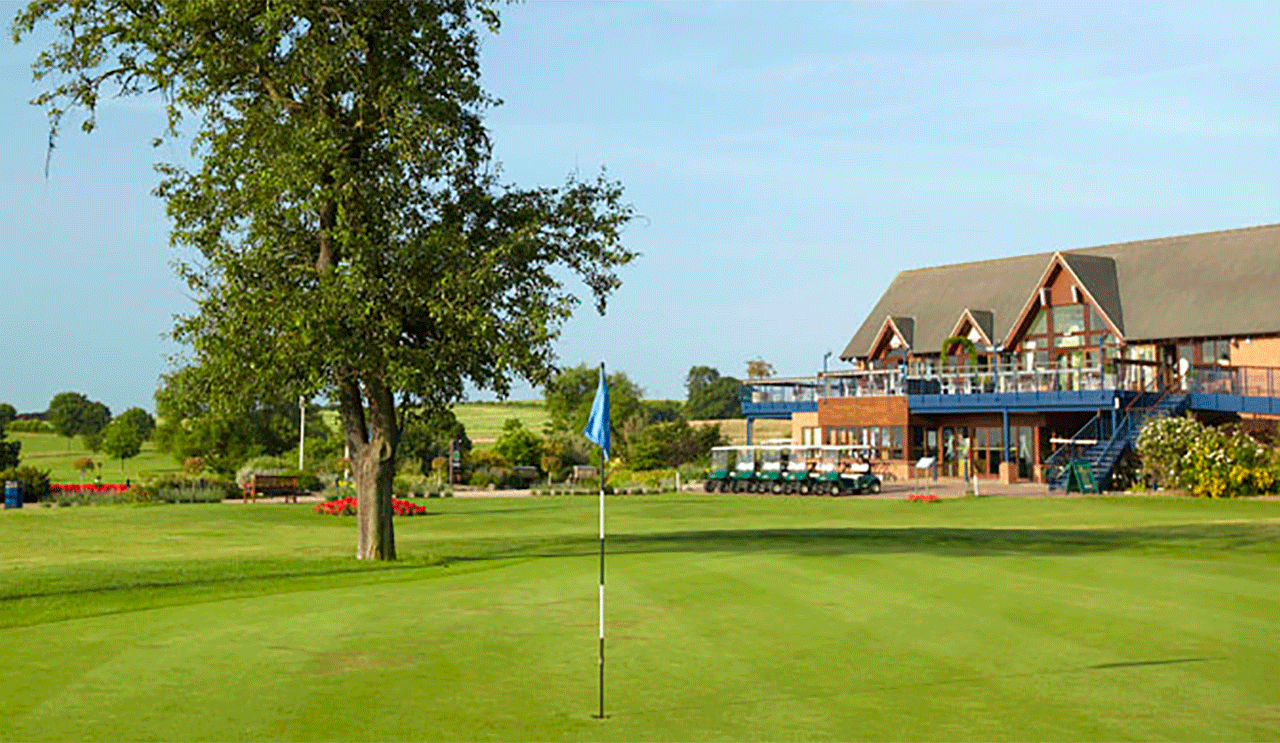 Both nines culminate right by the clubhouse so there's a chance of a quick drink and a toilet break before embarking on a back nine that tests in equal measure, especially the stretch between 11 and 13.
It all leads you towards the scenic highlight which comes at the 14th and 15th bordering Hayes Wood. Shorter and friendlier par fours, and as long as you are mindful of the out of bounds threat they should go down as decent birdie chances. There's always the possibility too of spotting the resident deer population who like to venture out occasionally to have a nibble on the Manor's fairways and light rough.
Towards the end the water comes around again, greenside at the 17th  which you will have discovered earlier as it also affects the 10th hole. Finally to complete a challenging closing pair, the lake that requires a 200 yard carry to find dry land at the closing hole, which with a number of trees and it's raised green has to be one of the toughest in the East Midlands.
MG Pick – 8th hole 321 yards Par 4
The shortest par four on the course, made tougher last year by the re-shaping of the greenside lake, creating an even slimmer landing area, guaranteeing therefore that taking driver from the tee is a risky proposition. The line is left to open up a short iron approach between the two guarding oaks with nothing less than steely precision needed to avoid the watery grave on the right. You can ill afford to bail out to the left either, chipping back towards the lake across the narrow green is a scary prospect. A proper Seve touch might be requied if you put yourself in that sort of peril.
19th hole – Your first taster of the off course charms of Morley Hayes should really happen in The Pavilion. The first floor spike bar is comfy with Sky Sports on the big TV's plus a full menu range that you can eat either indoors or Al Fresco (weather permitting) on the outdoor south facing terrace with views of practically the full golf course below.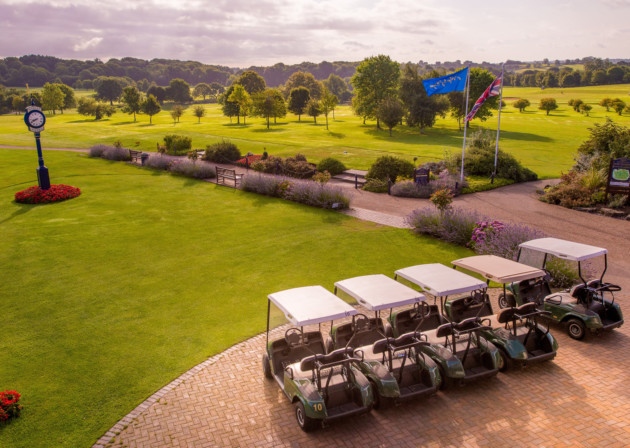 The Pavilion also contains the well very stocked pro shop which overlooks the first tee. The first floor Pavilion Suite caters for full dinner and buffet menus and seats up to 125 with adjoining outside terrace, ideal for that special event. The Syndicate Room is for private meetings and seats up to 12 people in a business environment with telephone conferencing and Wi-Fi.
ROOSTERS BAR AND RESTAURANT
MG visited Roosters following a rather damp review round in late autumn. We ordered, sat down and had the most pleasant of surprises, heated seats! A godsend in the damp state we found ourselves in and a pleasant time was had by all as we tucked into freshly home made burgers, fries and a side salad.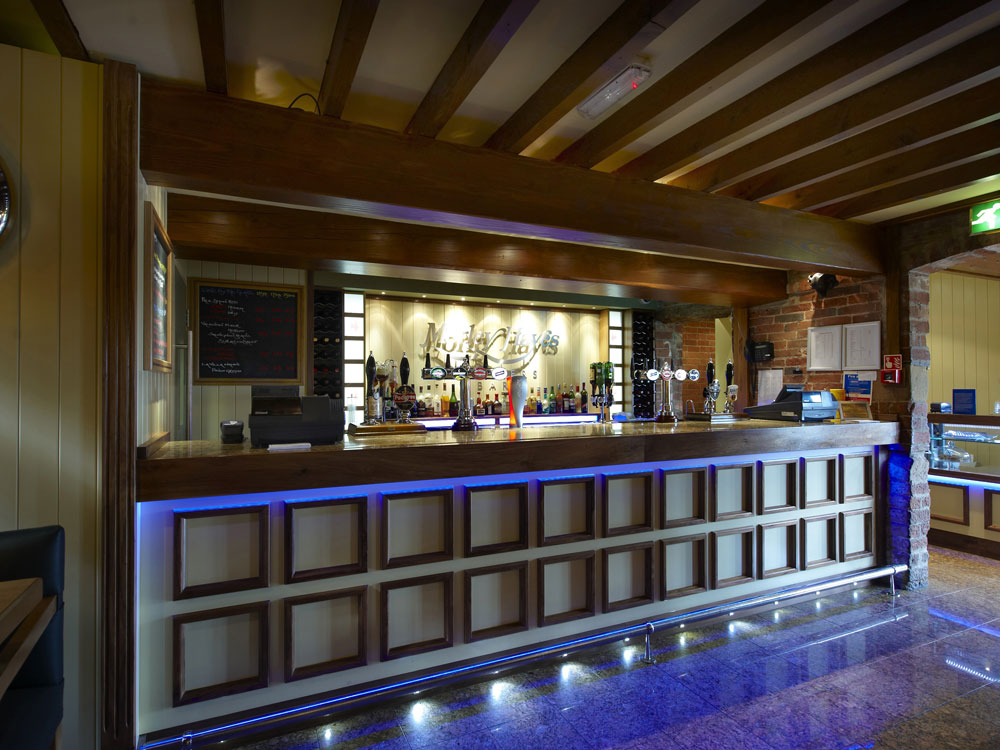 Roosters serves traditional bar meals in a pub like environment with modern décor and lighting, the perfect place to enjoy a good meal or just a few drinks with children welcomed to share the dining area. As in The Pavilion, Roosters spills outdoors, this time into the courtyard, with topiary trees and countryside views.
DOVECOTE RESTAURANT
The award winning Dovenote goes up another notch, taking you into the realms of fine dining. The AA rosette restaurant won the Derbyshire Restaurant of the Year award in 2012 and features A la carte dishes in both English and Continental cuisine. Not just that, there's variety in abundance to suit every occasion with set lunch menus, a daily midweek dinner special and traditional Sunday lunches. Continuing that theme the Dovecote also offers a Champagne Breakfast three mornings a week and Derbyshire Afternoon Tea on Fridays.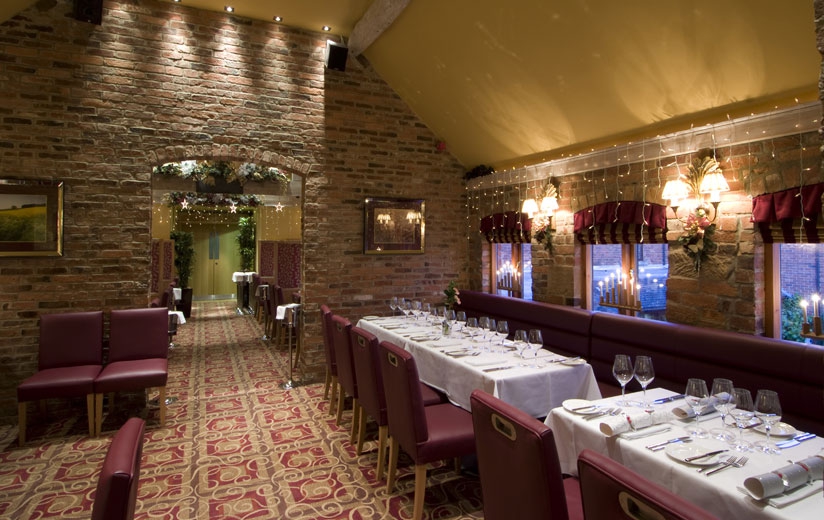 MORLEY HAYES – THE HOTEL
With the wonderful views of the parkland golf courses amidst the Derbyshire countryside look no further than the AA 4 star luxury hotel, Morley Hayes.
One of the most luxurious hotels in Derbyshire with 32 bedrooms, all air-conditioned – from the Executive Room to the Penthouse Suite, the Family Room to the Honeymoon Suite you will be spoilt for choice. The aforementioned superb Champagne breakfast served in the Dovecote restaurant is a further reason why Morley Hayes is also a great choice for weekend getaways for couples.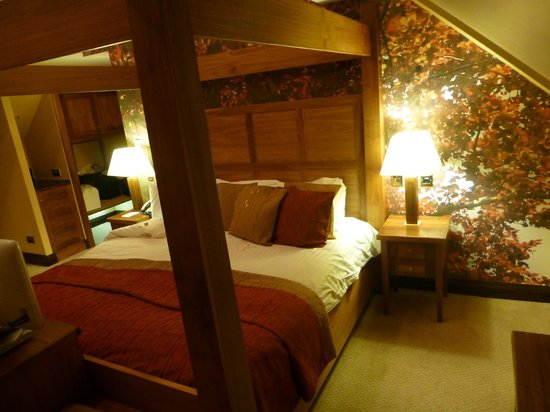 Available facilities include Luxury Bathrooms, Private Balconies or Terraces, Flat Screen Satellite TV, WIFI and High-speed Internet access in all rooms and suites. Two of the bedrooms are available with disabled facilities in the bathrooms including access for a wheelchair and walk-in shower.
Societies and travelling play and stay golfers can rest assured too that it's a very short taxi ride to the bright lights of Derby centre should they fancy venturing out for the evening.
ACADEMY, TUITION, GAME IMPROVEMENT
The Tower Course – Developed to provide an ideal venue for starter golf, short game improvement and as an extra addition/warm up course for group golf occasions. The Tower is a nine hole, Par 30 layout, the dog leg second is the longest test as 308 yards. With occasion water features, trees and gentle undulations it does present a good test with the putting surfaces more than living up to the quality of their neighbours on The Manor. In a recent innovation Morley Hayes became one of the first golf courses in the area to add 15 inch diameter holes to the Tower greens in addtion to the traditional ones, in order to promote a faster game and also to make the game a little easier for juniors and beginners.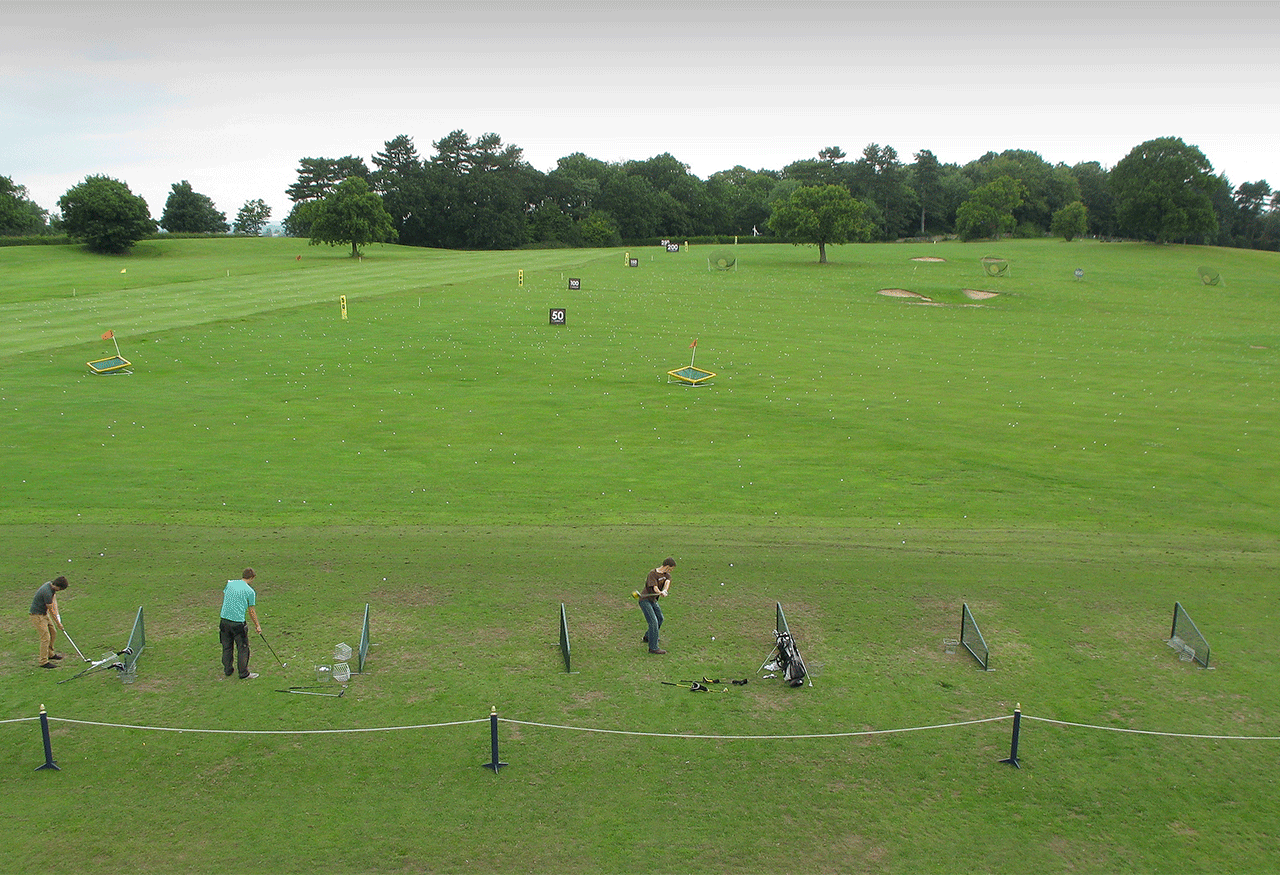 The East Midlands Golf Academy – The EMGA make good use of The Tower Course and during their 8 year history have transformed many junior and beginner golfers into accomplished players. James Whately has played a major role in the success of the EMGA, in the beginning he was the lone pro, now as Academy Director he has watched it grow into a major concern which now employs four full time professionals. At their disposal, in addition to The Tower Course is the 17 bay, all-weather floodlit range with power tees and additional canopy covered open bays.
Tuition is naturally widely available for all ages and abilities, the coaches can call on the use of both the Flightscope X2 launch monitor and now the all new SAM putting system which shows 27 characteristics of your putting stroke.
The EMGA staff offer lessons for Beginners, Juniors, Ladies, Schools, Disability, County and England teams as well as other professionals. They have an online diary which gives clients a 24/7 chance to book, available to view at www.emga.co.uk
Morley Hayes also plays host to the pioneering Derby Performance Golf Academy. The innovative programme, set up in 2007 provides a two year education and golf training course for 16-19 year olds in further education at the nearby Derby College. Students there, who all benefit from specialised performance coaching at Morley Hayes have enjoyed huge success in recent times in national and regional events, many are also going on to forge burgeoning careers in the golf industry.

LIFESTYLE MEMBERSHIP AT MORLEY HAYES
Unlike traditional golf club membership, this will take the form of a flexible points-based system where for an affordable initial joining fee, golf enthusiasts will become a lifestyle golf member.
This initial fee will entitle members to a set number of points to get them started. Points will be deducted for each round of golf played and the number of points used will depend on what day and time of day they play.
Once a member has used up all their points, they will be able to top-up throughout the year with the purchase of bundles of new points, allowing them to spread the cost and budget for their year's golf. It will also give them the opportunity to get an official CONGU golf handicap and play in official competitions.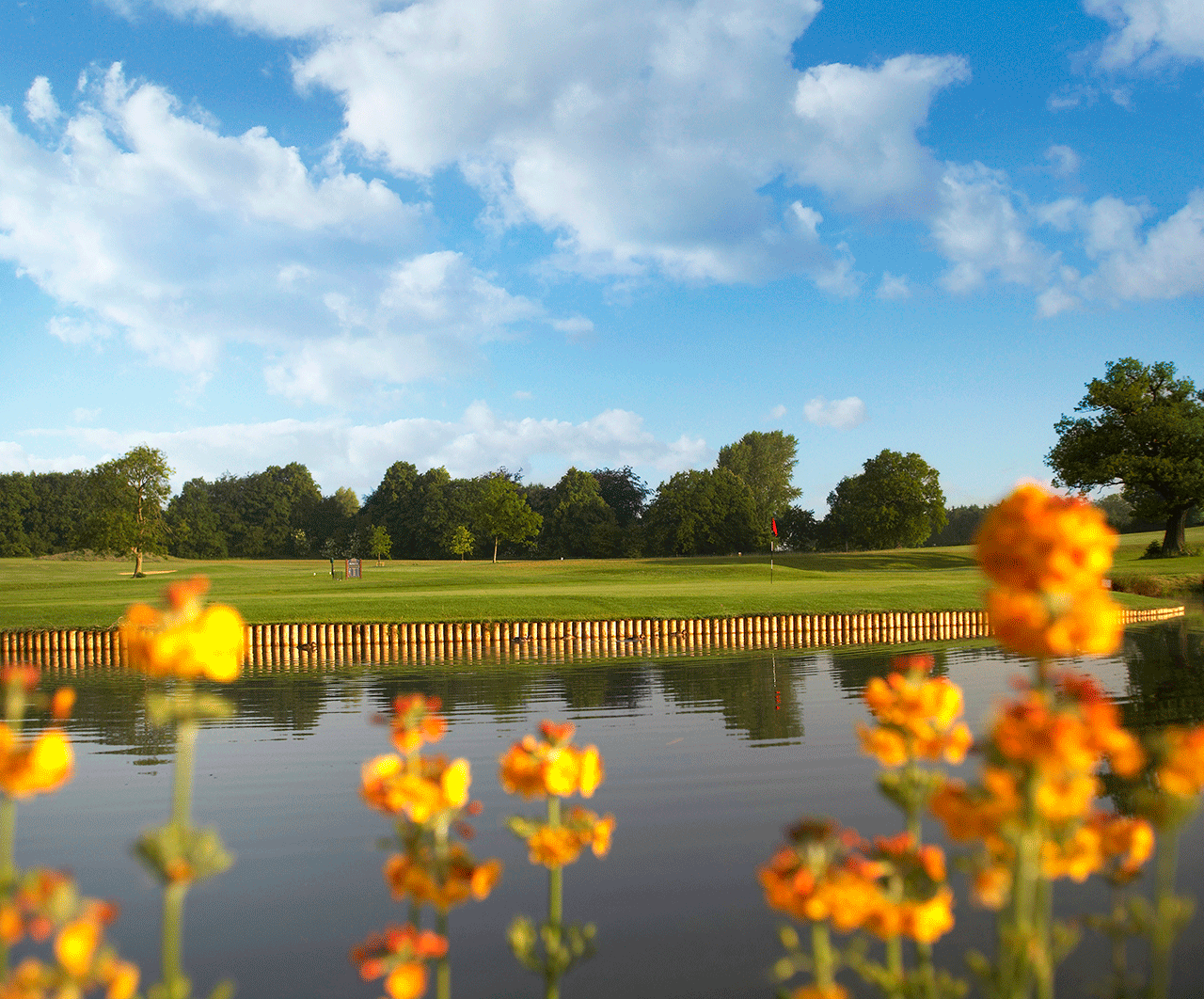 Commenting on the launch of the new lifestyle golf membership, Daniel Delaney – Golf Manager at Morley Hayes said:
"The introduction of our new lifestyle golf membership is very exciting. It's something we've never done before and will allow us to offer an official CONGU handicap and run official competitions for our new members, which will be a great addition to the services already available at Morley Hayes Golf.
"Five and seven day memberships will be on offer and online booking for tee times will also be available, giving our members even more flexibility."
https://midlandsgolfer.co.uk/wp-content/uploads/2016/08/morley-hayes-hero.jpg
303
950
Midlands Golfer
https://midlandsgolfer.co.uk/wp-content/uploads/2014/09/midgolfer-new.jpg
Midlands Golfer
2017-01-16 22:27:08
2018-09-28 07:16:52
Morley Hayes - the full package