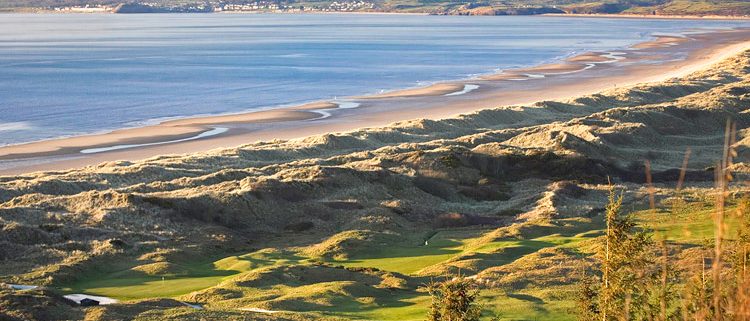 54 STUNNING GOLF HOLES – 1 WATER HAZARD
The popular seaside towns of Llandudno and Conwy need no introduction as tourist attractions.
The Promenade, The Great Orme and across the bay, the majestic Conwy Castle, a special corner of North Wales, one that serves up some very special and quality all year round golf too.
---
Conwy (Caernarvonshire) Golf Club – Est 1890

Championship links that needs no introduction. Last year Conwy received the accolade of being awarded as host course for the 2020 Curtis Cup, they don't give those out lightly. Set under the shadow of Conwy mountain, it's a pure and raw seaside golf examination with a little sting in the tale at the finish as the heather and gorse bushes, previously dotted around the open landscape converge to give the closing fairways a much tighter feel than what you've been used to.
Conwy's Championship length resides during an exhilarating middle part of the course where no two
holes run the same way in succession and the wind swirls around with a mind of its own. A good test of creativity and judgement, punch it low and try a few chip and runs to the absolutely superb greens that Conwy presents year on year.
.
Signature hole: possibly the 13th, a lengthy short hole facing the mountain with a two tiered green to target from the raised and exposed tee.
Attractive modernised clubhouse with a lovely first floor bar/restaurant with views over the course and Conwy Bay.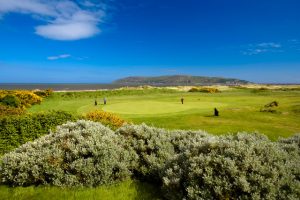 North Wales Golf Club – Est 1894
Located on Llandudno's West Shore, a true seaside teaser which although not the longest course, contains exactly the type of delicious and potentially punishing holes that only this type of golf can provide.
Take advantage of the opening seven holes as once you head towards the beachside it's only going to get tougher with some demanding and windswept par fours. Very attractive views across to Conwy Bay at this point too. The closing holes are fairly short in length but tight and with some increasingly thick rough about, highlighted by three very notable short ones, all with raised and exposed tees. The greens here are large and reasonably flat, cause for optimism in good putters, but beware the frequent and punishing little pot bunkers.
.
The short 16th is the most memorable challenge and a potential card wrecker too, just the top of the flagstick in view from the tee, flapping in the distance as the green is surrounded by high mounds all around with thick rough, you might need a bit of luck.
A bright and currently being modernised clubhouse with large bar and patio area.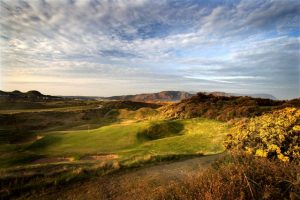 Maesdu Golf Club – Est 1915
Maesdu is one of James Braid's 10 North Wales designs only separated from North Wales GC by a single track railway line. Parkland by the sea is the best way to describe it, despite retaining an open feel and still susceptible to the elements it's a different type of golf game at Maesdu, a lovely contrast on gently undulating and lush green turf and slightly softer greens.
Plus the mapping which mostly sees each hole facing a different direction to the previous one encourages thought and consideration over which direction the wind is blowing.
.
Be prepared for an exciting finish, save some energy too for an inland facing par three 17th, which can play at least all and possibly a whole lot more of its 166 yards. Then the 18th, from the elevated tee all of this par five is in full view, as is a spectacular backdrop over to the Llandudno shores and the Great Orme.
A very friendly golf club with a spacious ground floor club lounge and the James Braid restaurant.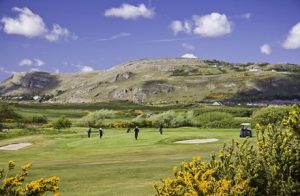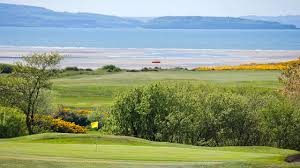 ---
Maesdu – Hospital Road, Llandudno LL30 1HU
Telephone: 01492 876 450   –   Website: www.maesdugolfclub.co.uk
---
MG Recommended Golf Coast Accommodation
Imperial Hotel
Llandudno Promenade
01492 877 466
Queens Hotel
Llandudno Promenade
01492 877 218
Tideways B&B
Deganwy
01492 583 969
https://midlandsgolfer.co.uk/wp-content/uploads/2017/04/golfcoastnorthwale.jpg
500
750
Midlands Golfer
https://midlandsgolfer.co.uk/wp-content/uploads/2014/09/midgolfer-new.jpg
Midlands Golfer
2017-04-19 19:27:25
2017-06-13 18:51:27
NORTH WALES GOLF COAST