With a number of prestigious golf courses across England and Scotland Macdonald Hotels are already popular with golfers looking for short breaks here in the UK but did you know they also have resorts in the Costa Del Sol? With a choice of four locations in the region of Marbella, all Macdonald Resorts are easily within an hour from Malaga airport and within minutes of the region's most popular golf courses.
Enjoying an average of 325 sunny days a year there's no wonder southern Spain is a popular choice with golfers, especially during the winter months when they can swap winter mats for palm-fringed tees. There's an abundance of award-winning courses and the golf team at Macdonald Resorts can help you choose the best courses to suit your group, book all of your tee times and arrange your accommodation.
Their largest resort, Macdonald Doña Lola is the most popular due to the wide choice of apartments, beachfront location and leisure facilities including swimming pools, tennis courts and a gym.
The accommodation is within spacious self-catering apartments with a choice of one, two or three twin or double bedrooms. There's also a fully equipped kitchen and large dining, living and outdoor balcony area but if you're not up for cooking then the resorts have restaurants and bars on site, many with regular happy hours and great value golfers menus.
MACDONALDS SPAIN – GET READY TO COMPETE IN THE AUTUMN SUN
The 'Macdonald Resorts Spanish Open' golf weeks are all about gathering golfers from all over the UK and beyond and offering them a relaxed and fun golf holiday with a competitive edge.
Well organized and sociable, our highly successful amateur golf tournament is great fun for couples, groups and ideal for golfers who are taking a golf holiday on their own, and although they are competitive, we never forget you're on holiday.
On the 26th of January 2019 excited golfers gathered at the beachfront Macdonald Dona Lola Resort in Calahonda for a welcome drink's reception, ahead of the competition which was a three-game full stableford over the week, with breaks in between so everybody could also unwind and enjoy the sights.
Mijas Los Olivos (below), followed by Miraflores and Cabopino were the courses used, all were in excellent condition, and with slick greens and difficult pin positions many struggled overall, apart from one man, 84-year-old Ray Dowson from Ormskirk who has been a regular visitor to the Macdonald Dona Lola Resort for the past 30 years!!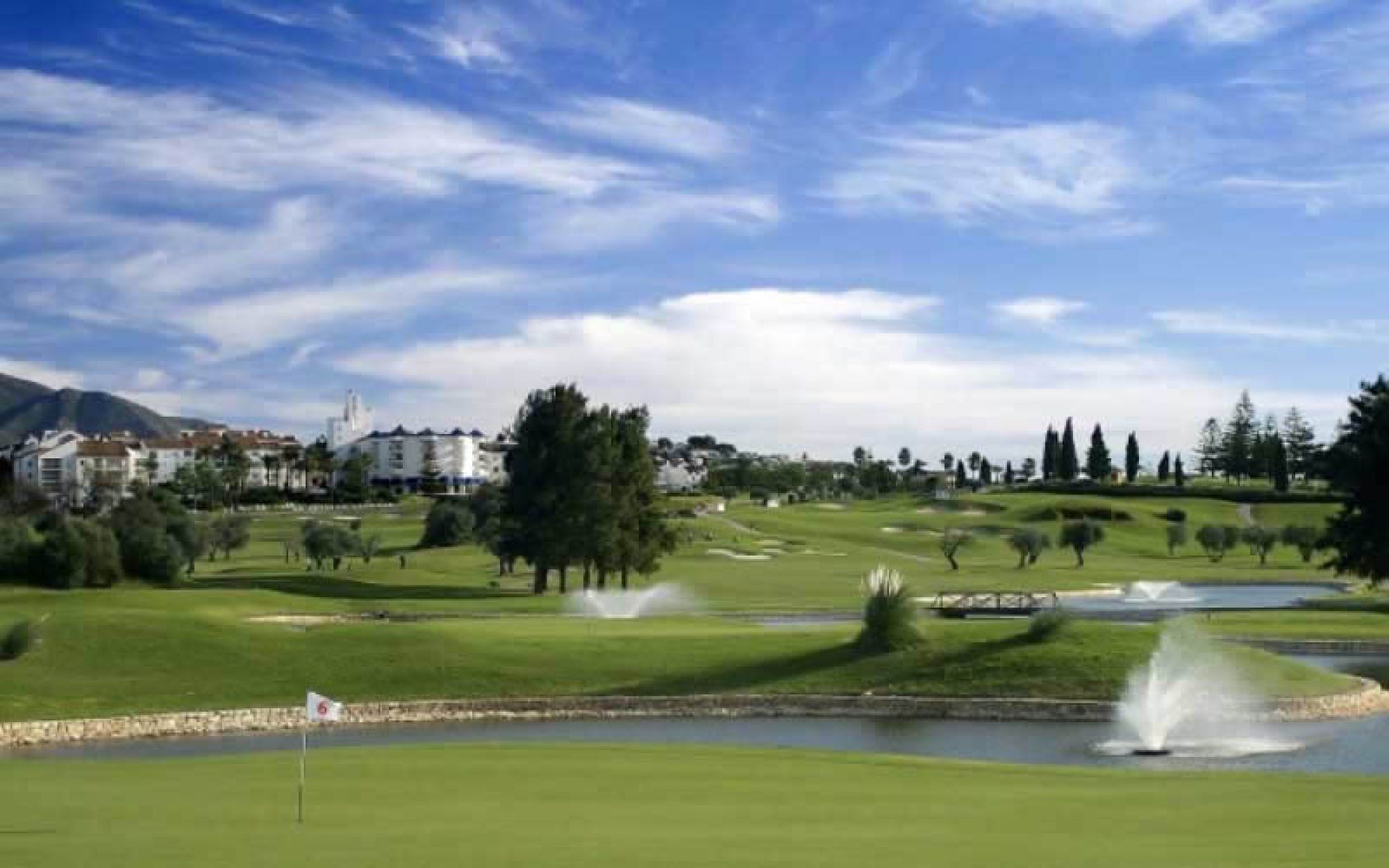 Ray's steady golf over the week was enough to clinch first place and enable him to take home the first prize of a three-night break including golf for 2 at Dona Lola. But the story didn't end there. Ray was back again for week two, this time taking on some very good single handicap golfers at Santa Clara, Cabopino and Calanova, and winning again!
If you enjoy playing fun, relaxed yet competitive golf on top-class championship courses we are confident you will enjoy a Macdonald Resorts Golf Break. All amateur golfers, regardless of handicap, are welcome to join us any time!
"The Macdonald Resorts Golf Week is by far the most enjoyable, fun packed and rewarding golf I have played. The courses are first class and the events are always faultlessly organised."- Ray Dowson, Ormskirk Golf Club member.
After a hugely successful Macdonald Resorts 'Spanish Open' Golf Week in January, we have decided to do it all again in the first week of November 2019, a fantastic way to bring a competitive element into your next golfing holiday.
Our fun but competitive golf week offers great variety when it comes to the amazing golf courses we have chosen, including Santana, Santa Clara and the Campo Asia course at La Cala. This is one tournament golf break that is sure to appeal to your competitive side…. interested?
The Costa del Sol is famous for its golf courses and it's easy to see why. It is not just the courses themselves that golfers are attracted to but the unique micro-climate of this area, where you get an average of 327 sunny days a year, so you rarely need to worry about your game being spoiled by the weather.
In fact, Costa Del Sol is part Andalucía, which won the 2019 IAGTO Award for Best Golf Destination in Europe, so you will be sure to find quality golf in this area.
Taking place from 4th – 9th November here's what your entry includes:
Your place in the competition
Three rounds of golf across three brilliant golf courses
Golf buggy hire for every round
Presentation dinner and prizes on the final night
A choice of 5 or 7 nights staying at Macdonald Doña Lola Resort, Calahonda
From only £379 per person.
Optional extras include transfers for the week at £70pp (airport and golf transfers) and club hire at £35 per week. Larger apartments are also available for an additional supplement.
CALANOVA GOLF CLUB
Located in the stunning 'golf valley' close to the town of La Cala de Mijas and just a few minutes from the lovely local beaches, the Manuel Pinero designed Calanova course is a great course to play during your Macdonald Resorts golf break and is suitable for golfers of all playing abilities.
The course is one of the newest on the Costa del Sol and was first opened in May 2006. It's an 18-hole, par 72 courses which is well maintained, and of which has been designed with USGA rules and regulations in mind.
A great characteristic of the Calanova course is that it has over 500 sqm of greens, meaning easier approach shots. This also means that there is the possibility of a wide range of pin positions from the simple to the extremely challenging.
Another feature of the Calanova golf course is that the tee positions are spread over several different platforms giving players the opportunity to play the course over a range of distances. Some of the elevated tees also make for some spectacular tee shots where players can visualise the flight of the shot before playing their shot.
Due to the beautiful natural landscapes, almost every golf hole will provide you with lovely views to the La Cala de Mijas mountains and the Mediterranean Sea.
CABOPINO GOLF CLUB
Located just a stone's throw from the popular tourist destination of Cabopino Marina between Marbella and Mijas Costa, the Cabopino golf course is one not to be missed.
The course has been expertly crafted by golf course designer Juan Ligue's Creus and offers spectacular views to the Mediterranean Sea and surrounding pine forests and lush green landscapes.
Measuring a total of just under 5,600 yards and Par 71, the course has some fantastic holes to challenge you including the spectacular Par 4 3rd hole, regarded as one of the best on the Costa del Sol. Jaw dropping views are on offer from this hole that presents you with a tee shot that drops around 200 metres to the fairway!  In total, there are three Par 3's, two Par 5's and the remaining Par 4's. The fairways are generally narrow, but the large greens offer you a great opportunity to be brave with your approach shot.
The tenth hole at Cabopino offers wonderful views to the back nine holes and the Mediterranean Sea beyond…
To find out more about Spanish golf breaks at Macdonald Resorts contact the European Golf Sales Team. Call 01506 815143 or email spain.golf@macdonald-hotels.co.uk
Visit – macdonald-resorts.co.uk