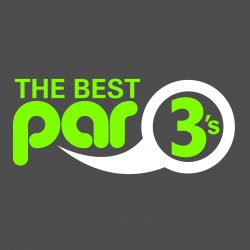 As voted by the readers in our online lockdown poll, we list here your favourite par three holes from all across The Midlands from 1 to 50. Thanks to all who voted. (Distances in our top ten are from the yellow tees.)
1/ Notts GC (Hollinwell) – 13th 179 yards – Few can argue with this becoming the worthy winner of your favourite par three in The Midlands. This supremely stunning hole is unforgettable in looks and a great challenge too, tumbling down the heather and gorse clad valley to a long green protected by half a dozen traps.
2/ West Midlands GC – 18th 133 yards – The hole, modelled on Sawgrass's famous 17th is our runner up and received lots of votes. Golfers can't wait to line up for a try and banter comes as standard around the tee and along the lakeside too, the fisherman love to witness the inevitable horrors that happen here!
3/ Cleobury Mortimer – 6th (Badger's Sett) 144 yards – A much-loved hole at the popular location on the edge of the Wyre Forest. Probably one of the most photographed short holes in The Midlands.
4/ Ingestre Park – 6th 169 yards – The image conveys perfectly the descent on this super looking Staffs hole, and that if you're going to miss the green, coming up short is much better than going too long!
5/ Rufford Park – 17th 169 yards – Never played this hole so Tony, our Notts ambassador wrote this tribute. "Intimidating, stunning and a card-wrecker, normal words to describe this hole! With a big carry over the avenue of trees and the lake from the highest to the lowest part of the course in one shot, you feel like you are dropping off the edge of a cliff."
6/ Forest of Arden (Arden) – 18th 194 yards – Across the deep ravine to a target that looks way further away than it plays. Gets in your head a little does this famous Championship decider.
7/ Brocton Hall – 9th 180 yards – A great looking course that has stand out short holes, including this beauty, water runs pretty much all the way around it, with pretty shrubs and plants as decorations.
8/ Beau Desert – 7th 147 yards – 'The Beautiful Wilderness' hits a peak here with a pine-clad stunner  over the valley to a typically testing green that you don't want to fall short on.
9/ Woodhall Spa (Hotchkin) 12th 147 yards – Not everyone gets to visit the region's highest-ranked course, but you must and this narrow target, fiercely protected by heather and scrub surrounds and deep traps is just majestic.
10/ Nailcote Hall 9th 133 yards – So many memories on this hole, not least of the ten events we've enjoyed on the fabulous Cromwell course and witnessed the conclusion to many of them right here. Deadly for many with a fearsome array of hazards, yet it remains a scenic delight for everybody.
11/ Brocton Hall – 17th
12/ Erewash Valley – 4th
13/ Ingestre Park – 13th
 14/ Brocton Hall – 3rd
15/ Coxmoor – 7th
16/ Beau Desert – 3rd
17/ The Belfry (Brabazon) – 12th
18/ Ingestre Park – 4th
19/ Moseley – 4th
20/ Leamington & County – 11th
21/ Enville (Highgate) – 16th
22/ JCB – 17th
23/ Norwood Park – 12th
24/ Kington – 12th
25/ Seacroft – 10th
26/ Kirby Muxloe – 18th
27/ Willesley Park – 10th
28/ The Warwickshire (Kings) – 8th
29/ South Staffordshire – 6th
30/ Uttoxeter – 12th
31/ Rugby – 12th
32/ Lilleshall – 16th
33/ Northampton – 16th
34/ Kington – 9th
35/ Hawkstone Park (Championship) – 17th
36/ Stourbridge – 12th
37/ Leek – 13th
38/ The Worcestershire – 15th
39/ Edgbaston – 14th
40/ Forest of Arden (Arden) – 8th
41/ Walmley – 11th
42/ The Belfry (PGA) – 8th
43/ Moseley – 11th
44/ Beau Desert – 16th
45/ Hellidon Lakes – 18th
46/ Trentham – 4th
47/ Lingdale – 3rd
48/ Fulford Heath – 16th
49/ Wellingborough – 4th
50/ Glossop – 18th