The pro shop team at Whittington Heath GC in Lichfield had good reason to describe themselves as a little 'golfed out' during the days following Thursday June 22rd. Head pro Mike Raj and assistant Daniel Whitby-Smith took on the world record for most golf holes played in 12 holes, raising money for the Acorns Children's Hospice at the same time.
Playing foursomes, holing out on every hole and with the use of a buggy, the boys set off at 7.30 am with the current record number of holes, a staggering 290 in their sights. The day was not without its pitfalls and little problems along the way, but the pros were to be undaunted, setting an amazing pace.
"They passed us five times," one member said.  "In the time it took us to play nine holes they played 36!  Amazing." So too were the scorecards, with little time to think about the shot ahead, and no time for practice swings, Mike and Dan shot three rounds in the 60's including a low round of 66, never went above a 77 and recorded one eagle and 41 birdies. Their average round score was 73.11 and each hole took on average just 2 minutes and 15 seconds!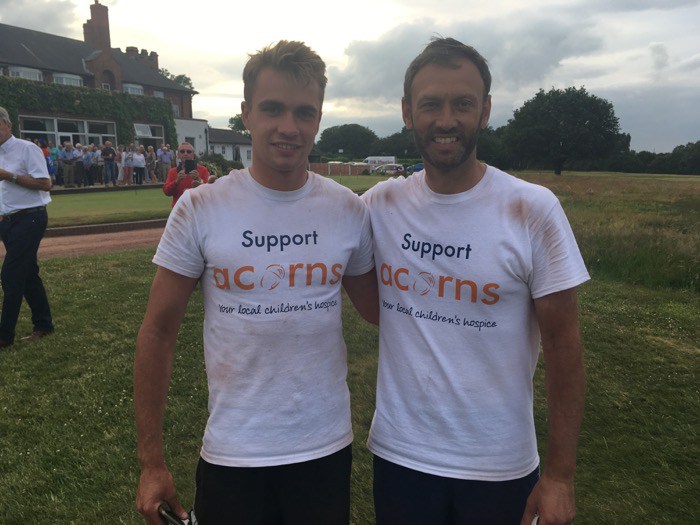 By the time it got to 7.30 in the evening they came off a little the worse for wear as you can see but triumphant too on the 14th hole of their 18th round of golf in 12 hours. An incredible 320 holes to be exact, destroying the previous record. A large gallery of WHGC members, many who had helped during the day, ball spotting and marshalling were there to welcome them in.
The feat is yet to be verified by the Guinness Book of Records, (these things take time apparently) but with the support team and witnesses present on the day, there's no doubt at WHGC that a very special event occurred on June 22nd. Better still the boys raised over £3,500 for Acorns, a still growing figure. If you wish to help further please visit  https://www.justgiving.com/acorns
Main Image – 7.30 am – The send off – Bright & breezy Dan & Mike with lady captain Anne Tracey