BW Dartmouth Hotel, Golf & Spa
Hotel & Accommodation:
A three star hotel in Dartmouth, surrounded by Devonshire countryside – cue idyllic views of undulating, verdant countryside – the Best Western The Dartmouth Hotel, Golf and Spa hotel has 35 rooms, each with contemporary décor, lots of space and, as you might expect with the vast majority looking out onto the golf course and close to the Start Bay coastline.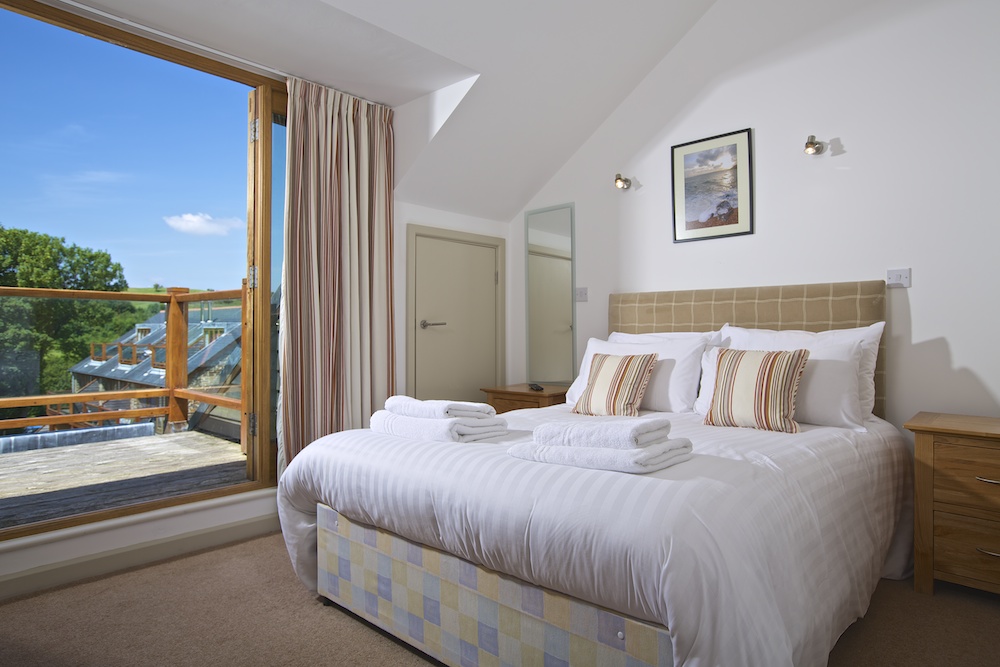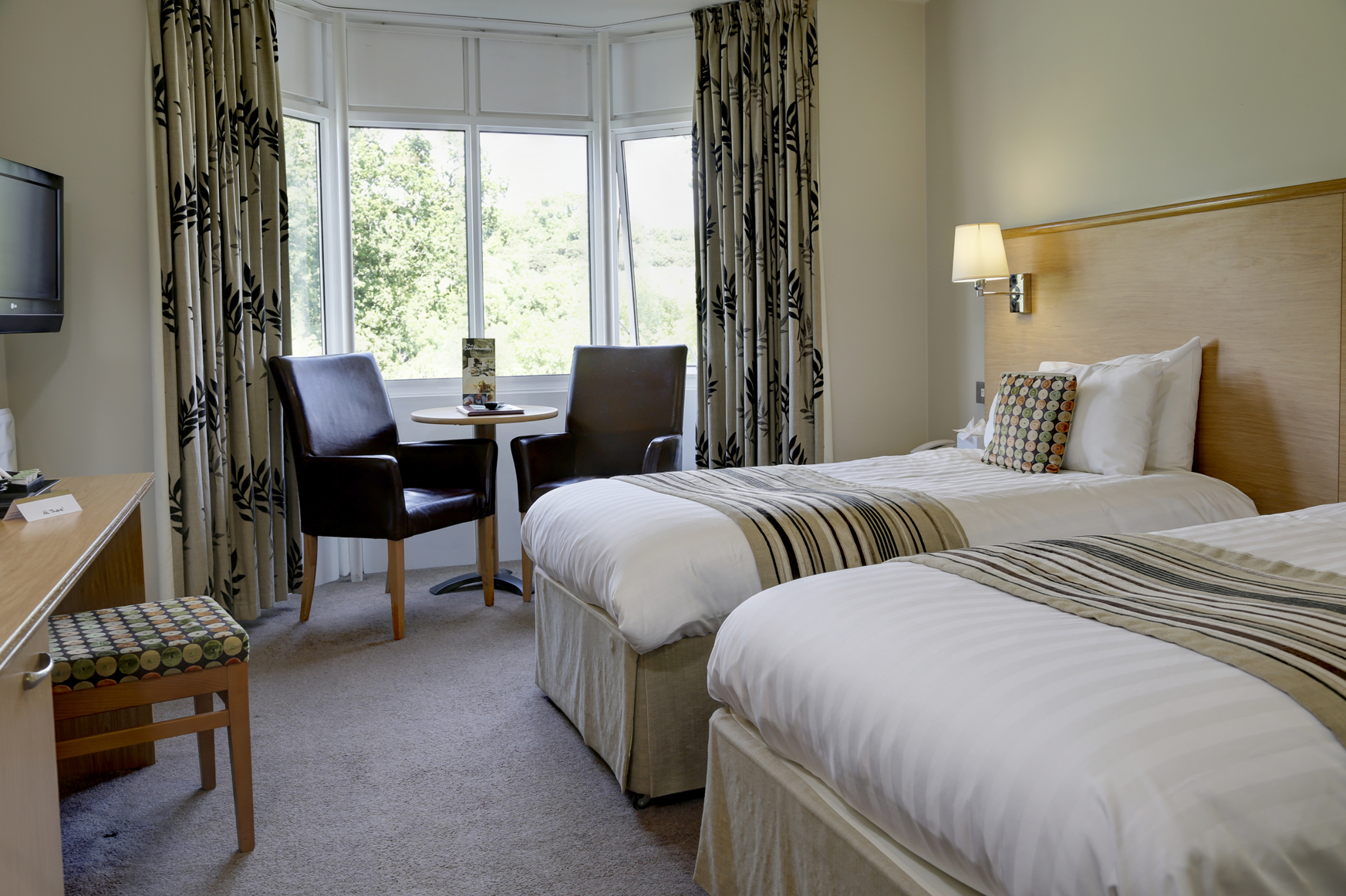 .
They also have deluxe, luxury award-winning self-catering lodges on site, offering spacious and sunny living spaces, each with French doors leading out to the front terrace area overlooking the central courtyard and water feature.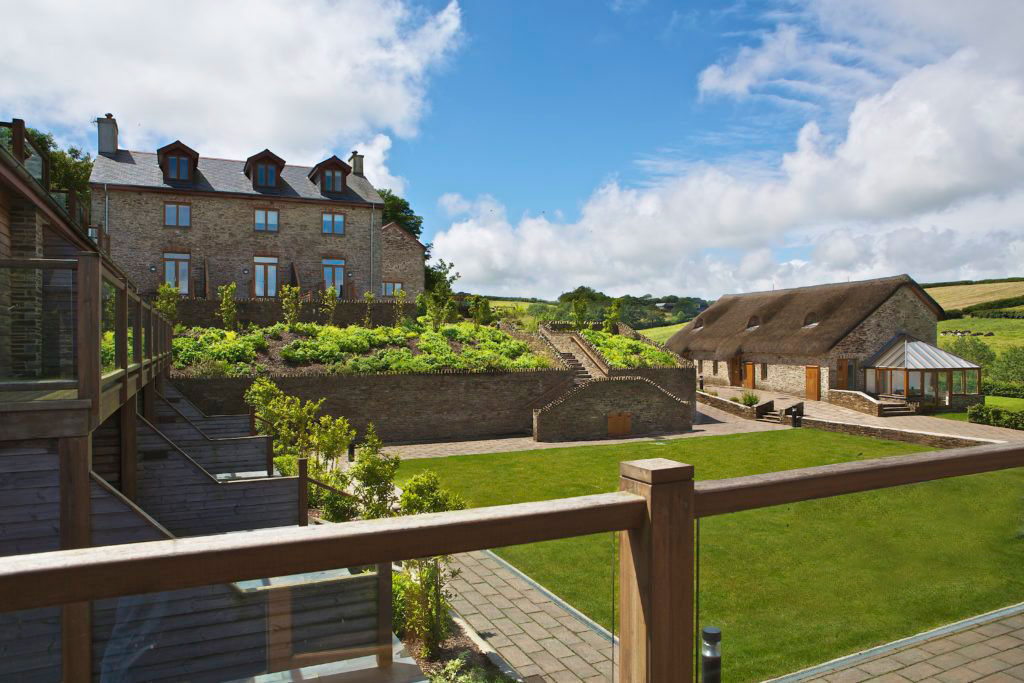 .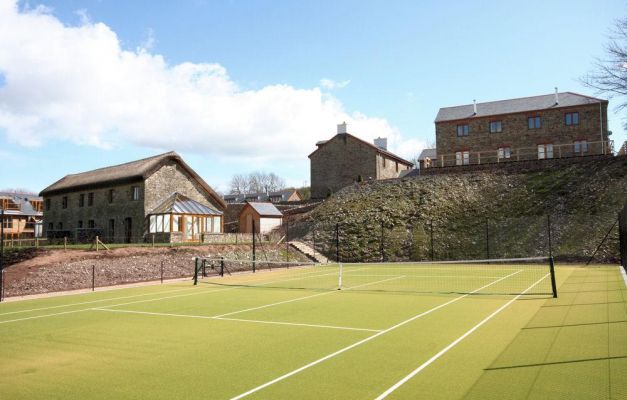 Devon is quite literally a feast of home-grown produce and locally produced culinary favourites, so it is fitting that the hotel's Bar and Bistro, under the watchful eye of Executive Head Chef, Robert Walsh, serves a menu that reflects that heritage – from seafood from the Dartmouth fishmongers 'Moby Nicks' to ice cream from South Devon's renowned Langage Farm.
The Courses:
THE CHAMPIONSHIP COURSE
The 7,200 yard, par 72 Championship Golf Course, which has hosted the West Region PGA Championships on no less than 6 occasions, has been designed to challenge the most proficient golfer, with the strategic positioning of tees, meandering streams, 12 water features and undulating greens providing an excellent and enjoyable challenge to golfers of all abilities.
MG REVIEW – Phil Nicholas – November 2017
It had to be good. Unusually for MG this was a good distance play and stay trip with just one game of golf at the end of it, so it had to be good.
The forecast was good which it normally is for an MG review and I spent a leisurely day on Thursday travelling down to Devon, arriving at BW Dartmouth Hotel and tea time. In darkness I wasn't able to appreciate the splendour of the surroundings, that would have to wait until the morning.
Firstly to the hotel, a ground floor room, roomy with modern comforts and a delightful view over the putting green, with a bit of golf course beyond, as I was to find out in the morning. The home made Chilli and Nachos in the Bistro Bar was delicious as was the full English in the morning. Large bar area with plenty of food choices on the Bistro and bar snack menu, the area doubles up as golf clubhouse, with a spike bar next door including pool table.
My round on the Championship course was set for 10am the following morning, perfect weather too, not a cloud in the sky and not a breath of wind earlier. It was also warm enough to eradicate any frost issues too.
They have many buggies to hire here and it's fair to say they are not a bad investment, it is a good walk with plenty of changes of elevation and some decent green to tee treks. Personally I didn't mind not having one on a day such as this with lots of time on my hands, I enjoyed every minute of my walk. But I would recommend a buggy and the buggy path runs all the way around the golf course too, so they are available to hire in all weathers, 12 months of the year.
A tough opening hole, then a second that you don't need a driver on, you might just run out of fairway, instead take a fairway wood and position it right, then a birdie chance is there for the taking with just a short iron in. Here is also the first spot to appreciate the views that you can look forward to, a panoramic delight.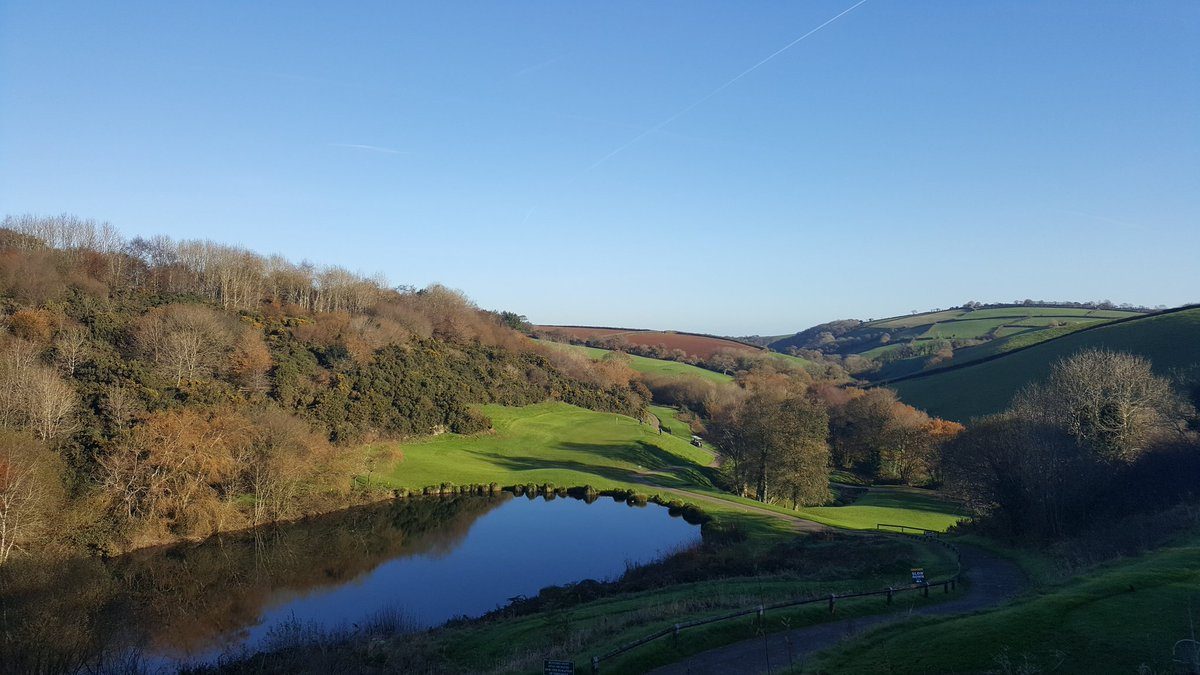 A windy path down the third and what a hole this is (above), a par three from a high tee over the lake to a receptive green, it won't be the last one you come across. Superb hole and keep it straight too, banks of gorse on the left and a steep drop off on the opposite side. The fourth is just a short par five on the card, but I have rarely seen a fairway as narrow as this! The brook running down the left hand side and greenside pond give it a delightful look, but a par here will be well earned.
A terrific start to a round of golf and the standard doesn't falter, another terrific and longer par three over water soon comes around, then the front nine concludes with a par of par fives, a real twisting one on the ninth.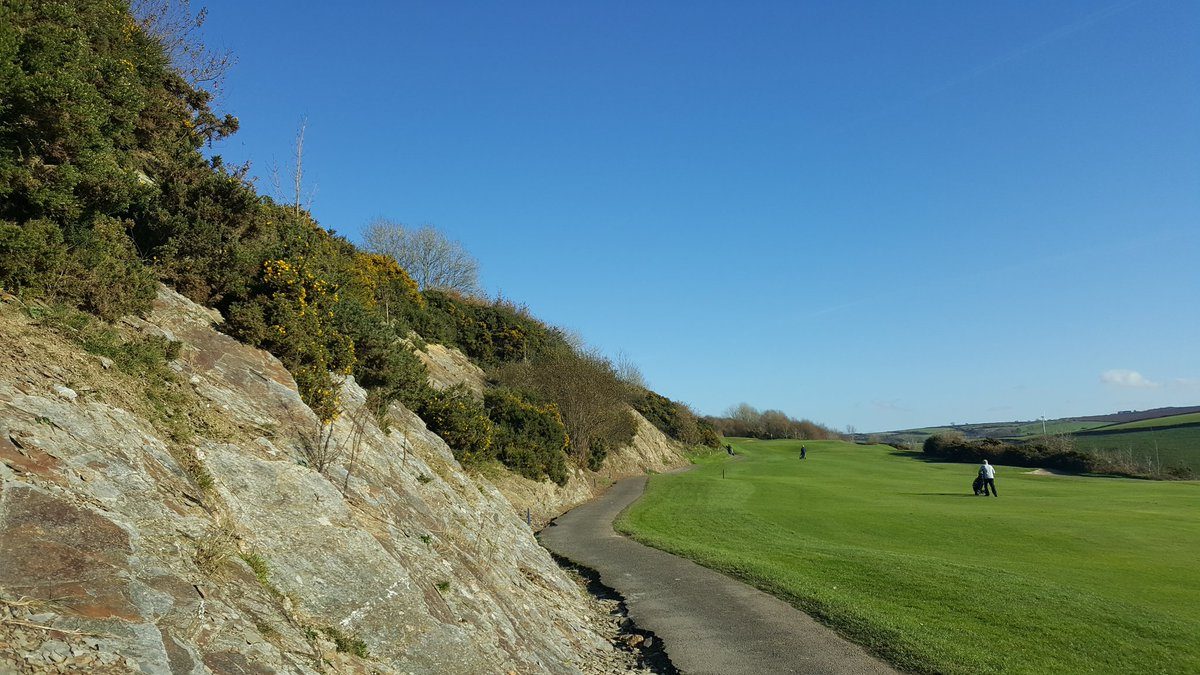 Around the other side of the hotel for the back nine which begins with a superb 10th and pretty daunting it is too. Another narrow fairway so keep it straight to avoid the drop off on the right and the exposed sandstone rock faces on the opposite side (above).
Then as your reach higher ground it all opens out a little on a succession of demanding and longish par fours, including 14 and 15 which run side by side in opposite directions and share a lake.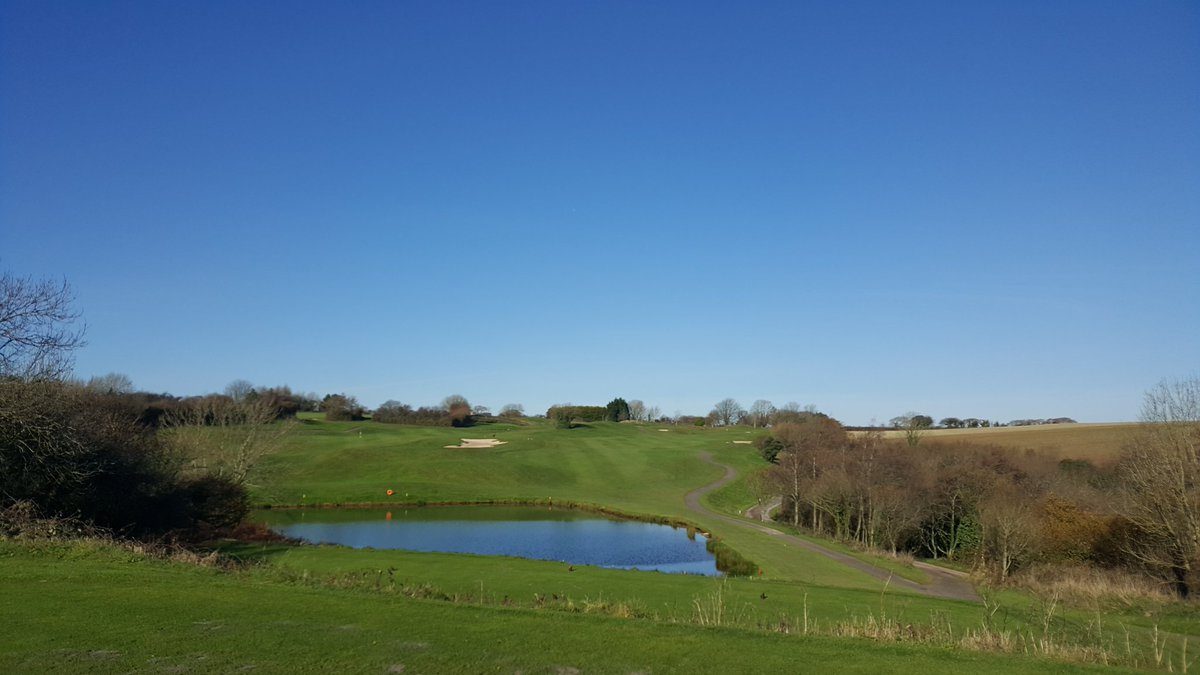 From the par five 16th fairway you do get a sea view over to Start Bay on a clear day as I enjoyed, the par following a visit to the fairway bunker from the tee felt even better.
Not too bad on the 17th either, I had a good round going on at this point, but there was one final challenge still remaining, and the main picture shows you the tee shot view you get at the 18th.
To walk off with pride you have to conquer this spectacular plunging downhill par three, 194 yards for me with water and traps lining up in front of the green. There's no other option other than firing it over all of the hazards, and at least from this height you're certain to find a receptive putting surface.
An apt finishing hole to a stunning course, full of thrill a minute holes and great views too. It also winters very well indeed too, no temp tees or greens in sight.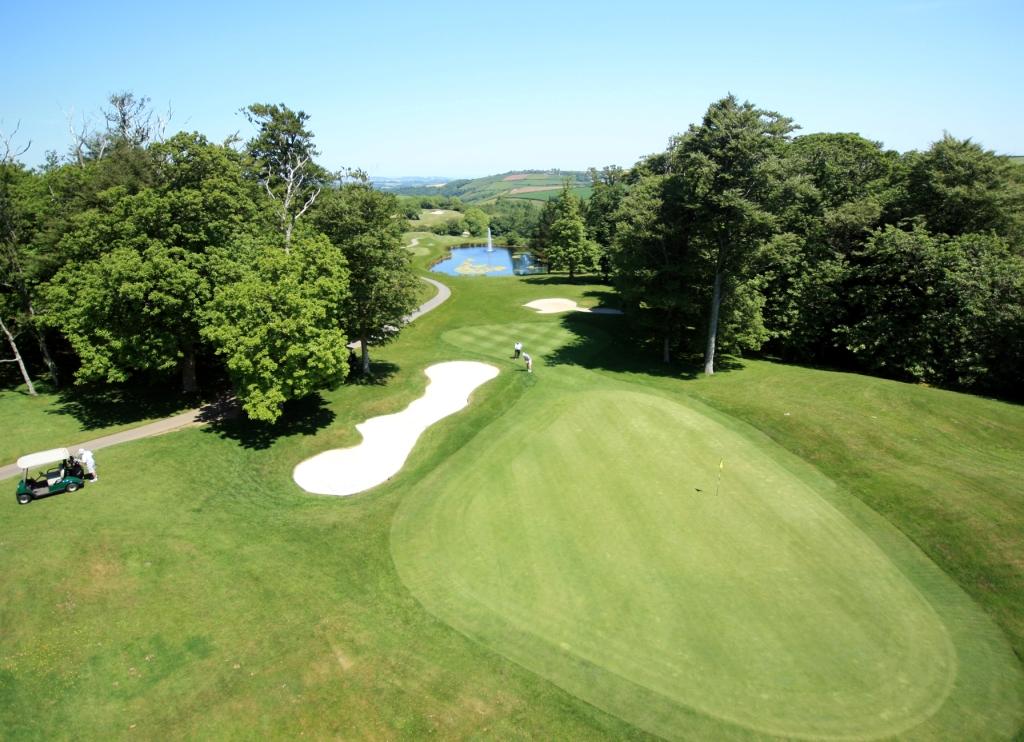 ANOTHER NINE – THE DARTMOUTH COURSE
The 2,252 yard, par 33 9 Hole Dartmouth Golf Course offers a more relaxing challenge, but nevertheless the course has been built to the exact same standard as its sister course, offering the golfer similar challenges of undulating greens and water features. This course is an absolute must to all golfers wanting to enjoy the true 'Dartmouth Experience'.
https://midlandsgolfer.co.uk/wp-content/uploads/2017/10/Dartmouth-Golf-and-Country-Club-18th-Hole-FEATURE.jpg
780
1189
Midlands Golfer
https://midlandsgolfer.co.uk/wp-content/uploads/2014/09/midgolfer-new.jpg
Midlands Golfer
2017-10-24 00:22:40
2017-11-22 00:01:20
BW Dartmouth Hotel, Golf & Spa