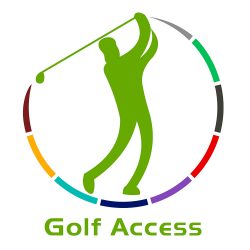 A new initiative called Golf Access is changing the way golf is introduced to new players at dozens of golf clubs all over the Midlands and beyond.
Golf Access is a new scoring system for golf played from a shortened version of the main course. The maximum length hole is 250 yards and a set of permanent tees are located on the front 9 holes of the course.
There are 9 different coloured scoring levels for players to attain, with each level represented by a corresponding wrist band and certificate for juniors and a poker chip ball marker for adults.
The initiative provides beginners with a step-by-step map of their progress in the game. It also gives them incentives to improve their scores until they are ready to attain a club handicap and progress to the standard tees.
After a golfer has completed Golf Access, they progress onto Golf Access+ and obtain a handicap of 54.  Similar to Golf Access, there are 9 coloured levels to progress through, with a handicap reduction at each level achieved.
When a player has completed Golf Access+ they have reached a level of ability ready for an official CONGU handicap.
In the three years since the initiative was launched, over 120 golf clubs in 6 different countries have signed up as Golf Access Centres.
New Mills Golf Club has had 20 juniors participant in the Golf Access programme since they signed up a year ago. Sam Shaw, Head Professional at New Mills Golf Club commented;
"When we introduced Golf Access into New Mills Golf Club we had a healthy junior section, however as a club we always struggled to convert juniors from the academy into full membership.  Golf Access filled that gap perfectly and gave the juniors a goal and target which encouraged them to get out on the course and gain a handicap. The club has seen an increase in juniors playing golf in their own time and I have had an increase in both individual and group lessons.  The Golf Access system is great for new golfers as it bridges the gap from starting the game and is less daunting when golfers progress to the standard tees.  Would certainly recommend"
Danny Spillane, Club Manager at Rothley Park Golf Club has also had success with Golf Access. Danny says "We had identified a gap between juniors starting their golfing journey and reaching a standard to play round the course as members.  We were struggling to find a solution to this until Golf Access came along!  The system is fantastic and has bridged the gap perfectly from juniors starting out to joining the Club.  The Golf Access program has added a completely new dynamic to junior golf at Rothley and helped to create an increase in junior members, extra tuition, and put a fantastic buzz back into our junior section! Every golf club should use Golf Access to help the future of the game. "
If you would like more information about the Golf Access initiative, contact Simon Wood on 01752 847600 or visit www.golfaccessprogram.com