MG ON TOUR 2019 – IRELAND'S ANCIENT CAPITAL – PART I
For this year's Irish tour MG editor Phil took along our Commercial Manager Andy to sample his first taste of Irish golf, hospitality and the infamous 'Craic'.
OUR HOSTS – Club Choice Ireland are the experts at tailor-made golf packages to the East and the South-East of Ireland. They are a golf tour company with a difference, a father and son team (Larry and Tiernan Byrne) with over 40 years of combined experience in bringing golfers across the Irish sea to The Emerald Isle. You only need to spend a few minutes in their company to realise how passionate and knowledgeable they are about their region as a quality golfing destination.

THE DESTINATION
Andy and I were heading to an area of mixed golfing heritage, a little bit of old and a bit of new as well. Nothing new about the area as a whole, we were set for County Meath and The Boyne Valley,  better known in these parts as 'Ireland's Ancient Capital.'
STENA STYLE
Club Choice's ferry partners are Stena Line and we got to Holyhead port in Anglesey in plenty of time to board our ferry to Dublin (2hrs 10 minutes from Leek to Holyhead in the car.) With previous experience under my belt, I knew it was a wise move to arrive a little earlier and grab the cafe's full English before the coach trippers descended on deck. That queue grows quick and Andy is not known for his patience at the best of times, we dodged an early bullet there and tucked in.
Stena Line's vessels are very spacious with copious amounts of seating and comfort too, once the early rush died down we settled down to a relaxing sail. I was indebted to the excellent 'Stena at Sea WI-FI' service which helped me keep in contact with matters in the office as there was a magazine going to print on day one.
ANCIENT AND JUSTIFIED
The Boyne Valley is situated close to Dublin, and the venues we were set to visit are all pretty close together too, not a trip to spend too long in the car, this was all about the golf.
But there are lots of sights to see here for the history buffs, the valley is home to a huge range of heritage sites and monuments, all remnants of a legendary past, clashes of cultures and religions. Mythical treasures reside here which have turned it into a fun tourist area of festivals and trails of discovery. In amongst them, Europe's largest Anglo-Norman castle, more of that in part two next month.
A ROYAL WELCOME
As usual, Tiernan had packed our schedule full of great golf, the first venue was Royal Tara Golf Club, a 27 hole parkland paradise and proud members club, dating back to 1906. We arrived fresh off the ferry ready to take on two of the loops of nine which became so when the club purchased extra land in the 1990s and turned 18 into 27. Nestled under the shadow of the Hill of Tara the course cuts a path through a tree-lined valley floor with undulations ranging from gentle to challenging, but that refers to your test, it's never too tough to walk. It's also in very good condition throughout and the greens are top quality.
Andy and I suffered a little from 'Ferry Rust' or 'sea lag' – it's a common excuse of mine when I don't play too great during the first game. Andy was more than happy to adopt a similar gripe when his ball all too easily found the very well placed bunkers around here, they don't waste any traps at Tara.
We played the Red (Tara) loop and the Yellow (Bellinter) nine which is the back nine of the old course. You can't really tell between new and old to be honest, everything merges together very impressively, the Red a little more tree-clad, the Yellow more open in nature but both tend to challenge more from the middle of the fairways in than they do from the tee where you can be a little wayward and get away with it or were we just a little fortunate.
TARA HIGHS
The long par three second on Bellinter is an excellent test of accuracy and club selection, the tight par five ninth that leads back to the clubhouse on the Tara course makes you very mindful of your surroundings.
VANILLA N-ICE
The family owned Headfort Arms Hotel is situated in Kells, another local town steeped in Boyne Valley history. Our lodgings for the night have absolutely everything on hand to appeal to travelling golfer groups of all sizes.
A very nice looking hotel with 45 rooms and plans for more. They have an adjoining pub next door, The Kelltic Arms, a traditional Irish experience and live music. There is a comfy bar and lounge as well and Cafe Therese which serves all types of bar meals.
We dined in the Vanilla Pod, the hotel's award winning bistro restaurant with a very imaginative menu. I managed to snaffle the final rack of lamb of the evening, Andy recommends his starter, Tom Doherty's Black Pudding Hash, Poached Egg, Hollandaise and Pancetta (left), and he was still on about it on the ferry on the way home!
HEADS UP
After a very comfortable night, sleeping off the bad golf and the red wine, we enjoyed a good breakfast and departed the Headfort Arms, I'm not sure there's been a hotel I've liked as much in my trips. Andy who is a seasoned European traveller and notoriously hard to please is already thinking of booking up again in 2020 with some other golfing pals, high praise indeed.
Our next stop, Headfort Golf Club, is just a mile away up the road. Unfortunately, the weather didn't treat us too well on our day here so we kind of dodged the showers a little to get our golf in on two 18 hole courses, Old and New. Our guide was Paul, a Wolverhampton born and bred fellow, now a naturalised Irishman and a true Headfort aficionado, what he doesn't know about this club doesn't need knowing.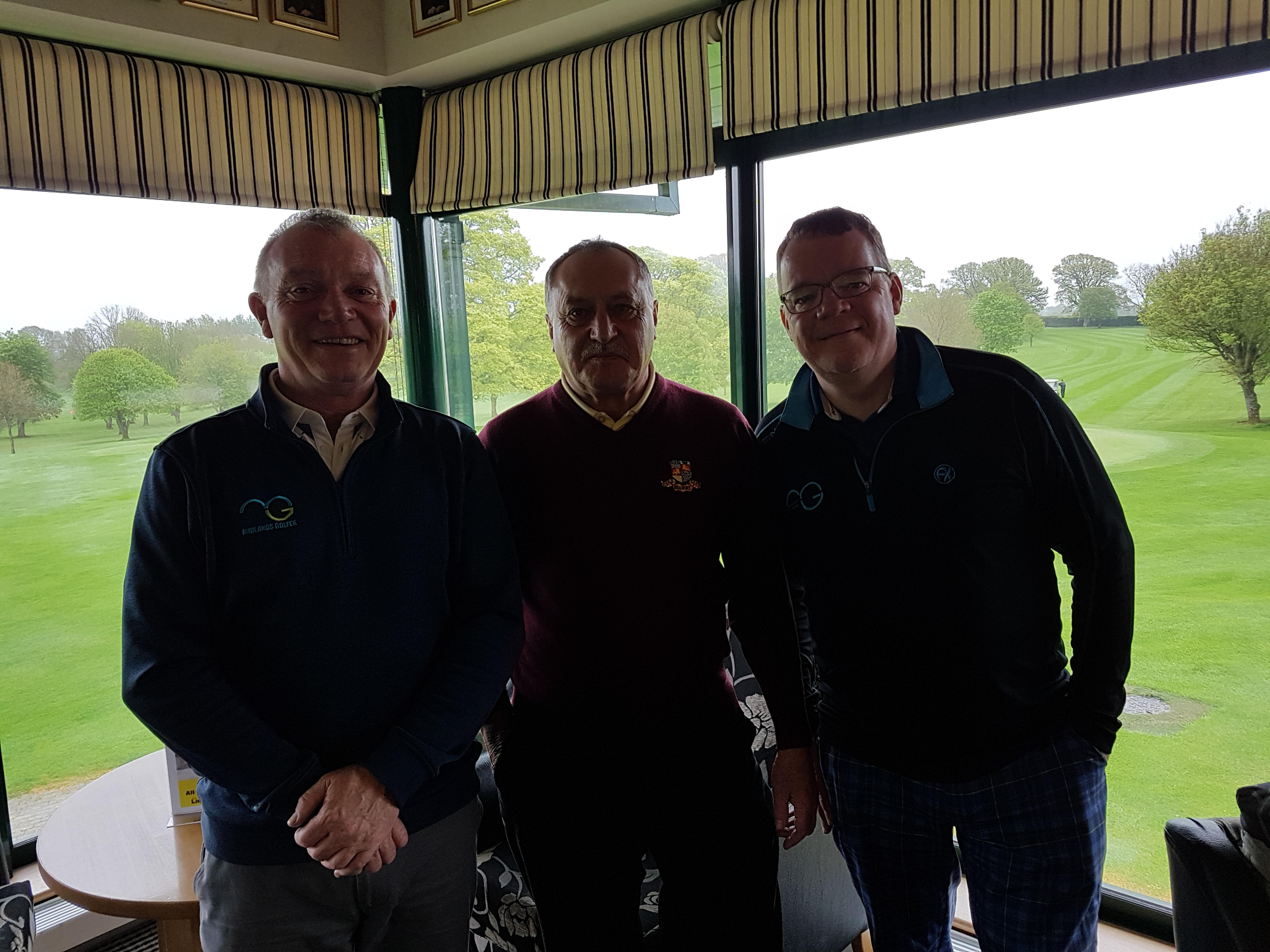 OUT WITH THE OLD
We played the front nine on the Old course first which conveniently leads back to the clubhouse, and lunch which we were glad of as the weather failed to relent from its damp grip. A shame we didn't see Old at its best because it is a very attractive looking course indeed. Opened for play in 1928 it has a suitably mature look and the many members here see it as 'their course.' The New gets more attention but the Old is much loved by the locals here.
You can see why as well, it's a pleasantly lush course lined by many trees, easy enough to walk but with enough twists and turns and gentle changes of elevation to keep your course management skills tested to their fullest. I'm not sure mine were quite in check, I was clearly only going to be a good weather golfer in Ireland that week, and that didn't appear until day three. But Paul was a sympathetic host and playing partner and we appreciated his knowledge and enthusiasm despite the gloomy conditions.
The course held up well though, expertly conditioned throughout and the subtle and challenging greens were a joy to putt on. The Old would never let the side down on a golfing trip.
IN WITH THE NEW
Now with all due respect and deference to our morning course, an impressed Andy was taken to a whole new level in the afternoon when we toured the New. He was like a guy with a new box of sumptuous chocolates, not knowing what the fillings were. Every corner we turned, each tee we reached produced another gasp of delight, he played pretty well too.
The New course is a Christy O'Connor Jnr creation, his quote on the Headfort website indicates that he's pretty fond of this patch of historic land too and loved making it into a golf course. It opened for play only in the year 2000 but there's nothing new looking about it, the modern aspect is purely just about the quality USGA standard tees and greens.
The history dates back to the 18th century and Headfort House, part of a once privately owned estate and now protected by the World Monuments Fund and still in use today as a preparatory school for 3-13-year-olds. On the vast grounds sits the golf course which makes superb use of its two natural islands and the rushing Blackwater river to stack up a heady collection of water surrounded signature holes, especially the short ones.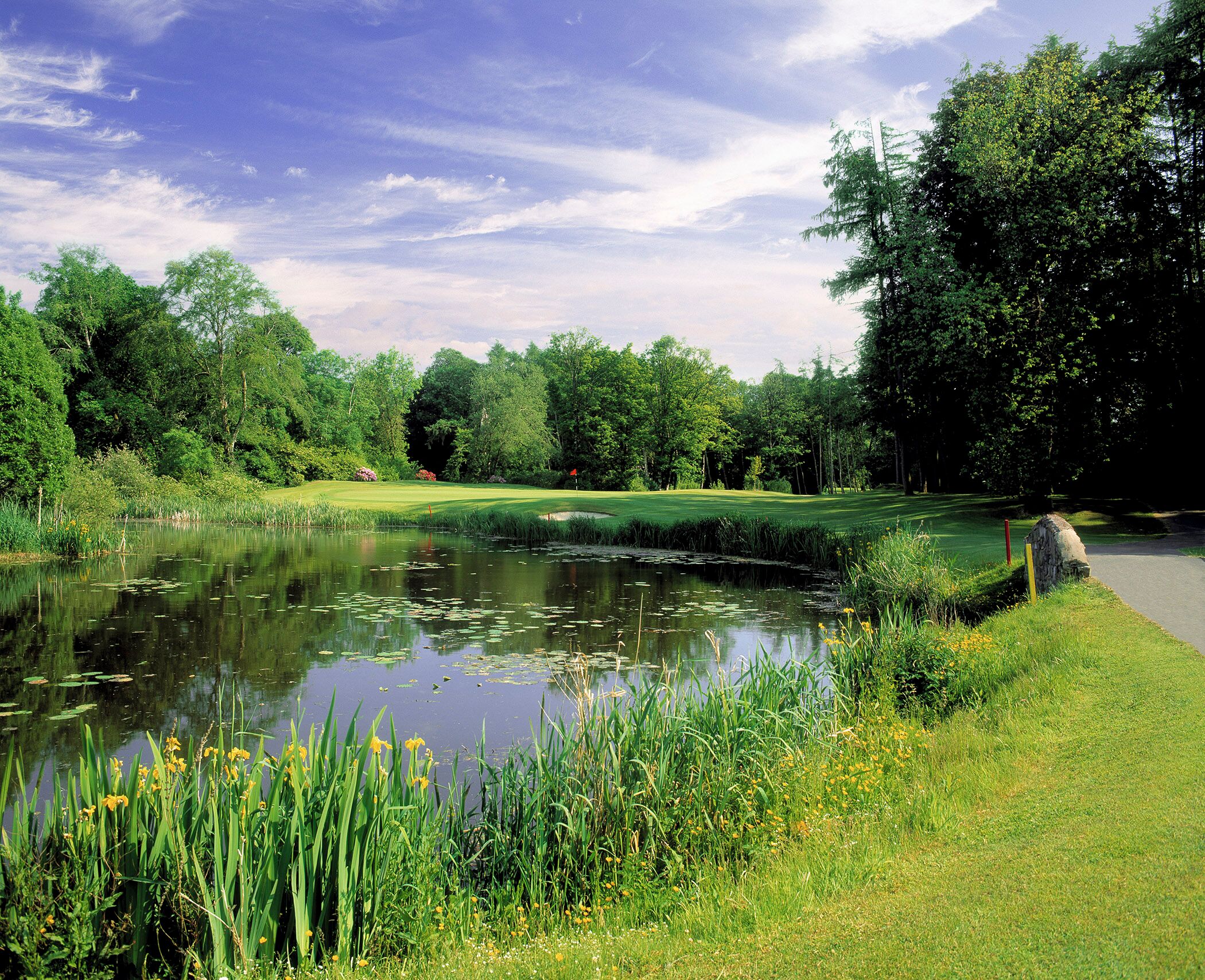 One of those par threes has no wet stuff around it but became Andy's Belgian Truffle in his chocolate box.  A former Lord Headfort spent much of his time out in Asia and became a fan of indigenous Asian horticulture. So much so that he imported many tree and plant species back here and planted them all together to make a unique looking patch of woodland. This is where today the 11th hole sits, and what a sight it is too with the extra bonus of Headfort House as a backdrop. Andy was in his element, he enjoys his flora and fauna and this was the next level, he still managed to find the green as well and grab a par, Paul and I failed badly.
HEADY HEIGHTS
On the Old course, we enjoyed the ninth, gently upbank back to the clubhouse with a network of green fronting traps to avoid. On the New, we all managed to find the green through the drizzle at one of the lakeside par threes, the fourth hole.  Andy was especially pleased to; we recorded his shot on video, check out the MG YouTube channel to see that.
I could enthuse longer but the best example of how good the New is comes with the recognition it has just received. When we were there Paul whispered excitedly in our ears that the club was close to securing a Challenge Tour event this autumn. We had to keep quiet about it but one week after returning Paul got excited again, this time on an email confirming that the deal was done and the 2019 Irish Challenge comes here in October, a proud moment for the club.

Those boys are going to have a great time and you should make a point of coming over here and experiencing it too.
In Part II – July issue – The Golden Bear's course – a trip to Braveheart land and nearly home from home, joining the Cheshire set at Knightsbrook.