Day two was a very busy one. Our jaunt around Headfort's 36 holes was not the end of the golf, we had another one to attend, a few holes at an equally special location.
Jack's place
Killeen Castle Golf Club was pretty much purpose-built to host major events which it did famously in 2011. Who can forget the Sunday afternoon fightback when Europe's ladies overcame the USA to regain the Solheim Cup amidst high drama rivalling anything their male counterparts have achieved over the years.
Killeen Castle is one of a pair of Jack Nicklaus designs in Ireland; I'd played the other one, Mount Juliet in 2018. Not too dissimilar either, both are set on vast expanses of land, both are conditioned to a very high standard indeed.
But the difference is with the centrepiece, Killeen Castle itself is a 12th-century build with a rich and royal history inside its walls. In recent times it has been restored and although it's not currently open for tourist access it stands as a quite magnificent looking golf course monument, you can see it from almost everywhere, you play up to its front door on the closing hole.
We were given a buggy and the late afternoon tee time made it easy to pick and choose a few holes and just drive through some of the others. Typically for a resort course, the contoured greens and bunkers are big ones and there are a good few lakes around too, the one that divides the second and 17th holes provides some signature moments.
We made sure to take a bit of time to have a look around the wonderfully modern clubhouse as well, festooned with images and memories of that famous occasion in 2011.
Killeen Dreams – The 12th hole with its greenside man-made cascading falls (above) is a beauty and made all the better thanks to my perfect par with Andy floundering somewhat in my wake. That was probably the first time that had happened all day! (I'm glad I get to be the writer!) But his nibs did enjoy his equally adept par at the 18th right in front of the castle.
We could have been excused for being a little weary after this day of golf but another special hotel awaited and we had been promised a night out by our host, Club Choice, too.
Crazy, crazy Knights 
Knightsbrook Hotel Spa and Golf Resort is set on the outskirts of Trim, a small town full of character and historical charm. The 131 bedroom, 4 star hotel is not only a luxurious one, it's also perfectly placed for a quality golf break where you don't have to travel too far to find a new round to play.

The hotel's GM, Patrick Curran, had pushed the boat out for us with a huge and luxurious suite complete with golf course views and a welcome pack including a box of chocs and a bottle of Chilean Red… which we started the drinking straight away. We joined up with Tiernan, from Club Choice Ireland, in the bar and a few fellow English golfers too as it was the Club Choice Ireland Senior Mixed Pairs tournament.
Competitors had travelled from far and wide to play three of the local courses, including Knightsbrook itself. We found a group of eight senior couples from Astbury GC in Congleton, only 10 miles from where Andy and I both live, later on, we shared a few nightcaps with them.
The three of us dined in the Rococo Restaurant and grabbed a succulent steak each, mouth-watering they were too.
By 9 pm the weather had thankfully cleared up and Tiernan wanted to show us a little pub down the road, see if we could find a traditional Irish welcome and get some craic going, we did as it happened.
The trouble with Brexit

Marcie Regan's pub is just a ten-minute walk from the hotel and occupies a quite enviable spot just outside town. The rushing cosy Boyne flows past and on the opposite bank stands the ruins of the ancient Priory of St John the Baptist.
The pub itself is exactly why you come to Ireland if you want to soak yourselves in its traditions (and Guinness!). We did both within these welcoming and cosy old walls, festooned with Irishness at its finest. It was just a shame we didn't visit on a live music night, I imagine they can be pretty special.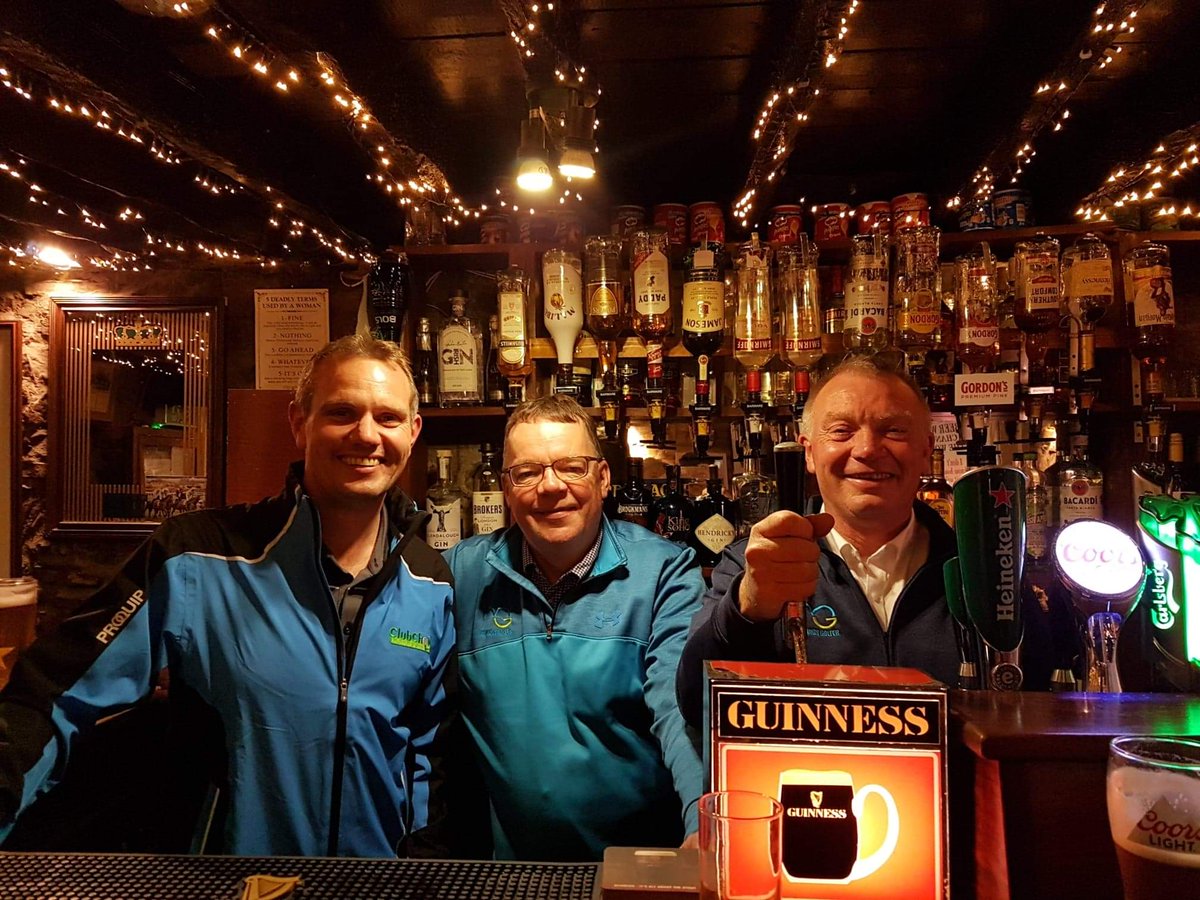 But what we did get was 'the craic', and by the bucketload too. The second we blew the first bit of froth from the pints, the locals were on us, firing questions off in a most amusing fashion. Not a hint of malice but they put us through the wringer, golf courses we'd played, Tiger Woods, what makes football so special and Brexit – why have you English made such a mess of it?
I left the political debating to Andy, he knows more about these things than me, and as he fought on manfully I just laughed along, inwardly more concerned over how I'd made a mess of my golf so far on this trip!
Mercifully our hangovers weren't that bad in the morning as we discovered that the Rococo breakfast was on a par with the Rococo evening meal the night before. We were also buoyed by the weather too, after suffering drizzle and worse the previous two days, our Knightsbrook morning couldn't have been nicer, not a cloud in the sky.
Knights on par
We teed off mindful that the senior pairs weren't that far behind us which may have explained why we scored one point between us in the first two holes! Just making sure we were keeping up with play so we didn't look too long for stray balls, that's our excuse anyway. But after that, we got our eyes in and the final 16 holes only added further evidence to the legend that I really only do play decent golf when the sun shines.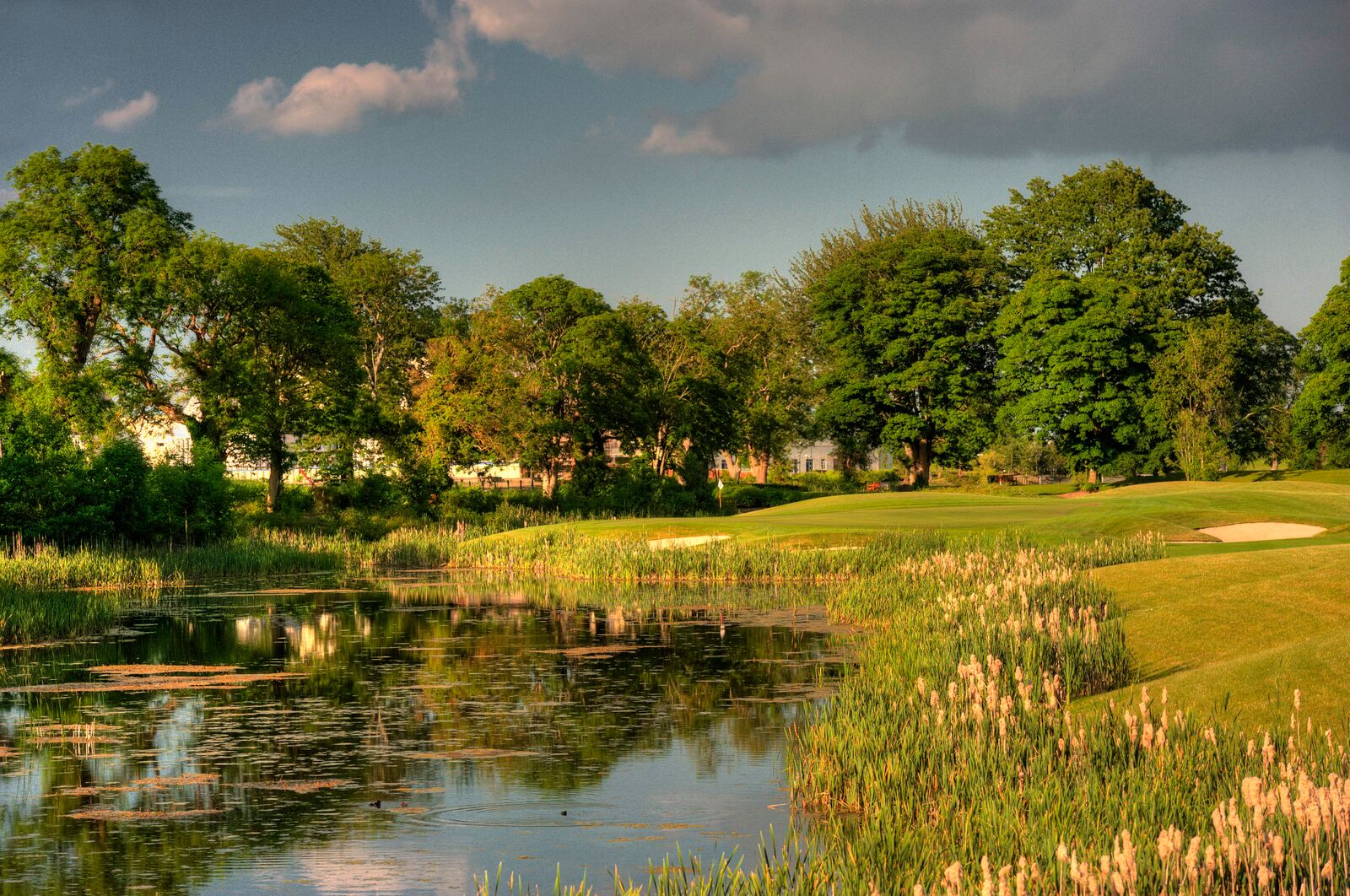 Andy wasn't too bad either but for the first time in the week he played second fiddle – I was winning the battle after the war had been lost yet again.
Knightsbrook, similar to Killeen Castle has all of the resort course attributes you come to expect, just a little less open in nature with a few patches of woodland in the mix too. Plus of course, there are water features, lots of them too, many of which give you some true highlights on the stand out short holes they have here.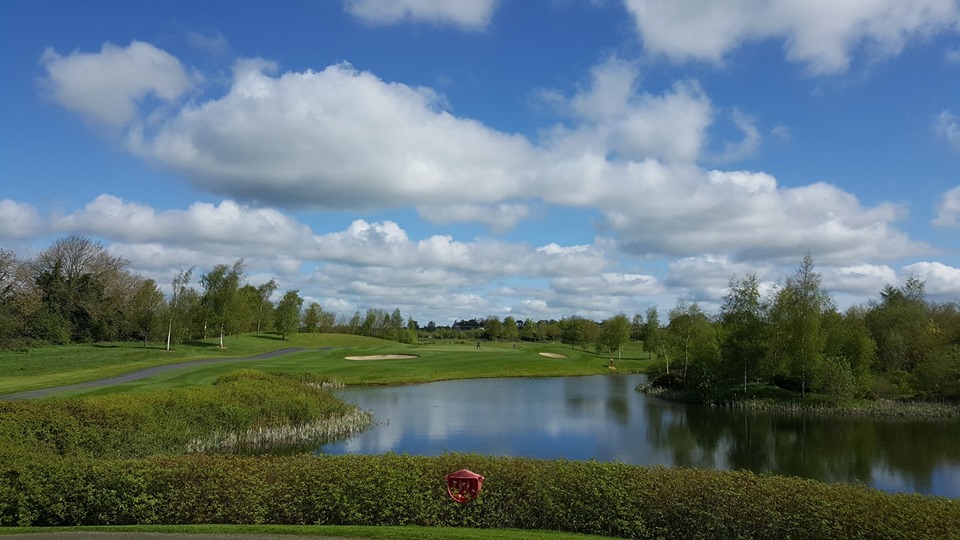 Two of them are saved for the finishing stretch of three holes that has an equally challenging long 17th to enjoy as well. The downhill home hole is a beauty, over the water to a hugely contoured green that proved to be my undoing, first blob since the second.
Nevertheless, we had a fun round in the sun and didn't keep the seniors waiting either – what a lovely course, full of interest and exciting golf holes, a resort layout that ticks all boxes.
Knight lights
The first birdie of the week for me was a long time coming, but the short 16th here was a very nice spot to break the duck on. Andy threatened a few ducks on the water holes but had the last laugh, performing a quite miraculous chip down the bank at the 18th to set up a nice par.
A final flourish 
The golf on day three wasn't quite over with; there was time to spare for an extra nine and a full course tour with a buggy at County Meath Golf Club, situated on the other side of Trim. A friendly members club, a fact that was proven with the welcome we received from both club captains in the busy bar area. Their enthusiasm and interest in bringing new visitors over to enjoy their course was most noticeable.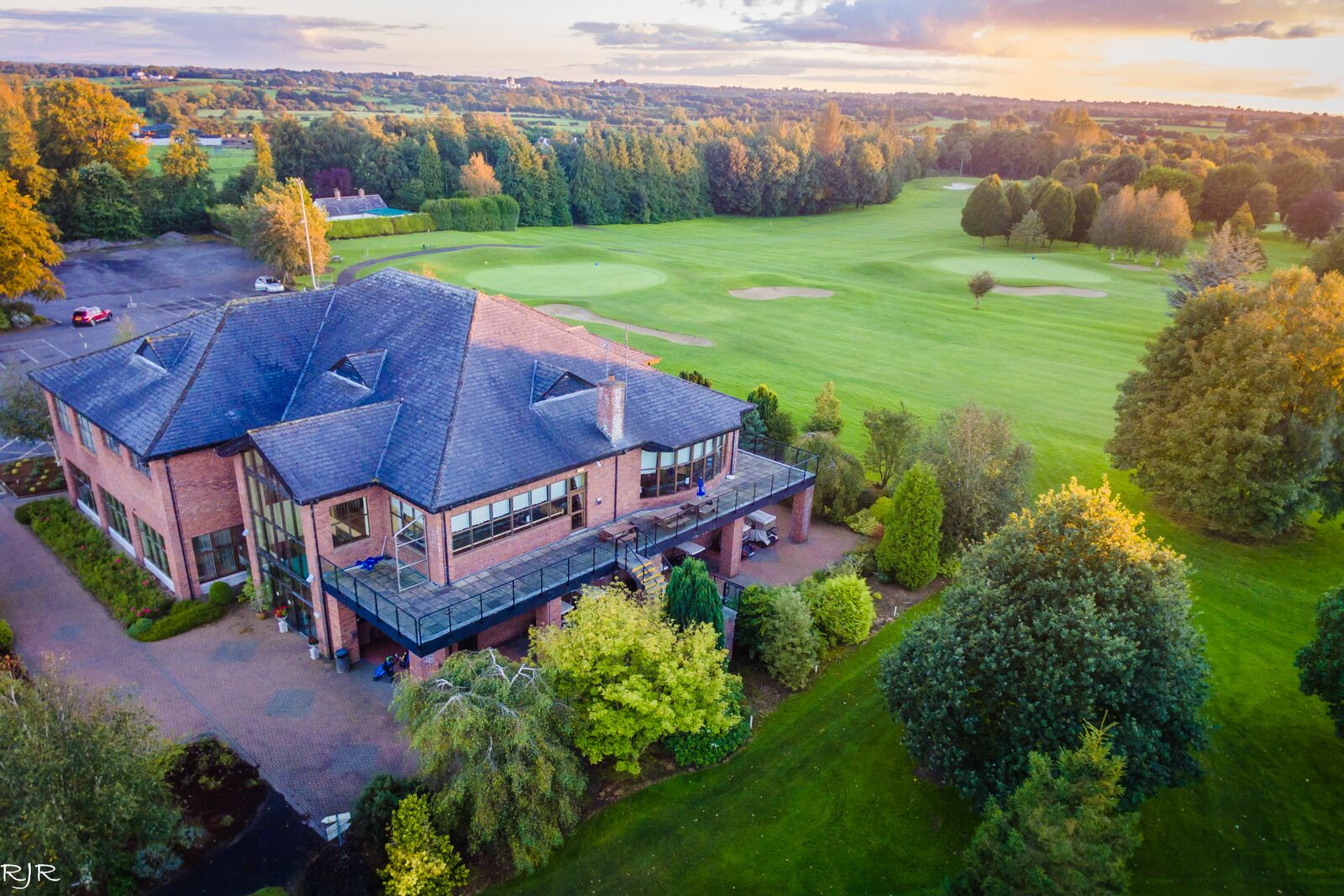 This is a pure parkland course, tree lined pretty much all the way and quite lengthy too, over 6,500 yards in length from the green tees. You'll need your driver but it needs to be a cautious one at times.
Andy and I took on the back nine but the game wasn't a serious one, we were just there to enjoy a few hits on a very nice course, lush and well-conditioned with a good variety of tree species and lots of wildlife around too. The brook that meanders across the width of the layout adds an extra hazard and to emphasise the tired golf point one last time, Andy thought he'd caused hazards of his own making at the 14th hole. A long par four with the road running alongside it but protected by tall trees, Andy's wild slice left him fearing he'd cleared the lot and caused a bit of an RTA – we all know how that nervous 10 seconds of silence feels when we've launched a wild one in the wrong direction towards peril fearing the worst.
Well we heard nothing, Andy struck a provisional then found the original one on the side of the fairway – those tall trees were obviously taller than we gave them credit for. Nevertheless a near miss and an indication that it was clearly time to go home.
A quick Trim 
Another big advantage of a trip to the Boyne Valley region is that you're never too far away from the ferry port which can open up a bit of spare time for sightseeing and some souvenir hunting too. We had an hour spare so we tripped into Trim itself to have a look around. Among the lovely quaint collection of colourful buildings, shops and many pubs that reside in the centre stands a big old centrepiece.
Trim Castle dates back to the 12th century and is the largest Castle in Ireland built in Norman times. Standing on the south bank of the River Boyne it has been outstandingly preserved and restored too and is fully open to the public. It was also used to film scenes in the film Braveheart.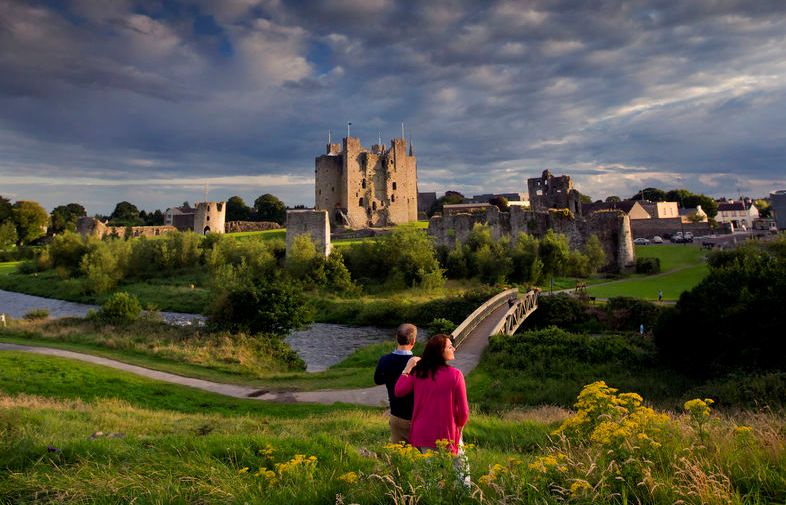 Just 40 minutes from Trim back to the ferry port in time for the Stena Line home, all in all this year's trip to the Boyne Valley used no more than a third of a tank of diesel. A compact three-day tour that took in a lot of golf and quality accommodation too in an area full of hidden treasures and historical landmarks.
On the ferry back home we ran through the highlights of the trip with Andy pledging to return, this was the most impressed I'd seen him on an MG trip since our first Scotland jaunt in the white Merc in 2016. I think he's going to come back some day, for myself my fourth trip with Club Choice Ireland lived well up to the standards set in previous years.
I'm a lucky editor and can't wait for spring 2020, where will they send us next?