The Vale Golf and Country Club celebrated their 25th anniversary in 2017, if you've not discovered yet what they have here in this quiet corner of rural Worcestershire then maybe it's time, they have a lot to offer.
Proprietory owned and run with on and off course investment ongoing pretty much all of the time you can sense a determination here to raise the bar ever further and elevate The Vale to a loftier status.
GOLF AT THE VALE
27 holes here, all full size with the International course playing centre stage. Set on a very large expanse of land with part woodland surrounds and affording some panoramic views of the Malverns and Bredon Hills there's a real away from it all feel here that is hard to ignore.
The International is a pretty long course too with no less than six par fives, four of them reside on the front nine. 6,648 yards from the yellow tees and generally speaking you can fire away at will with your drivers, the aforesaid par fives especially offer some generosity from the tees and fairway hazards are pretty infrequent.
There are a few water hazards, greenside lakes on certain holes with a network of tributaries that meander around the course and might just have you reaching for the yardage books at times. The best example is on the ninth which has a fairway crossing ditch to think about; from the raised tee it's more reachable than it might look.
The previous hole is also a par five with a very attractive twist giving it signature hole status. What is a generally level terrain course gets a real lift here as there is a short but steep incline to the raised green here, It probably deters a dash at it in two but if you can grab a par take a moment to look at the views from the top as the picture shows, they are quite something.
More water in play on the back nine and the club's main fishing lake provides you with a fittingly exciting finish. It stretches out in length from the edges of the play and stay lodges and travels as far as the 16th green, in doing so it also runs more or less all the way down the closing hole too, a testing approach shot in store there too.
The nine-hole Lenches course sits alongside The International and performs many useful roles here as a two-hole Alternative to a full round, a society morning warm-up competition or as a slightly easier starter course for learner golfers or new members here.  Conditioned to the same high standards as its neighbour, slightly shorter in length (2,656 yards, yellows) but does contain two further par fives, one of which sees you back to the clubhouse with another decent sized lake on the right.
The Lenches is a decent challenge and our favourite hole the par three seventh here; travelling gently uphill with its well-placed bunkering is a good test of club selection.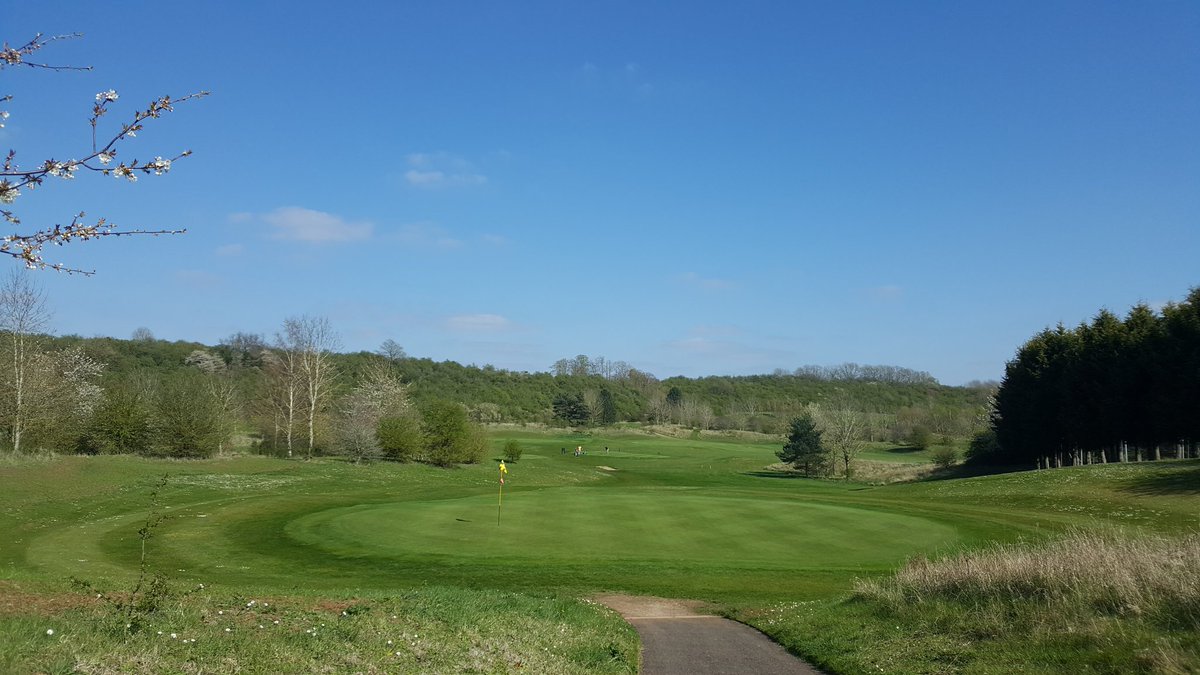 The Vale offers first class practice facilities with the recent addition of Toptracer which has also fully installed on all of the 16 bays of the driving range.
The club are also looking forward to hosting the Euro Pro Tour this summer from June 30th-July 2nd with a pre-event pro-am to be held on June 29th.
PLAY AND STAY
Accommodation here is provided by nine traditional looking log cabins, all with lakeside views and decking areas. Fully furnished throughout they can play host to small golfing groups, couples stays and there is also one family cabin too, sleeping four.
FOOD AND DRINK
The Vale's huge clubhouse has a superb range of contemporary looking facilities to cater for all occasions. The downstairs spike bar, only opened in summer '18 looks after the golfer's needs with a full range of breakfast and all day snack options. The first floor main bar is very spacious, recently re-furbished with a large selection of beers and a healthy gin range too.
A further floor above is the conference room which can seat up to 140 guests with other meeting rooms on site that will host smaller occasions too. The outdoor seating area by the side of the main suite room is a perfect sun trap with great course views.