In February 2009 Beau Desert GC in Staffordshire became the first course review undertaken by a fledgling Staffordshire Golfer magazine, heading for a centre page spread in Issue 1.
Those who know about Beau and its well merited lofty reputation would know that's quite a baptism of fire for a rookie golf writer, but we survived and on my personal 75th edition I was treated to another experience .
Much has changed in the magazine's history, and much has changed too at Herbert Fowler's magnificent 1911 creation– recently bestowed with the great honour of becoming host to the Ladies British Amateur Championships in 2021.
Surprisingly as I only live 25 miles away, this October review, along with Mandy and Jean-Louis was my first game at Beau since that first time, one to relish.
Beau Desert is subtitled 'The Beautiful Wilderness', and for good reason too. Carved out between rows of majestic tall pines and flanked by firs and spruces with banks of gorse and bracken, splendid isolation reigns.  Birds of prey glide the currents above, and an occasional deer may poke a nervous nose out to spy on your progress.
Distraction free golf and playing partner Jean-Louis, likewise to me playing here for the first time in a while remarked on the peace and serenity within these idyllic surroundings on more than one occasion.
The journey is an epic one, an intoxicating challenge across feathery terrain with guaranteed quality playing conditions all year round from tee to green. Although not the longest of courses tee shots need a bit of distance as well as care, the heather and gorse isn't just here to line the fairways, there are a few decent carries to take on as well.
The new found openness at Beau was the change I noticed most. In recent times and similar to many comparable tracks, they've removed a few trees to encourage the return of a traditional heathland habitat.
A little break from the isolation and some openness was welcome, especially when there's no change in the still atmosphere and you're treated to views of Cannock Chase from the side of the sixth and seventh holes, two absolute beauties. The latter is a wonderful par three, across the abyss to a raised target with tricky up and down spots pretty much all around this fast paced and sloping green.
The ninth is a standout hole and sees Beau at its most tantalizing. It's a tempting prospect to fire it as far up the bank as you can and possibly run it up there in one. Yet the pathway to the promised land is a potential minefield, bumpy ground, little grassy hollows on the fairway edges, and a trio of imposing green fronting traps.
The putting surfaces are epic in size, smooth as silk and perform to dramatic effect with a multitude of either full in your face or sneaky contours. A huge amount of credit is due to any golfer who can keep a three putt off the card here.
The back nine lengthens a little with two special holes in particular, difficult not to love the shot shapers paradise at the double dog leg 12th, even though the white flags were raised on the tee and we played it respectfully as the par five that it isn't.
.
The 18th is though and provides a quite wonderful climax, a good long drive over the banks of bushes and heather will run on and you may be close enough for a dash at the green in two. But given the hazards that still lie in wait in front of you, that task is a long way from straightforward, and you might once again take a more circumspect view of things and lay up to sandwedge range for your third.
The huge closing green here is an absolute joy, an inspiring final challenge that packs in even more contours and twists and turns to what has already faced you. It may be time for a stiff drink.
19th hole: Excellent practice facilities include a 12 bay range and short game areas. The large clubhouse boasts stunning views of the 18th hole from the first floor, the downstairs function room can seat up to 120 diners for any occasion.
Beau Desert is perfectly set up for a memorable round this festive season and well into the winter months too – my self-imposed nine year Beau hiatus will certainly not be happening again.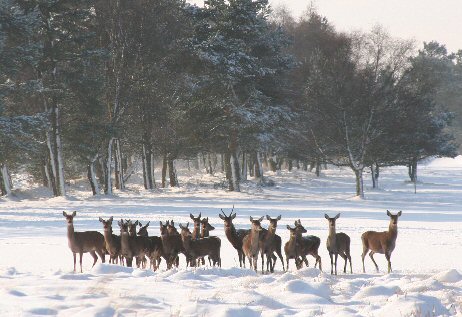 TAKE ON THE BEAUTIFUL WILDERNESS THIS FESTIVE SEASON – NOVEMBER AND DECEMBER TEE TIMES
Breakfast Bap with Coffee on arrival – 18 Holes – A Mulled Wine and Mince Pie after the golf
£190 a fourball
Subject to availability – T & C's apply
To Book contact General Manager Tim Gilpin on 01543 422626 or email generalmanager@bdgc.co.uk