2018 BIG MAX bag line up complete
Hot on the heels of being named as #1 bag brand in Germany by Golf Datatech, BIG MAX has finalised its line of award winning AQUA and DRI LITE golf bags for 2018. With three new additions to the new year offer, BIG MAX now has innovative and stylish bags across various technologies, categories and styles.
The three latest additions complete the AQUA and DRI LITE ranges.  The BIG MAX AQUA range incorporates the new DROP STOP system, guaranteeing the bags are 100% waterproof. Using waterproof fabric with unprecedented waterproof rating of over 10.000mm*, sealed seams and specially designed Japanese waterproof zips, the AQUA range delivers an unrivalled level of protection from the elements.
DRI LITE technology delivers a water resistant golf bag that is the equal of what most brands in the market call 'Waterproof'. With a 2.000mm* waterproof rating and waterproof zips most other brands would call DRI LITE waterproof, but with the time and expertise taken to ensure the AQUA range is 100% waterproof, BIG MAX are happy to call DRI LITE water resistant, knowing it will keep all but the wettest, winter days at bay.
The AQUA Wave is a stylish, compact and 100% waterproof stand bag that gives a little more room than a standard winter bag for golfers who want to carry a few more clubs on a winter round. The Wave's 8 ½" top extends into 4 full length dividers, while its 6 waterproof pockets, air channel straps and ultra-light weight of just over 1.9kg make the bag a hugely practical and colourful addition to any golfer's gear.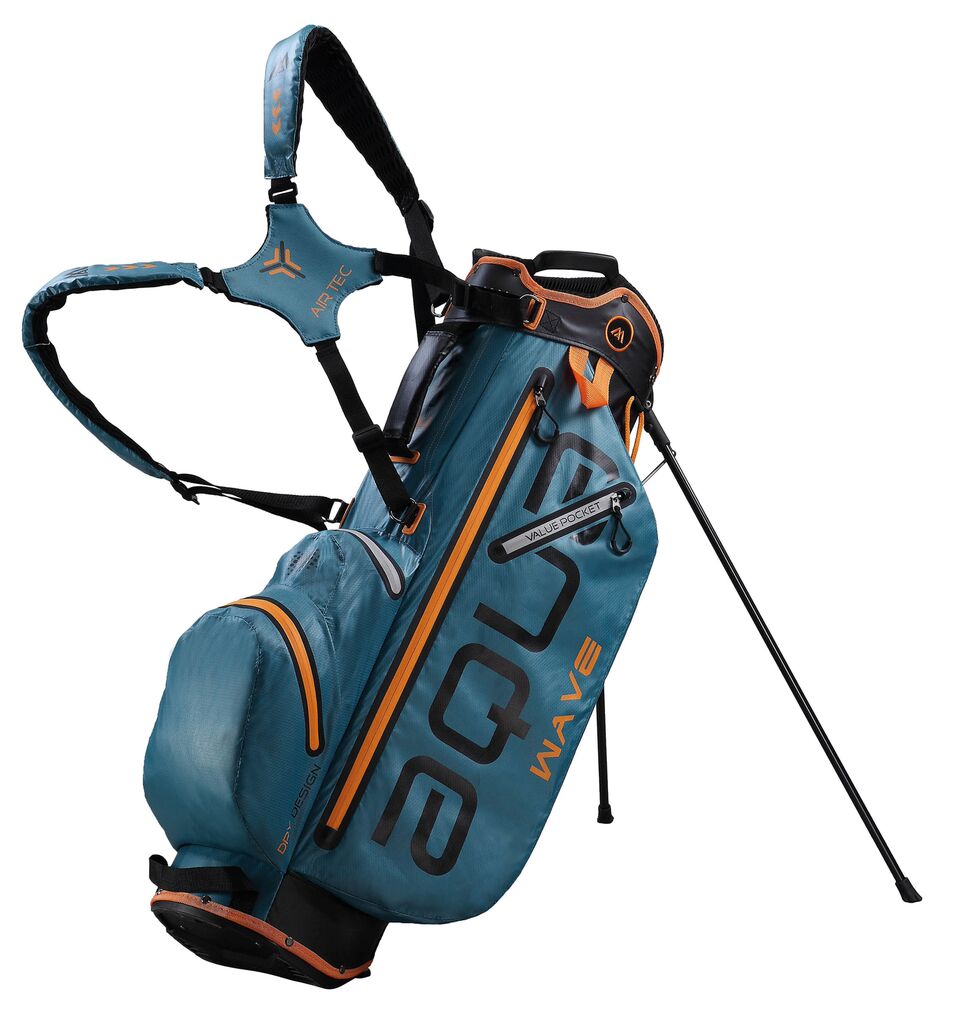 The new AQUA Ocean is a 100% waterproof Sunday stand bag that has space to spare and weighs just 1.7kg. With an oversize top the Ocean holds 4 clubs more than traditional Sunday bag, and has plenty of storage options with 5 waterproof pockets. Practical features such as glove, towel and umbrella holder, combined with space for a full set of clubs if required, mean this stylish bag allows golfers to travel and play without compromise.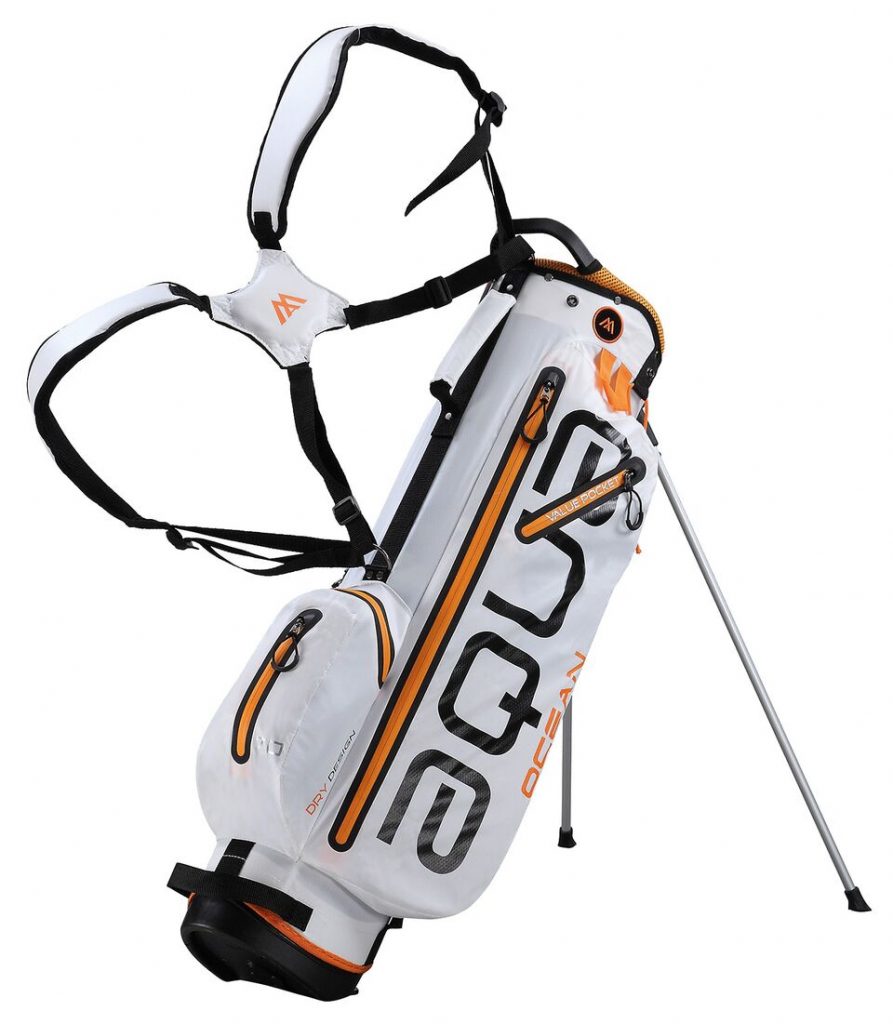 DRI LITE Active offers practical solutions to all a golfers storage needs in a stylish, water resistant package. A  9 ½", 14 way top and an oversize putter well to fit the largest grips will keep all a golfers clubs in order, while 9 pockets, including fully waterproof valuables pocket, glove, dual umbrella positions and towel holder will pack away even the most well equipped golfers' gear with ease. Ultra-lightweight at just 2.2 kg and available in a range of stylish colour combinations, the DRI LITE Active looks great and delivers on the course.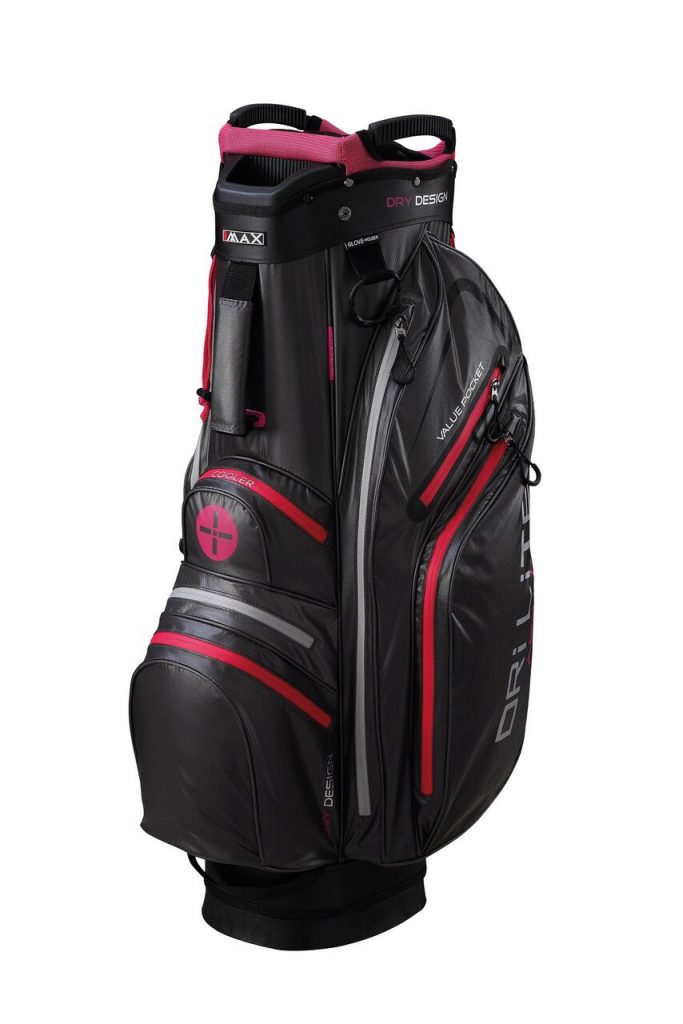 *Hydrostatic testing of waterproof fabric gives a mm per 24 hours rating. This refers to the amount of rainfall a fabric can withstand in a single day. Thus, a 10,000mm waterproof rating means the garment can withstand 10,000mm of rainfall in a single day without letting moisture in.
AQUA Wave – £189.99 available in Black, Yellow/Black/Silver, Red/Black/Silver, White/Black/Orange, Petrol/Black/Orange,
AQUA Ocean – £129.99, available in Black/Red, Black/Lime, Red/Silver, Petrol/Black/Orange, Charcoal/Silver/Fuchsia, White/Orange
DRI LITE Active – £159.99, available in White/Red, Charcoal/Fuchsia, Navy/Black/Silver, Black/Red
For more information on the BIG MAX Aqua range visit www.bigmaxgolf.com or follow socially:
facebook.com/bigmaxgolf
Twitter: @BIGMAXGOLF
Insta@ @BIGMAX.GOLF
https://midlandsgolfer.co.uk/wp-content/uploads/2018/04/AQUA-Wave-DRI-LITE-Active-AQUA-Ocean.jpg
800
1200
Midlands Golfer
https://midlandsgolfer.co.uk/wp-content/uploads/2014/09/midgolfer-new.jpg
Midlands Golfer
2018-04-18 21:46:03
2018-04-18 21:46:03
2018 BIG MAX bag line up complete