In this special online review we focus on one special golfing venue right at the very border edge of our region; a golf club that may not appear on the radar of many West Midlanders but one deserving closer scrutiny and a little extra mileage to reach. England's highest golf club, Kington sits on top of Bradnor Hill on National Trust land in deepest Herefordshire with the Welsh border no more than a good six-iron away, Established in 1926, this is a real hidden rugged treasure of natural beauty.
Surroundings
The medieval market town of Kington sits at the bottom of Bradnor Hill.  Sir Arthur Conan Doyle found inspiration in a nearby haunted house when writing The Hound of the Baskervilles.  Mike Oldfield of 'Tubular Bells' fame lived 50 yards from the clubhouse when composing his follow-up album, 'Hergest Ridge'. It is difficult not to feel inspired golf-wise either at Kington which boasts panoramic 3600 views of the Brecon Beacons; Black Mountains; The Malverns; and Clee Hills amongst other distant peaks.  The historic Offa's Dyke Path passes through the course.
.
On the face of it, there is reason for optimism and a low score when surveying the task ahead – course length is just 5961 yards off the competition tees. However, although there are no bunkers or water hazards at Kington, the many natural humps, bumps, grassy hollows and drop-offs around the greens ask for all kinds of creativity when in the wrong spot. Ambitions of a birdie blitz can only be realised if you can tame the terrain and cope with the elements on a track that plays as a pure inland links treat.  The natural undulations of the land present rolling, fast-running and sloping fairways that can speed your ball towards trouble.  Nowhere is this more evident than at the beginning and end as both the 1st and 18th share a fairway. One goes up with the ground falling away from you and to the left; coming back it presents a similar problem on the other side.
Having a deft touch around the greens is a good key for success here. Approach shots need to be precise and from the correct angles as the greens often fall away from the front or side leaving difficult up and downs to regularly tight pin-positions.  The putting surfaces are a year round delight; of great quality and full of variety. There are some large, undulating two-tiered affairs in places, yet others are narrow, modestly-sized gems, well-defended on all sides.
Naturally the elements play a major part, too. No hilltops anywhere are immune from a stiff breeze and Kington is no exception. At the highest points it can get quite severe. Around the turn (the highest point of the course at 1242 feet above sea-level) the layout is at its most exposed and typically links-like in its erratic and unpredictable nature. Penal patches of bracken and gorse lurk to entrap windswept golf balls. Great care is needed on a blustery day, with a little luck, too.
The Par 5 (reachable in favourable conditions) 11th marks the beginning of a slow descent back towards the clubhouse – an enjoyable closing stretch never lacking in charm. The superb views remain throughout.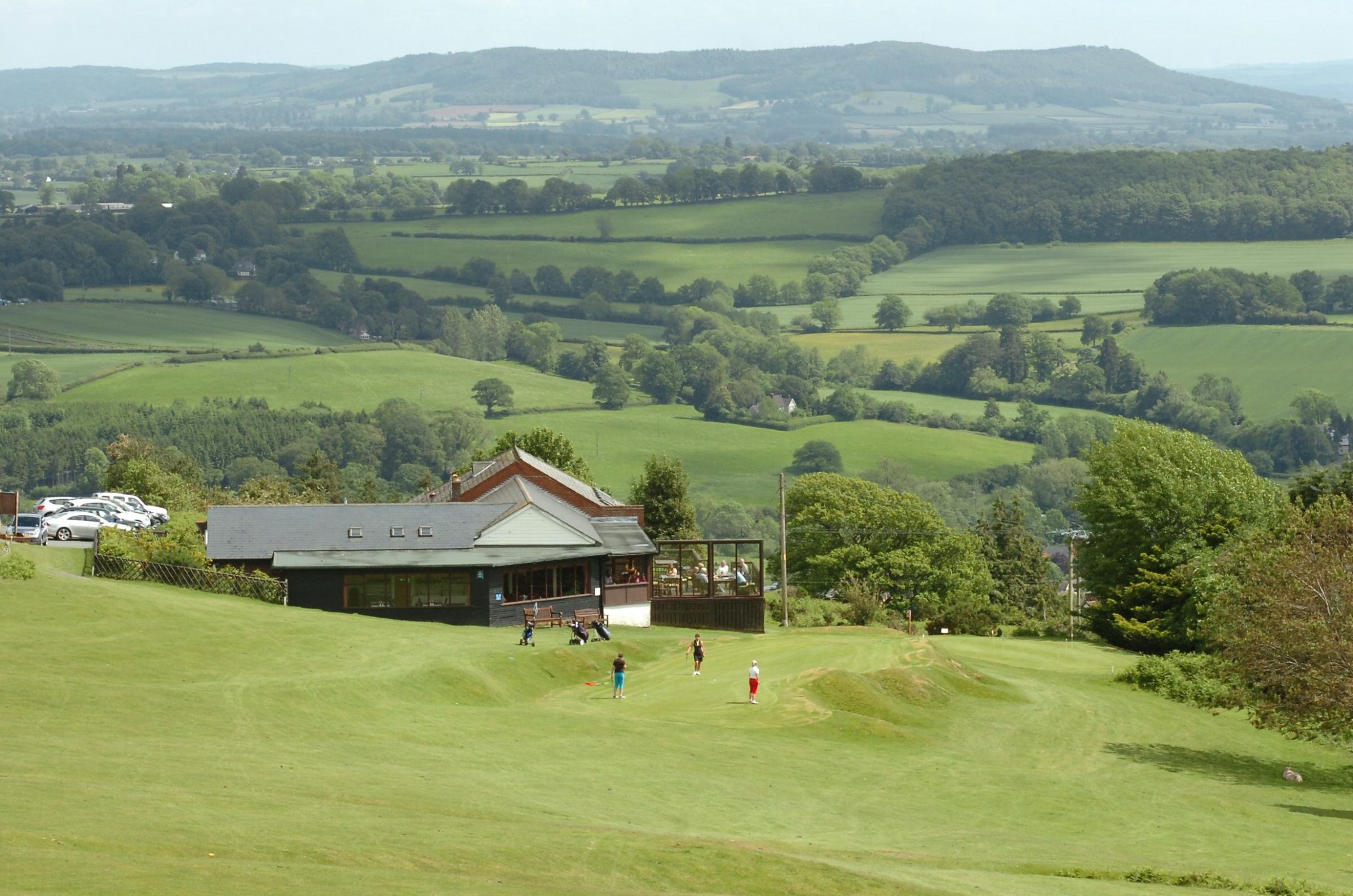 Signature Hole, 18th, 283 Yards, Par 4
There can be no other here.  It shares the same fairway as the 1st so you spend your whole round looking forward to the prospect of driving the green on this delicious finishing hole (pic above).  It's downhill all the way and eminently reachable. With a bit of wind behind you, you could even manage it with a long iron or hybrid.  However, should you pitch it too short, or in the wrong area, the left to right sloping fairway could send your ball towards nasty spots of heather and gorse and leave you with a typically Kington-esque pitch of high difficulty to a long and narrow putting surface.  A real picture-book and grandstand finish.
MG Pick 15th Hole 200 yards Par 3
The 15th is quite an unusual hole for Kington. Everything is in front of you on this long Par 3 with its raised tee and exposed putting surface.  It is a great test. Coming up short will expose your golf ball to the lottery of bumpy links type land; going too long means a steep bank awaits at the back of the green.  There are gorgeous views from the tee to the Black Mountains and The Brecon Beacons beyond.
Directions
From the North, Kington is on the A44 via Worcester and Leominster, From the West, take the A411 Hereford road. Kington is 71 miles from the centre of The West Midlands.
Facilities
The traditional clubhouse has fine views looking over the superb 18th green and back up towards the 18th tee.  There is always a very friendly welcome at this most sociable of clubs.  The club has just been awarded the Golf Mark Plus honour for its impressive Junior set up.  Green fees and society packages are some of the most reasonable around. An important feature is the year-round playability of the course. The free-draining heathland terrain means Kington has no use of winter greens and is eminently playable when other local courses can be water-logged.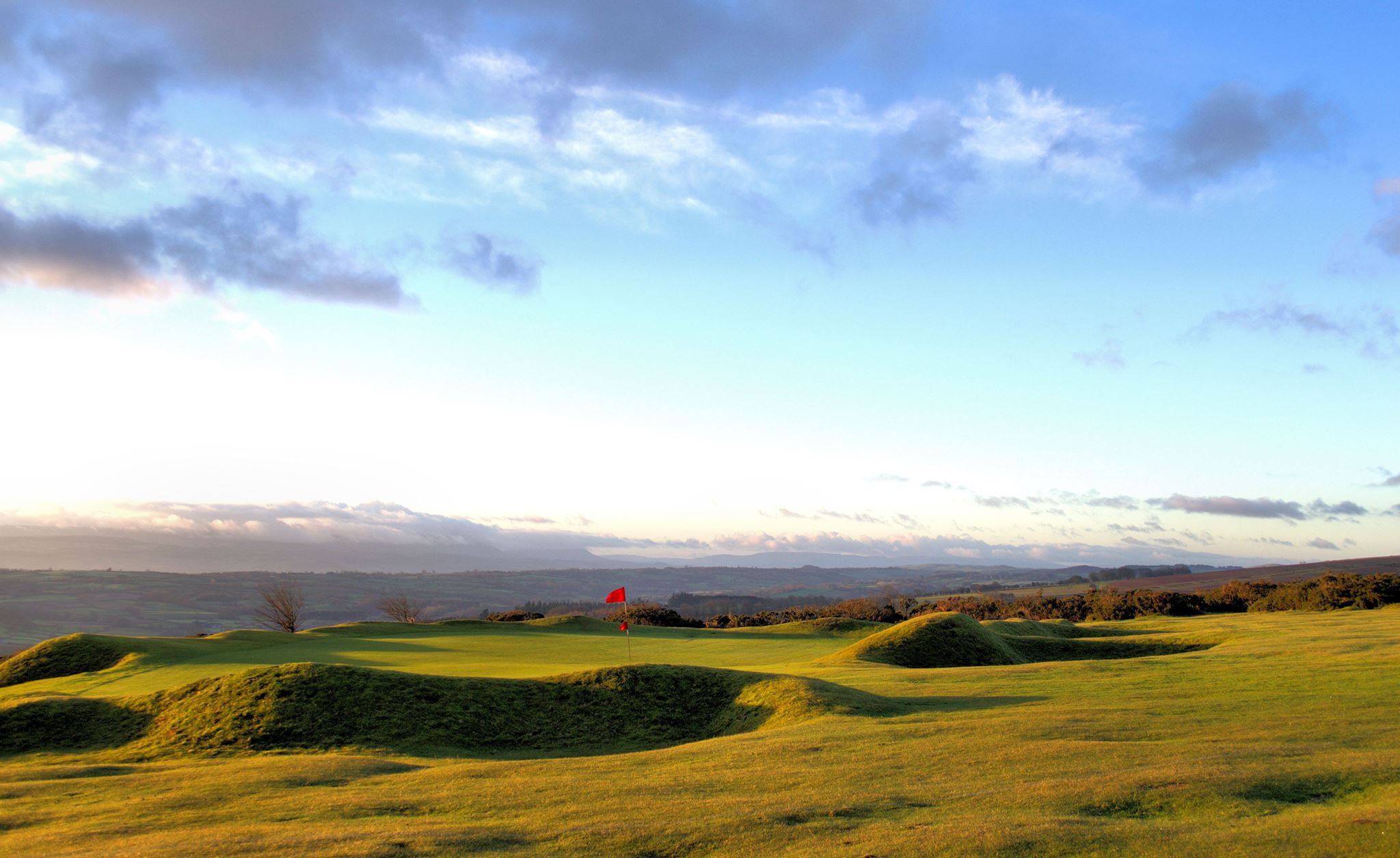 Summary
For those who enjoy something a little bit different in their golfing rotas, this picturesque course on The Welsh Borders is an ideal location. Kington is a unique challenge for an inland track and will test your creativity and shot-making to the full in a most enjoyable and fun way.  Untouched by the march of modern golf club 'progress', Kington's charms are fully deserving of a wider audience.
A lot of courses have moments of individuality and contain something a bit different to the norm but few can match the consistency of quality that Kington also produces. There is never a dull moment during an endless run of unique holes. The course is bags of fun, very funky, wholly fascinating and continually entertaining yet, most importantly, always challenging.
Kington was recently voted #1 course in Herefordshire by www.Top100golfcourses.com and appears in National Club Golfer's list of Top 100 courses to play for under £100.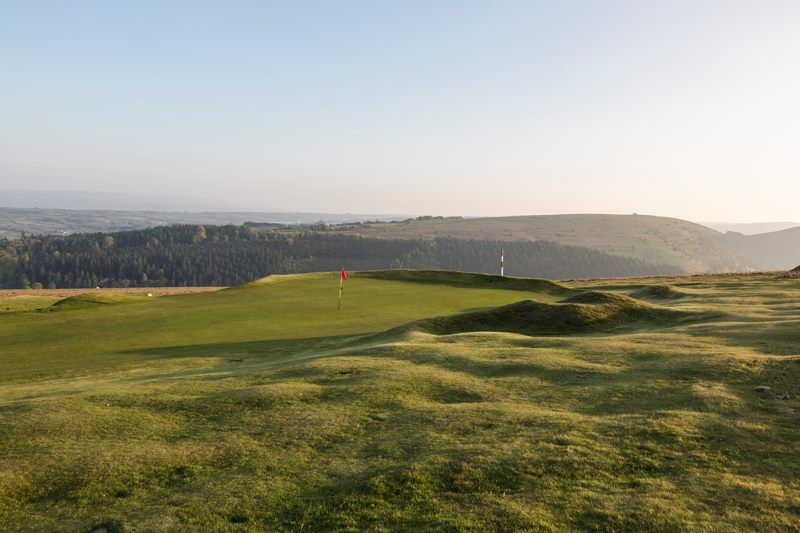 SOCIETY GOLF AT KINGTON THIS WINTER
As a special promotion through the winter season 2018/19 we'll be running a Society Order of Merit and holding a Finals day on Thursday 28th March 2019. To make it even better it's really easy to enter.
Once you've made a booking with us for the winter season all you'll need to do is submit your leading 3 scores from your day and those 3 players will qualify for the Finals Day where the golf will be Free of Charge. 

As a bonus any Societies booked in with us before the End of December 2018 the Organiser comes FREE !!!!
To Book or find more information on all our packages
CALL US NOW on 01544 230340 Ext 1 or email us at : Pro@kingtongolf.co.uk