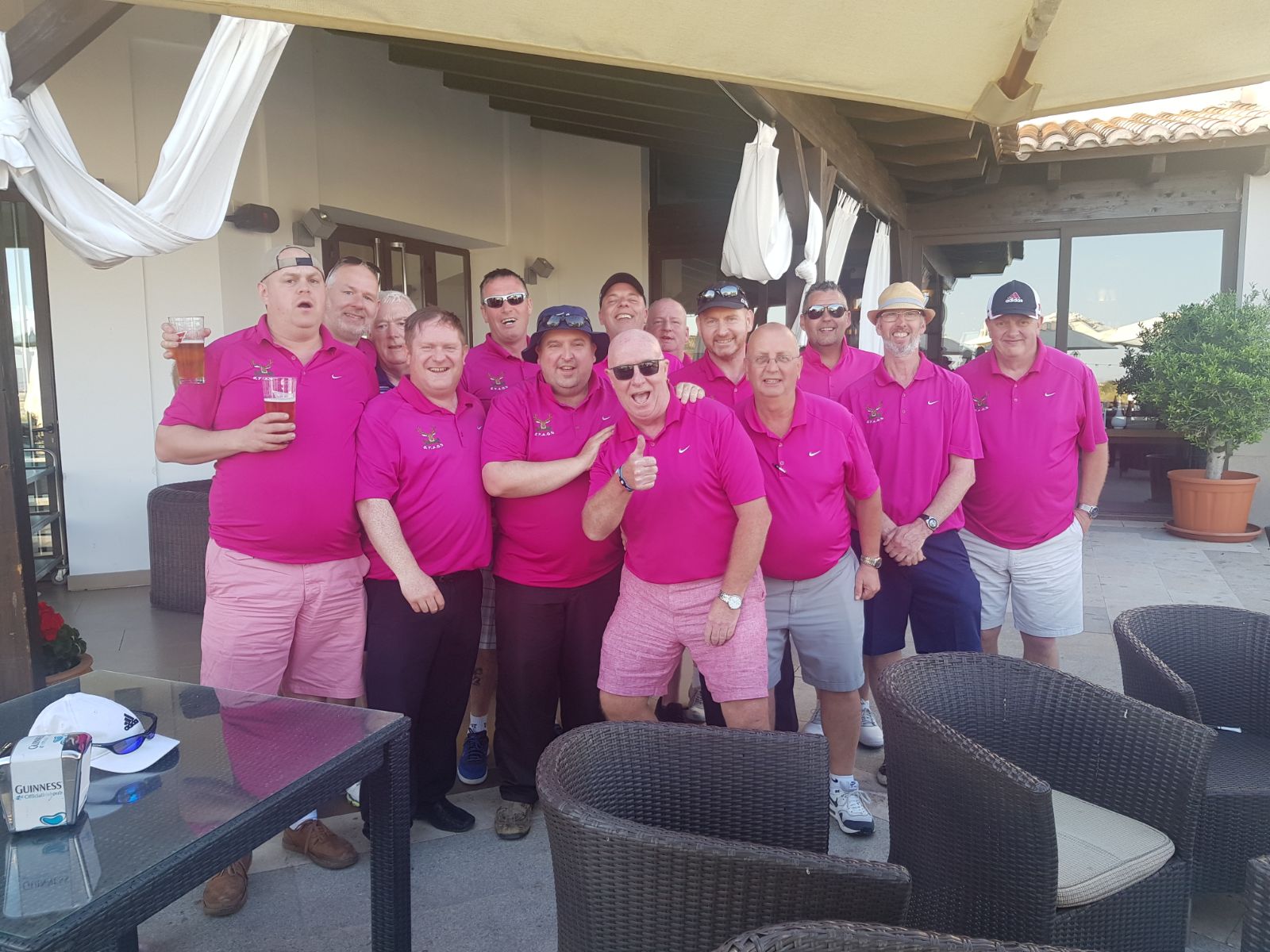 STAGS on Tour – Murcia 2018
Captain's Report
STAGS (St Thomas Association Golf Society) Erdington on Tour – Murcia 2018
~ Day 1 ~
It was an early start for the 16 STAGS who arrived at Birmingham Airport for 4am which was probably a wonderful sight for the other passengers as they witnessed us tuck into our large English brekkies with lashings of lager, stout and cider…and orange juice!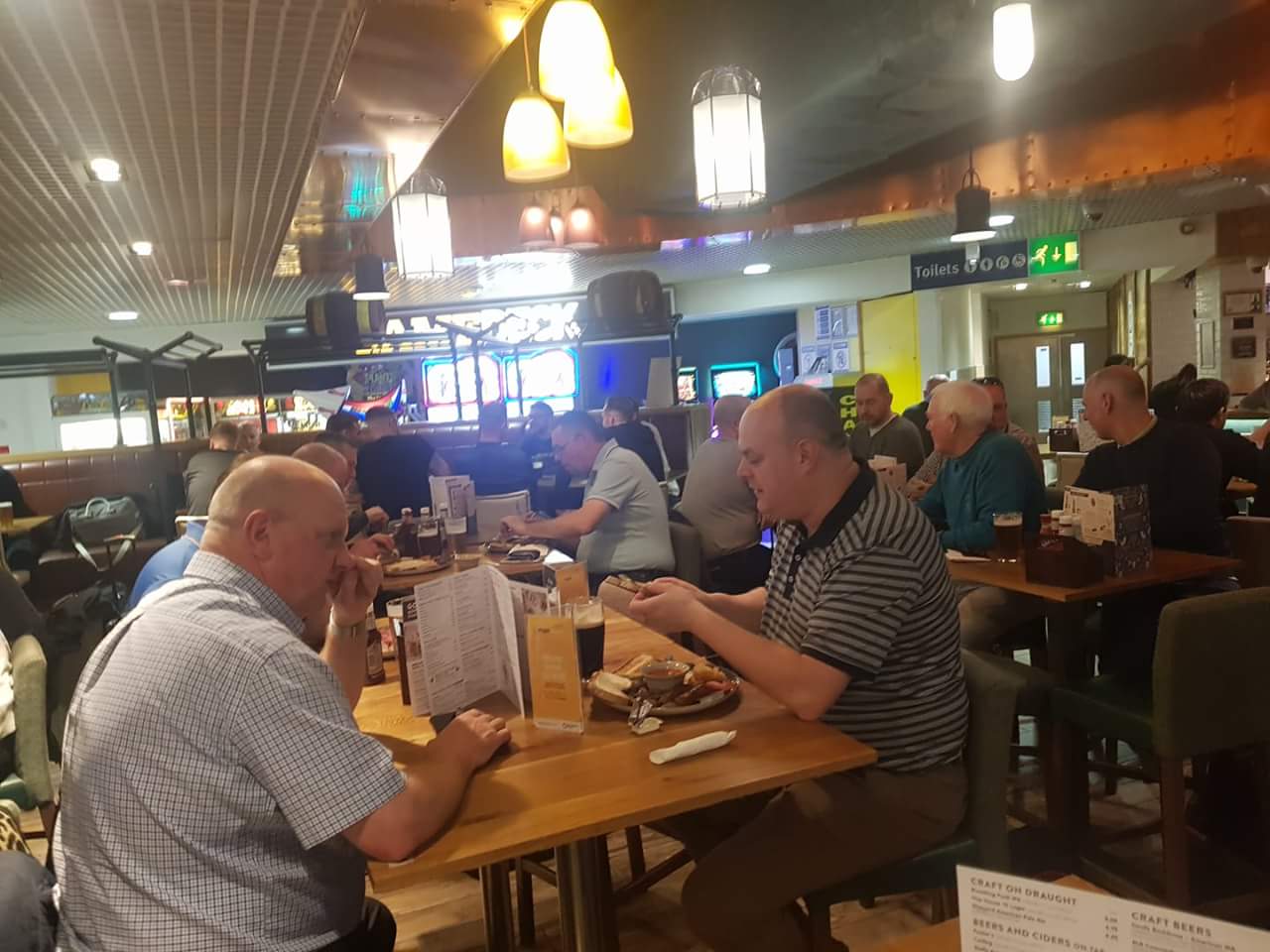 A slight delay on the tarmac as the captain (not me) announced that he couldn't start the right engine. Thankfully it looks as if he was just stupid as an engineer pushed a button that read 'right engine – on'….and we were off!
Alhama Signature Golf Course – Casualties – 0
It was a quick turn-around as we got to our apartments and headed for the salubrious surroundings at Alhama golf Club.
Alhama Signature Golf is an exceptional course that has been designed and signed in person by Jack Nicklaus. The course is long with plenty of spectacular holes.
With its circular tees, wide fairways and rough, rapid greens this course was always going to cause the STAGS some serious challenges. I didn't count how many bunkers there were but I saw quite a few of them – a theme I continued throughout the weekend!
A steady round was called for and it was fairly obvious that a low score was going to win it.
We decided to have our nearest the pin comps on all 4 par 3 holes – I don't know whether this is an achievement or not but only two STAGS hit any of the par 3's – let me put that into some perspective for you – that's out of 64 attempts only two people made the green on any of Alhama's par 3's. First it was Chris McGrath on the 17th and then Tim Lane pipped him to the nearest the pin on the same hole. Well done to Tim who collected the rolled over bounty! But it was Paul O'Sullivan who took the first game by winning with 29 points.
However, there was heartbreak amongst many, if not all of the STAGS, as we realised that the clubhouse had closed for the end of the day…gutted, tired and thirsty STAGS. However, it didn't take long until we were all well-oiled later on in the evening.
Special mention goes to a couple of nameless STAGS who didn't quite make it all the way home on the first night – one slept on a roundabout and another in somebody's garden – the latter was found wandering the streets near to SPAR later on that morning!
~ Day 2 – Molson Coors Bowl~
El Valle Golf Course
Casualties – 2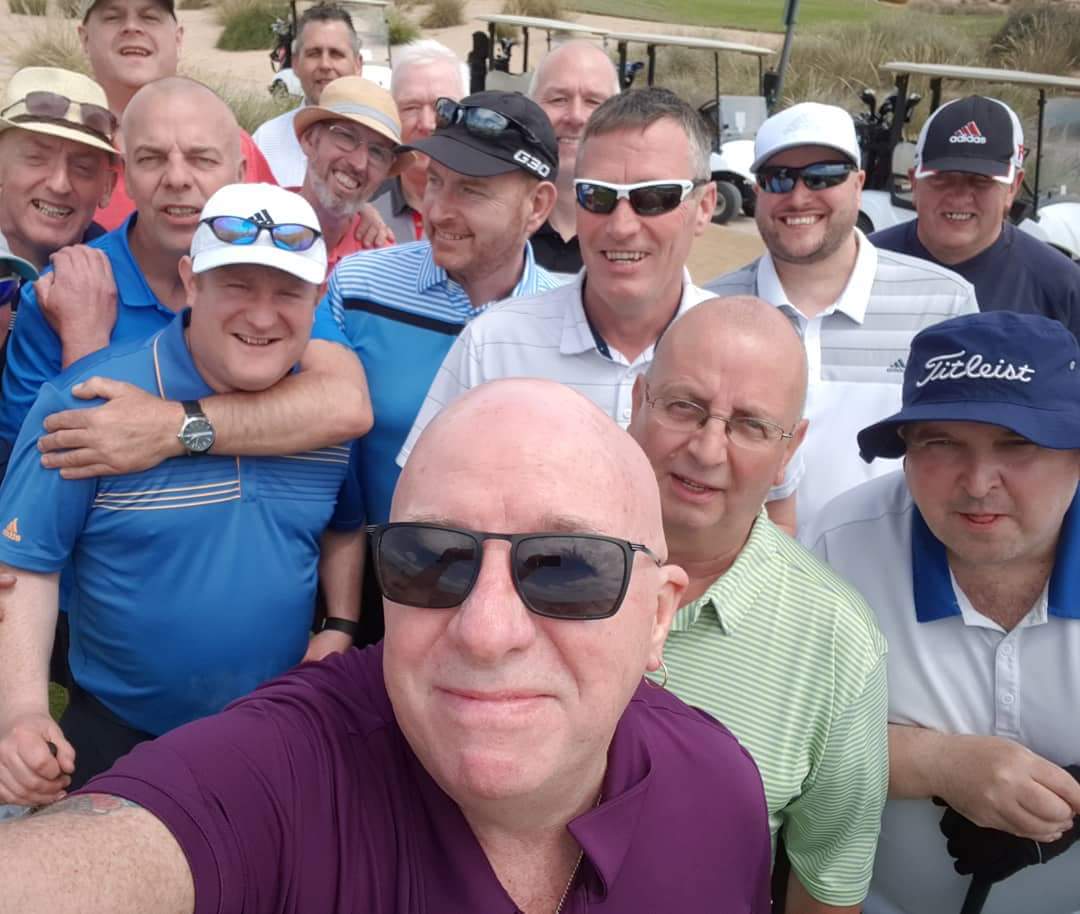 What a superb course! The facilities were great too! Once again we were treated to some spectacular holes especially the elevated 11th tee. The course was in excellent condition and there was a lot of water to navigate…as well as the usual bunker – in hindsight I really should have brought along my bucket and spade instead of my clubs…may as well have thrown in my fishing rod whilst I'm at it!
The greens really didn't seem to want to play ball today with many not playing the way we expected to – but what's new there then.
Once again Tim Lane hit a nearest the pin and Andy Barcello hitting another – although as we were in-between other groups his marker had been moved – with this in mind and probably due to his lack of trust from his fellow golfers (he's a good judge of character) he got photographic evidence to back his claim – it was a great shot all the same! Billy Noonan hit the other nearest the pin and it was Billy who won on the day and, after a fairly decent score in the first match, was now in the running to become overall champion for the second year running – surely he couldn't do it again!?
But the final shout has to go to Ges Tierney who found out going towards the 13th tee that he had just become a grandfather. To say that Ges was emotional would be a terrific understatement – I was delighted to be there when he got the call. On behalf of the STAGS; congratulations Ges and many thanks for getting the drinks in. I believe it's my duty to tell you that Mrs Tierney warned Ges not to celebrate too much on the night – I think we'll leave the rest of the evening to your imagination!
~ Day 3 ~
Mar Menor Golf Course
Casualties – 1.5
So to our third and final day. With Chris (Ooo Ahh Chris McGrath [and his dad]) McGrath, Paul O'Sullivan and Billy Noonan who were teeing off first as the front-runners on our 'home' course.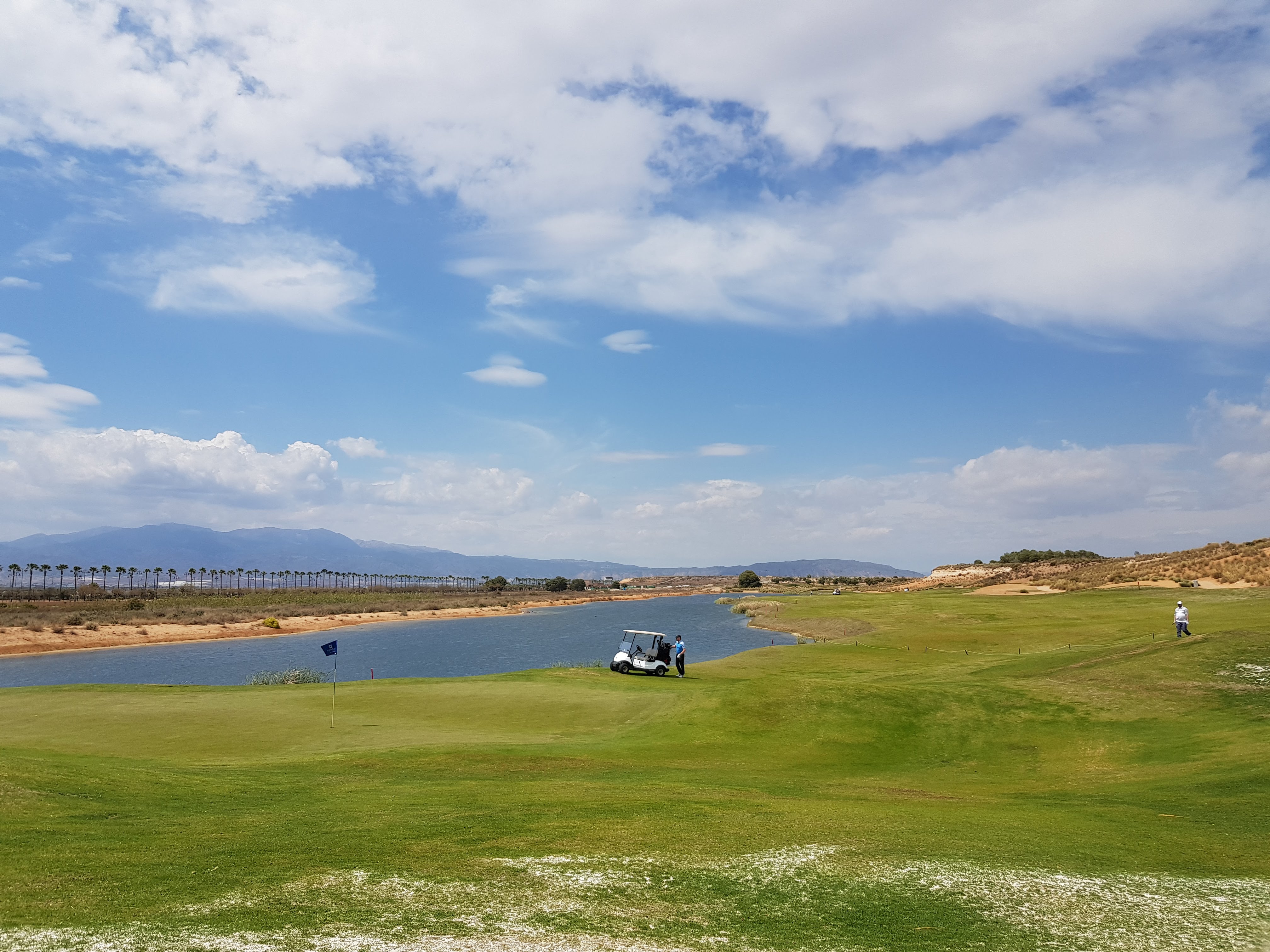 Each hole on this course requires the utmost attention and concentration. The course demands a wide range of shots to deal with several obstacles (including electricity wires Jonas) successfully.
Lakes – of which there were many – play a key part in how well your round went…as well as the bunkers! The course in general was a very flat course which was a blessing as most of us headed out without buggies.
As we headed down the 13th it was wonderful to see Ges cheer us on from his balcony – I can't say whether the previous night's shenanigans had anything to do with his non-attendance but let's just say that his luggage was a little lighter on the way back to brum!
Incredibly it was the maverick, Billy Noonan who hit the only nearest the pin on the final day – the 17th pipping Conor Ward to the accolade. Andy (the Assassin) Hoy won longest drive on the 18th although Jonas Mark looked as if he'd won with his impressive drive.
However, even after cutting himself two shots, Billy Noonan won on the day and took the title as overall Tour Champ for a second year running – congratulations to Billy (below) for a sensational weekend of golf.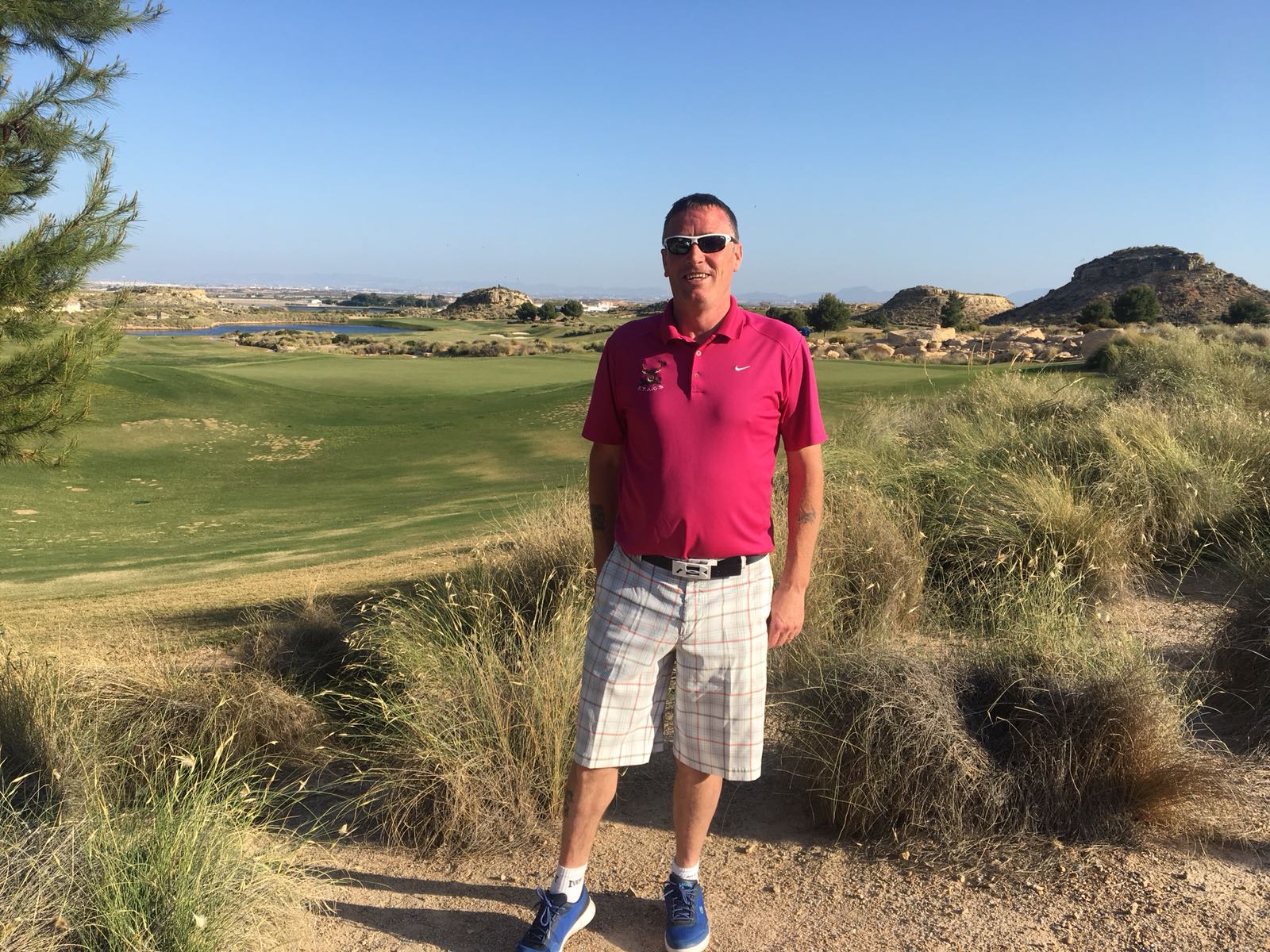 I'd also like to thank a couple of visitors for joining us too – there was Dan McGrath – Chris' Dad who had an admirable go at the Brandy on the first night which I blame for my poor run of form throughout the weekend and to Mossy who is a greenhorn when it comes to golf and has to be admired for giving it a go.
Finally, I would like to say a huge thank you to both Brendan Reilly and Les Gwillym who organised the whole event down to every miniscule detail. I have to say that without these two gentlemen at the helm things just either wouldn't happen or our society would be one big huge shambles!
I can't wait for next year and I'm definitely not going to drink as much!
Until next time Amigos – David Logue
https://midlandsgolfer.co.uk/wp-content/uploads/2018/05/stags1.jpg
1200
1600
Midlands Golfer
https://midlandsgolfer.co.uk/wp-content/uploads/2014/09/midgolfer-new.jpg
Midlands Golfer
2018-06-07 22:56:41
2018-06-07 22:56:41
STAGS on Tour – Murcia 2018